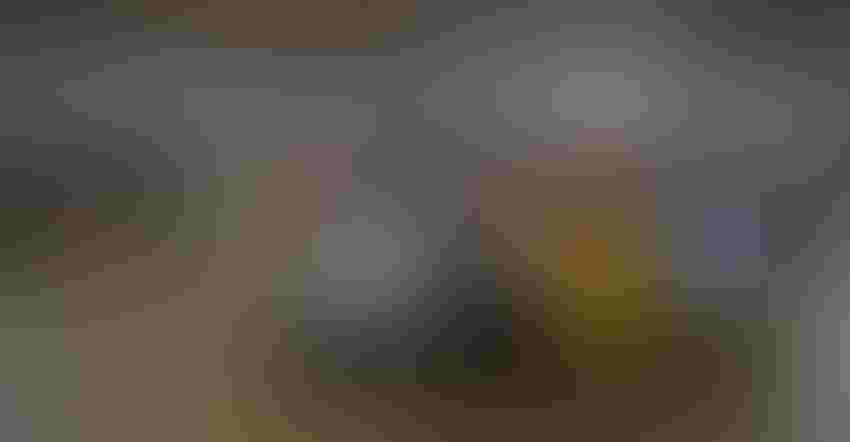 NOT THIS YEAR: This is last year's farm-to-fork dinner in Putnam County, Ind. The dinner won't be a sit-down affair in 2020. It will be a drive-through meal instead.
Janice Fry
Farm-to-fork dinners at the county level have become popular events for many reasons. First, they allow rural and farm people to showcase agriculture to non-farm people. Second, they often involve raising money for a good cause, such as scholarships for ag students within the community.
We're all about events that support ag students and bring farm and non-farm people together, especially if they involve food. When farm wives are doing the planning for a meal, you know you won't go away hungry.
One year ago, Indiana Prairie Farmer told you about a farm-to-fork dinner in Putnam County, Ind. It was the county's first effort to hold a countywide event, and Janice Fry, a farm wife and faithful reader, reported that it was unique for other reasons, too. Putnam County has four high schools, and until last year, there wasn't an organized effort to raise money for scholarships that could benefit rural students.
Working through local ag-related groups, Fry and others put together a successful event in 2019. It was a traditional meal, with people gathering and enjoying food and fellowship. Money raised went to four Dollars for Scholars programs, one in each high school in the county. The event brought not only rural and non-rural people together, but also people from different school corporations who normally didn't work together. That was a win any way you look at it.
Different approach
The intention was to make the dinner an annual event, held each fall to showcase agriculture and support students. Then COVID-19 intervened. "It certainly made things more difficult, and we had to try a different approach," Fry says.
Hoosier ingenuity went to work. In the end, the Putnam County committee organizing the event decided the best option was a drive-through dinner. Not virtual! No, one thing you can't do virtually is eat. However, you can drive through at a specified location, receive a quality meal, and enjoy it on your own.
This isn't the first group to do this in this pandemic year. The Hopewell Presbyterian Church in Johnson County, Ind., held their annual corn roast in late July as a drive-through event. Perhaps they had inside knowledge — they tried out the drive-through idea as an option in 2019, along with their normal, sit-down, on-site corn roast meal. So, they were prepared for this year.
Although the Putnam County group hasn't tested the concept, they are ready to make the drive-through event a success. If you are in the area, why not go and support them? Reservations end soon, so do it right away.
The drive-through farm-to-fork dinner will be Sept. 19, beginning at 6 p.m. at the Putnam County Fairgrounds on the north side of Greencastle. Cost of the dinner is $40 per meal. Remember, it's a fundraiser for a good cause.
To reserve your dinner, go to northputnam.dollarsforscholars.org. Click on Donate Now and be sure to type "farm-to-fork dinner" in the Specify a Scholarship Fund box. Fry says proceeds will be divided equally among Cloverdale Dollars for Scholars, Greencastle Alumni Association Dollars for Scholars Inc., South Putnam Dollars for Scholars and North Putnam Alumni Association Dollars for Scholars.
Kudos for the dedicated people in Putnam County. If you're aware of similar events in your part of Indiana, let us know. And first and foremost, be sure to support these local efforts. COVID-19 may cause a shift in how we do things, but it can't stop good, old-fashioned Hoosier ingenuity.
Comments? Email [email protected].
Subscribe to receive top agriculture news
Be informed daily with these free e-newsletters
You May Also Like
---