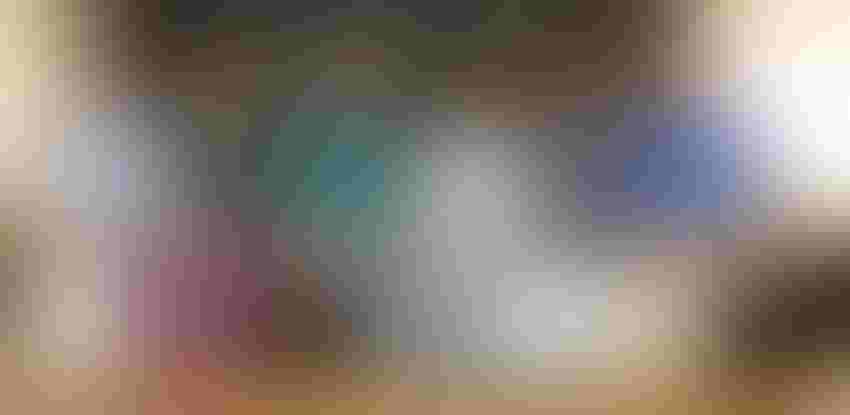 For those unfamiliar with the layout of Clarksdale, Miss., the headquarters of Delta Farm Press is only a couple of miles down the same road from the spot legendary Delta bluesman Robert Johnson allegedly met the devil, and later struck a deal to sell his soul for the ability to play the guitar like no other. 
In the early 1970s, Hembree Brandon made a similar trek. His soul wasn't on offer but, luckily for Mid-South farmers, his writing skills were. Still, it took two tries for Delta Farm Press to secure his services. 
"So much of this stuff I really don't remember," he says now. "It has all kinda run together over the years," says Brandon, editorial director for Farm Press.
His readers know him for his stellar writing, story-telling, and a thick shock of white hair that is easy to spot in winter meeting crowds. For the publication's 75th anniversary, he agreed to have the interview tables turned on him for a look back.
First impressions of the Delta Farm Press headquarters all those years ago: Was it the same physical plant as now?
"It was the same, although the building was later expanded to more than double the original space. As I recall, the addition was done in the late 1970s. When I came to interview with publisher Bill McNamee in October 1971, the original building was brand new and Bill's office hadn't been fully completed.
"My impression — coming from a weekly newspaper operation where everything was utilitarian, where we'd only recently switched to offset printing — was one of him having spared no expense to get things the way he wanted them and to make an impression. All over the building, the carpet was plush, the furnishings and paintings looked as if they'd come from an Architectural Digest photo. His office and adjacent conference room had custom walnut paneling and a bar. Everything oozed success. Bill believed in spending money for what he wanted — including people."
The original job interview…
"I originally interviewed for a field editor position, which involved extensive grilling by Bill, followed by agonizingly lengthy scrutiny of my writing samples, then taking his infamous 50-question IQ test. When I left, I hadn't the slightest expectation of ever hearing from him, but when, a month or so later, he phoned and offered the job, I turned him down. 
"Following my interview, I'd done some checking, and there were stories about Bill's mercurial nature and the editors he'd hired and summarily fired. Cantankerous, ornery, demanding, perfectionist, opinionated, were just a few of the descriptions they applied to him. No way, I'd decided, that I wanted to work for him. So, I chickened out. Bill didn't like to be told no, and I figured that was the end of that.
 "Two years later, he phoned out of the blue, said he was expanding the business and would be starting Southeast Farm Press and Southwest Farm Press editions. He needed more people and threw more money at me. My wife, a high school teacher, and I talked it over and agreed that I'd try it for a year and if I didn't like it, or Bill fired me, we'd move on to something else. I really expected I'd be added to the list of editors he'd given the boot," says Brandon laughing.
"In my years of working for him, I found Bill to be complex, often difficult, often puzzling. But underlying the single-mindedness that could drive his staff up the wall, was his unyielding determination to stand up for the farmers he served and to steadfastly protect the honesty and integrity of his publications.
How did you go about getting stories? Was the winter meeting season the same as now?
"Yeah, it was pretty much the same, but that was pre-internet, and farmers didn't have the immediate access to all the production information they have at their fingertips now. So, meetings and field days were important to learn about new practices, variety trial results, etc.
Extension, and the role of the various specialists, were a vital part of Delta agriculture. There was a large roster of Extension specialists who wrote columns for us each week, and many have told us over the years that the regular exposure they got in Delta Farm Press greatly enhanced their careers.
"I was hired to do in-house editing and page layout for Delta Farm Press, and in those days, an issue was anywhere from 48 to 96 pages every week, which required a voluminous amount of editorial material. Occasionally, Bill would send me out to write about something in which he had a particular interest, and later he let me switch to a field editor position, which I had wanted to do. 
"In those days, we had a tremendous amount of advertising — there were chemical companies galore, and equipment companies were turning out bigger and better machinery every year. The Delta Farm Press column inch ad rate was more than ten times that of the newspaper I'd just left, and money was rolling in. It was a great time to be in the ag publishing business — particularly for Bill, as sole owner. He soon was a millionaire many times over."
The biggest changes during your tenure…
"The evolution in crop chemicals, machinery, seed, and technology. The cotton pickers were pretty crude when I came on board, and now are incredible technology-laden machines. The digital technology nowadays is amazing: on-board module builders, sophisticated gins, GPS, RTK, auto-steering, yield monitors, varieties that are so much more productive, gene editing, etc. The widespread adoption of irrigation has also been a major development in Delta agriculture.
Some memorable people you've run into over the years…
"Well, heading the list is McNamee. For all his egocentric eccentricities, he was an absolute stickler for journalism ethics. He wouldn't allow anyone on the editorial staff to discuss a story with the sales staff, or vice versa. He tolerated absolutely no advertiser or commercial influence on editors — it was a firing offense.
"When I interviewed with Bill all those years ago, I told him up front that I had no experience in agriculture, beyond an occasional story with local Extension agents. 'I don't care,' he said. 'I want people who can write — you can learn the agriculture part.' And that was his approach. At the time, Glen Rutz was the only editor on the DFP staff who'd grown up on a farm and was grounded in agriculture. 
"I couldn't begin to name all the really great farmers who welcomed me onto their farms, often with home-cooked meals, and let me tell their stories, leaders and members of the various commodity organizations over the years, members of Congress, etc.
Anyone else? 
"Rep. Marion Berry, originally a pharmacist in east Arkansas. He was always accessible, which we news folk appreciate, and he told it like it was. He was an absolute master at puncturing over-inflated egos on the floor of Congress, and he did it with great good humor. 
"Another was the late Rep. Ed Jones of Tennessee. I could call him at any time of the day or night for insight or quotes. If he wasn't available, he was sure to call me back — even if it was 10:30 at night. That was always appreciated when we were facing deadlines.  
"The late Cecil Williams, director of the Agricultural Council of Arkansas, was salty, down-to-earth, and wasn't afraid to ruffle feathers on behalf of the farmers he represented. He was as smart as they come, and he had the remarkable ability to read through a long, complex, legalistic, boring piece of legislation and distill it into a couple of concise, understandable paragraphs. 
"He knew Latin and was a stickler for precise grammar. Anytime I slipped up and had a subject/verb disagreement, or other grammatical error in something I'd written, he was sure to phone and chastise me about it. Whenever my English teacher wife accompanied me to a meeting that Cecil was also attending, they'd inevitably end up in a corner diagramming sentences on a napkin and laughing over grammatical pet peeves."
Who were some of the early staff, and how has staff changed?
"The late Joe Williamson was managing editor when I came aboard. Joe and Bill had been working together for a year or so in a downtown Clarksdale office, and when the business grew Bill started hiring more staff and built our present headquarters building. 
"Printing at that time was first generation photo offset/paste-up. Eva Harrison was in charge of a crew of 15 or so doing typesetting, proofreading, and page composition. Page proofs were taken in a moving van to the printer in St. Louis and the van then brought the papers back to Farm Press-owned Delta Mailing Service in Memphis. Now, the entire process is computerized — all those back shop functions are handled by the editors of each publication, and the finished digital file is transmitted electronically to the printer at Pontiac, Ill.
 
Delta Farm Press senior staff include, from left, front row, Sandy Perry, Hembree Brandon, Glen Rutz, Ron Smith, and new to the editorial staff in 2018, Brad Robb; second row, Cindy Hubbard, Ann King, Kathy Jordan, and Sherry Cook; third row, Darrah Pierce, Slate Canon, Baker Patton, Ed Phillips, and new to the sales staff in 2016, Taylor Armstrong. David Bennett, editorial staff, wasn't present for the photo.
"We've been fortunate in being able to retain editors and staff over the years; collectively now, the tenure of our editorial staff for the four Farm Presses runs to well over 200 years.
"Glen Rutz, now in his 46th year, has been with us the longest; he came a couple of years before I did as a field editor for Delta Farm Press. Glen had a canary yellow early-day VW Bug that he drove all over creation and put a couple hundred thousand miles on it before turning it over to his son when he started driving. He knew every back road and barbecue joint in the Mid-South. Glen has been managing editor of Southeast Farm Press for many years.
"Ed Phillips, with us 41 years, came from the local daily newspaper, and was a field editor for a while, then became managing editor of Delta Farm Press after Joe Williamson retired, a position he still holds. Sandy Perry, one of the original back shop employees, has been with us 42 years, and is now production editor for Southwest Farm Press and Western Farm Press. 
"Forrest Laws, was originally a field editor for Delta Farm Press, and over the years worked with all our publications and the Midwest publications of our sister company. He retired in late 2017 after 37 years with the company, but continues freelancing for us. 
"Ron Smith, now senior content editor for the Farm Presses, joined the company shortly after I did as associate editor for Southeast Farm Press, and after several years there became editor of Southwest Farm Press, a position he held until moving into Forrest's spot. 
"David Bennett is the 'baby' of the senior editorial staff, having been with us 24 years. Slate Canon, our digital products editor (websites/e-newsletters), joined us 12 years ago. Our newest Delta Farm Press editor is Brad Robb, who joined us in 2018, after many years of communications work in the cotton sector and freelancing.
In our management/advertising/support staff, Ann King, our office manager, has been with us 39 years. Kathy Jordan, who handles ad orders and billing, has been with us 34 years. Darrah Pierce, our marketing manager, is close behind at 32 years. Our receptionist and office assistant, Sherry Cook, has been with us for 37 years.
Cindy Hubbard, another of our senior staff who began as one of the back shop crew, has been with us 34 years and is now advertising account executive. Baker Patton, also an advertising account executive, has been with us 24 years, and the very youngest on the advertising staff, Taylor Armstrong, joined us in May 2016. Others on the advertising staff are Dave Noland, director of strategic accounts, who came aboard in 2011, and Cheri Knoy, director of strategic accounts, who joined us in 2007.
As best we've been able to determine from old volumes and musty personnel files, here's the lineup of Delta Farm Press editors from the beginning:
1943-1967 — William S. McNamee, editor, and Joe Ellis, publisher; 1967 — McNamee buys Delta Farm Press and is editor/publisher; 1969 — Tom Griffin becomes associate editor; 1969 — Joe Williamson is hired as managing editor, and Troy Kight as associate editor.
1972 — Glen Rutz, executive editor; Harris Barnes, Jr., associate editor; and Warren Fontenot, associate editor; 1973 — Hembree Brandon, executive editor; 1974 — Bob Frazer, associate editor (later managing editor Western Farm Press until his retirement); 1977 — Ed Phillips, associate editor; 1978 — Ron Smith, associate editor, Southeast Farm Press (now editor, Delta Farm Press); 1979 — Klink Cook, associate editor.
1980 — Forrest Laws, associate editor/markets editor; 1981 — Scott McClure, associate editor/special projects; 1984 — Ben Pryor, associate editor (later managing editor Southwest Farm Press until his retirement), 1993 — Elton Robinson, associate editor; 1994 — David Bennett, associate editor; 1997— Henry Gantz, associate editor/special projects; 1998 — Doreen Muzzi, associate editor; 2004 —Andy Bell, associate editor; 2007 — Chris Bennett, associate editor; 2018 — Brad Robb, associate editor.
Publishers — William S. McNamee was publisher and editor from 1967, when he became sole owner, until he sold the company in 1984. He died in 2003. He was succeeded by the late Tommy Keith, who had been director of advertising since November 1973, and continued as publisher until March 1992. John L. Montandon succeeded him as publisher and served until April 1996, when Mike Gonitzke became publisher, continuing until August 2003. Greg Frey, who had been in a senior financial management position with the parent company, then became publisher and continues today as senior vice president of operations for Farm Press/Farm Progress.               
Other publications —
In addition to Delta Farm Press, Southeast Farm Press, Southwest Farm Press, and Western Farm Press, the company also publishes Delta Agricultural Digest, which it purchased in 1985 from R.P. Lewis, Extension agent at Clarksdale, Miss., who had originated the publication several years previous. In the 1990s, Southern Turf Management, Northern Turf Management, and Western Turf Management, were launched, all aimed at turf management professionals. Later, EuroTurf was launched in the European market, and was printed in three languages — English, Spanish, and French.
Also in the 1990s, Farm Press acquired Implement & Tractor, a monthly magazine going to subscribers in the ag equipment sector; and launched Florida Grove and Vegetable Management, for that state's citrus and vegetable industry; Growing Awareness, focusing on environmental and conservation issues in agriculture; Wildlife Habitat Management; and a quarterly Precision Farming and Irrigation Technology supplement to the four Farm Presses.
Subscribe to receive top agriculture news
Be informed daily with these free e-newsletters
You May Also Like
---