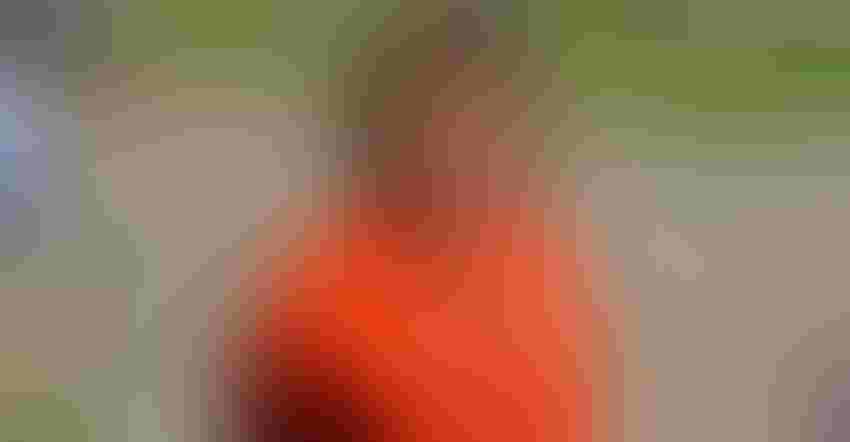 WELCOME SURPRISE: Connie Livingston, daughter of the late Tom Fouts, also known as Captain Stubby, attended the 100th anniversary of the American Soybean Association. Stubby's grandfather was Finis Fouts, one of three brothers who hosted the field day that led to ASA being established.
Tom J. Bechman
Captain Stubby was one of the most beloved columnists ever in Prairie Farmer and Indiana Prairie Farmer magazines. The country humorist wrote columns and appeared at the Farm Progress Show doing his comedy routine in the Family Living Tent for 50 years. He was part of the WLS Barn Dance in the 1940s and played with a musical group. Stubby also delivered sidesplitting speeches at farm group gatherings. He died in 2004.
Here's a part of the story you may not know. His real name was Tom Fouts, and he lived near Walton, Ind. While he didn't farm himself, his farm roots ran much deeper than just living in the country and making farm people laugh.
It turns out Tom's grandfather Finis Fouts was one of three brothers who held a field day on their farm on Sept. 3, 1920, that changed American agriculture. Noah, Finis and their youngest brother, Taylor, were growing a new crop called soybeans. They worked with it for some 20 years before finding enough success to host a field day that drew 1,000 people from six states to Soyland, Taylor's farm near Camden, Ind.
The assembled group formed the National Soybean Growers Association and elected Taylor Fouts president. A few years later, the name was changed to the American Soybean Association.
100th anniversary
Several relatives of the Fouts family joined the 100th anniversary celebration of ASA's founding on Aug. 4. Among them was Connie Livingston, Captain Stubby's daughter.
"It was great to be a part of this," she says. "Several of our immediate family were there, and we enjoyed reliving the history of our relatives."
It was also a good day to remember her father, Captain Stubby. Here's a personal memory that I shared with Connie. During an early 2000 Farm Progress Show, Stubby came to the small trailer where the Farm Progress editorial staff gathered to write. It was located right behind the Family Living Tent. Stubby had suffered from a major health setback, and he could barely step into the trailer. He looked pale and feeble. I wasn't sure he could stay standing.
Soon someone with him said, "It's time," and he left the trailer. Editors looked at each other and commented that he didn't look well. How could he do a show?
Just a few minutes later, still sitting in the trailer, we heard this loud, booming voice! It was Captain Stubby, sounding like nothing was wrong. He launched into his routine, and we heard roaring laughter for most of the next 30 minutes.
Afterward, I was outside and noticed Stubby walking away, again looking feeble and pale. "That was my dad," Connie says. "He was a great performer, and he wouldn't let people down."
Now you know his ancestors were also important to agriculture. They believed in soybeans and used the same tenacity Stubby used to get ready for a performance to help get a fledgling crop off to a good start.
Subscribe to receive top agriculture news
Be informed daily with these free e-newsletters
You May Also Like
---