A couple months ago, CBS News ran a piece on the migration of tech startups from the Silicon Valley of California to the Silicon Prairie of Midwestern states like Nebraska and Iowa – what the article called "America's new entrepreneurial frontier." It even called Lincoln a "mini Palo Alto."
But Nebraska and Iowa both have their share of tech startup companies originating in the Midwest, many of them ag-based. As precision agriculture has taken off, and growers, input suppliers and researchers have recognized the important role ag data has to play in modern production, ag businesses have, in general, become more like tech companies.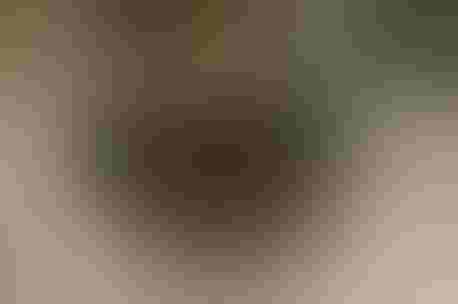 AUTONOMOUS AG: A small inter-row machine designed by a UNL biological systems engineering assistant professor that can traverse in between rows to monitor the field's microclimate to monitor disease pressure and plant populations. It's just one example of how automation might help drive the trend toward greater efficiency in agriculture.
Here are 5 ways ag businesses are becoming more like tech companies:
1. There is plenty of room for young people in agriculture. Sure, not many ag companies have earned a spot on a Forbes "Top 10 Companies for Young Professionals" list yet, but pop your head into an exhibit at a farm show these days, and you'll likely find a handful young people in their 20s and 30s. However, while there is no shortage of articles pointing out the vital role young people will play in feeding the rising world population, there is a shortage of qualified young people to fill the jobs available in this sector.
With the average age of the American farmer at 58 years old, and with the agriculture and food scientist and agriculture and food science technician positions rising at a reasonable pace in recent years and expected to continue to grow according to the Bureau of Labor Statistics, it's clear there are high-tech jobs available in the agricultural workforce, and the sector needs young people to fill those roles.
2. Data-driven efficiency is king. We've been hearing about this for a while now. There's a lot of data out there, and we need to use it to make management decisions to improve efficiency on the farm. That's especially the case with lower commodity prices and tight margins. Data will drive the push for more efficiency, greater return on investment, and overall sustainability.
~~~PAGE_BREAK_HERE~~~
Sorting through it all can be a little challenging, considering all the data being harvested each year – the equivalent of about 9,000 emails for every acre of corn during the growing season. That's one of the reasons we've seen the rise of third party service providers to help make sense of the data and hopefully turn it into an actionable item – for example, using a hybrid that works best for a specific field. Lately, we've seen prescription services pop up for just about any kind of input.
The point is it isn't just big high-tech companies that are doing their part to reduce their carbon footprint while also paying close attention to their bottom line. It's an ongoing process in agriculture, and has been referred to as the Fourth Agricultural Revolution by some academics.
3. Automation is helping in the push toward efficiency. Okay, so this is closely tied into number 2, but if you think robotics is limited to the Google Car or IBM's Watson, you're sorely mistaken. And it's already happening in agriculture. Unmanned aerial systems (UAS) are automating in-season remote-sensing and data collection, while John Deere's Machine Sync allows a combine operator to control the speed and position of a tractor and grain cart once pulled alongside the combine, and Fendt's GuideConnect allows two tractors – one unmanned – to operate as one unit.
The question of fully automated tractors and harvesters operating in the field on their own is no longer a question of if, but a question of when – by some accounts, they'll be traversing farm fields as soon as ten years from now. When it happens, it will mean less operator fatigue and error, greater precision and more efficient use of resources. Not only that, but there's potential to remove the operator out of harm's way entirely.
4. Using modern tools to connect with the end-user. This is one we've heard a lot about in the last few years – connecting with the consumer. These days, you don't have to host a tour of your farm or business to tell your story. In fact, many of today's younger consumers probably prefer to get their information from the internet and social media.
~~~PAGE_BREAK_HERE~~~
That's why many in agriculture, from family farms and ranches to international ag tech companies and manufacturers, are connecting with their end-users via Facebook and Twitter, much like those in the restaurant, retail, and technology sectors. This means posting pictures, livestreaming videos of day-to-day operations, and in many cases, having a dialogue with followers/consumers.
5. Innovation is alive and well in agriculture. Agriculture is constantly changing, and new, innovative companies are always launching new products and ideas.
Inventors like 360 Yield Center's Gregg Sauder (who also founded Precision Planting and gave us the SeedSense 20/20 monitor to help growers keep a close watch on seed spacing, singulation, and depth.) have shown that innovation and entrepreneurship are alive and well in the ag sector, introducing products like the 360 Chainroll to chop up stalks and make residue more available for microbial breakdown.
Right here in Nebraska, we've seen innovation in the precision ag sector with scientists like Kyle Holland of Holland Scientific – the scientist who developed the original crop reflectance sensor, the OptRx, now sold by AgLeader, a hot topic these days when it comes to in-season nitrogen management and applying the right amount of fertilizer in the right place and the right time.
But there are also a number of farmer-inventors in the state working on their own inventions and fabricating new equipment out of old equipment in their shops every day.
There's plenty of room for growth in production in agriculture – especially considering that daunting task of feeding 9 to 10 billion people by 2050, and doing it with the same amount of land, and fewer resources than before. These days, agriculture seems to be in a constant state of change – you don't have to travel to the Silicon Valley to see ingenuity and innovation. It's happening in farmers' fields right now.
Subscribe to receive top agriculture news
Be informed daily with these free e-newsletters
You May Also Like
---