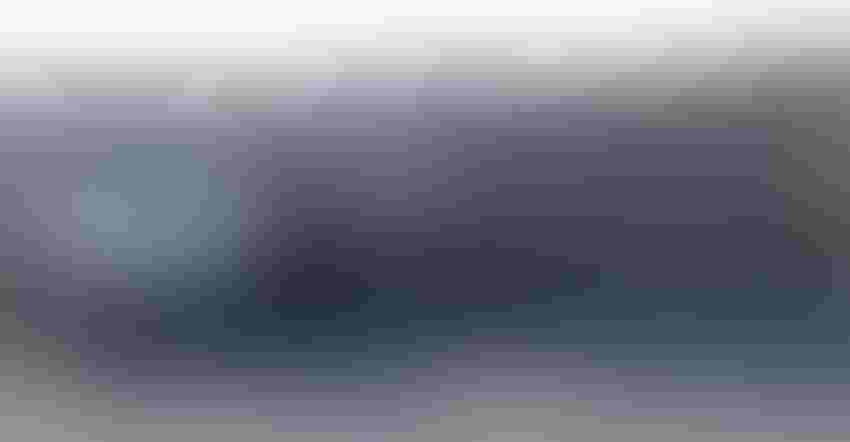 NOT PREPARED: Two third-party hog haulers, whose names were not disclosed, were deemed insufficiently prepared for inclement weather conditions by a Clemens hog processing plant in Michigan. The haulers were banned from hauling to the processing facility.
Courtesy of Michigan Pork Producers Association
The polar vortex that swept through much of the country the end of January had real consequences for two hog trucking companies — providing a reminder that animal welfare is to be taken seriously.
The Clemens hog processing plant in Coldwater, Mich., says it will no longer take hogs from two third-party haulers whose names were not disclosed, who it says were insufficiently prepared for inclement weather conditions. The temperature on Jan. 31, the day of the incident, dropped to as low as 18 degrees F below zero, with wind chills dipping to nearly 40 below.
The extent of the injury or animal mortality was not released. Mary Kelpinski, CEO of the Michigan Pork Producers Association, says she talked to a Clemens spokesperson who said that earlier claims of up to 300 pigs being injured or killed were "grossly exaggerated," and that nearly 100% of the hogs were processed. My calls to Clemens were not returned as of time of publication.
In reading about this incident, which was first reported by MLive/Kalamazoo (Mich.) Gazette, it appears that a former employee of the plant, who remains in touch with workers at the plant, reported the incident to the Grand Rapids, Mich.-based animal rights group Farm Animal Save.
Clemens, which processes 10,000 hogs a day, is sourcing the animals from about a dozen Clemens Food Group producer-partners throughout Michigan, Ohio and Indiana. The plant starts accepting hogs early in the morning, and trucks are scheduled to unload, minimizing wait time.
The sixth-generation family-owned company, which is based in Pennsylvania, opened the Michigan plant in fall 2017. It was the country's first major pork processing facility built in more than 25 years.
Like the Pork Quality Assurance program, which was developed in 1989, there is also a Transport Quality Assurance Program. They both look for continuous improvement of production practices, which includes animal well-being.
Transport Quality Assurance
As defined by the Pork Checkoff, the Transport Quality Assurance is a program that helps pig transporters, producers and handlers understand how to handle, move and transport pigs, as well as the potential effects of transportation on pig well-being and/or pork quality. Anyone who handles pigs, transports pigs or sets protocols for handling pigs can influence animal well-being and pork quality.
TQA certification started out as voluntary, but Clemens, like many larger pork processing facilities, requires transporters to be TQA-certified.
"Part of the program talks about how to transport animals — not only in frigid weather, but also in hot weather," Kelpinski says. "There are guidelines that truckers are supposed to follow to ensure welfare of the animals at all times and temperatures. Unfortunately, people don't always follow the rules or guidelines. We hate for that to happen, but I think Clemens did the right thing by saying that it will not accept animals from those truckers anymore."
In cold weather, the TQA calls for trucks to have straw or another bedding. It also calls for lighter loading to keep pigs from coming in contact with the cold outside walls. At a certain point, truckers should line the inside of trucks with plywood or rubber mats.
Dale Norton, who operates a sow farm with his brother, nephew and son in Bronson, Mich., trucks his three-week old piglets to nurseries and finishing facilities, but not to Clemens. Several years ago, he served on and chaired the National Animal Welfare Committee for the Pork Quality Assurance program, which had influence on the TQA.
Best judgment not exact science
He says the TQA gives guidelines on how many vents should be plugged, which in the summertime are open. "There's no excuse for it, and they did use their best judgement," he says. "However, I do know that it's not an exact science, either. If you reduce air, you chance suffocation. So, without knowing the details, it's hard to tell how far out of line they were."
Michigan has 800 people who are TQA-certified haulers. Nationally, there are 28,000.
Kelpinski says most hog owners have insurance to cover death loss in trucking, but with two fewer truckers, it will mean having to fill those vacancies when the trucking industry is already underserved.
It's a black eye for animal agriculture. But, it has been addressed, and time will heal. The real danger here is the perception of the uneducated public. We must convey that this is not a normal incident, and this is not acceptable. Most of all, truckers should be diligent so that this doesn't happen again.
Subscribe to receive top agriculture news
Be informed daily with these free e-newsletters
You May Also Like
---