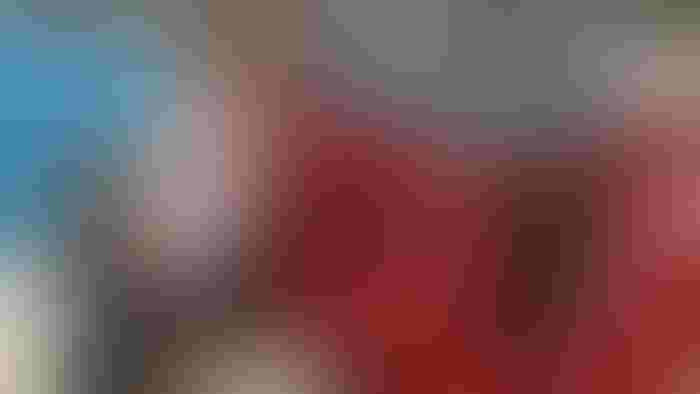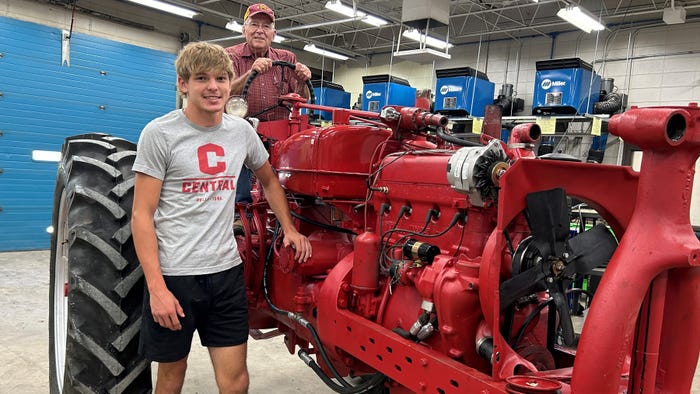 RESTORED IRON: Klayton Bremer stands beside the tractor owned by his grandfather, Jerry Carrico (on tractor), which was recently restored.Ruth Carrico
It's likely that those of us who grow up on a farm can remember when we learned how to drive a tractor and what model it was. As I think back to my time on a tractor, which was mostly in the hayfield, it was a Farmall Super M I bounced around on.
One day, a couple years ago, I looked at that tractor sitting in the back of the machine shed and thought it would be a great project for my son, Klayton, to restore and bring back to its original look. Now, looking back on that idea, I still think it was a good one — but I sure didn't know the labor it would take to get it to that point. I also "voluntold" my son, who was a sophomore in high school at the time, for the job.
One spring day, the tractor got loaded onto a flatbed to be hauled to the school to begin the project. The next several months, I continually asked what was getting done, and I didn't get much of an answer. A couple of other boys were restoring their family's gems as well, so they all worked together for the most part, and Klayton waited his turn.
Progress
You don't realize what it takes to do a project like this until you are knee-deep in it — and start to question why exactly it was a good idea. I'm sure both my son and my dad wondered the same thing several times during the process.
Taking it apart, taping, laying out parts, ordering replacement parts, sandblasting, properly mixing paint, painting the right amount, not missing a spot, getting all the parts put back in the right place … where is that part? It's been exhausting, frustrating, time-consuming and yet rewarding. Time spent learning something new, helping friends solve a problem and putting the puzzle back together has truly helped us all realize if we put our minds to something, it will get done. And now, in the end, it's a family heirloom to pass on to the next generation.
Do you have a project on your farm that you've been wanting to complete? Is it something you've never done before? Go find someone who's willing to help you and enjoy the little things. Because one day, you'll see that they really are the big things, and the time spent together really cannot be taken away.
Comments? Email [email protected].
Subscribe to receive top agriculture news
Be informed daily with these free e-newsletters
You May Also Like
---