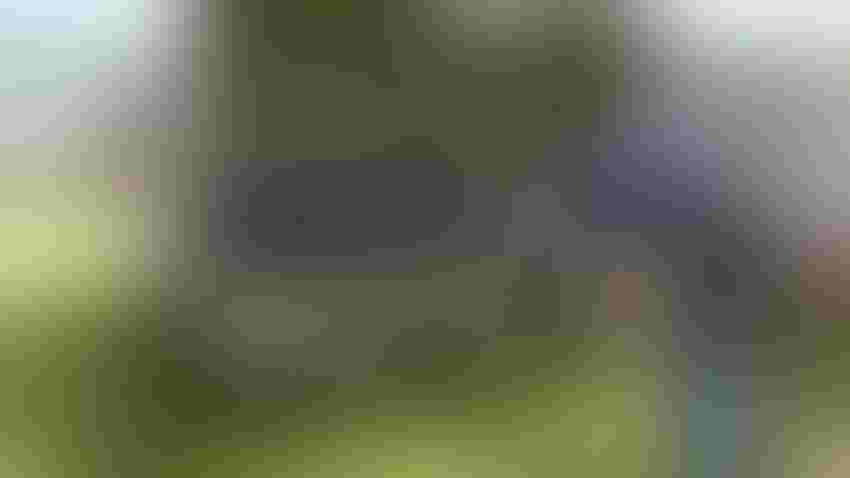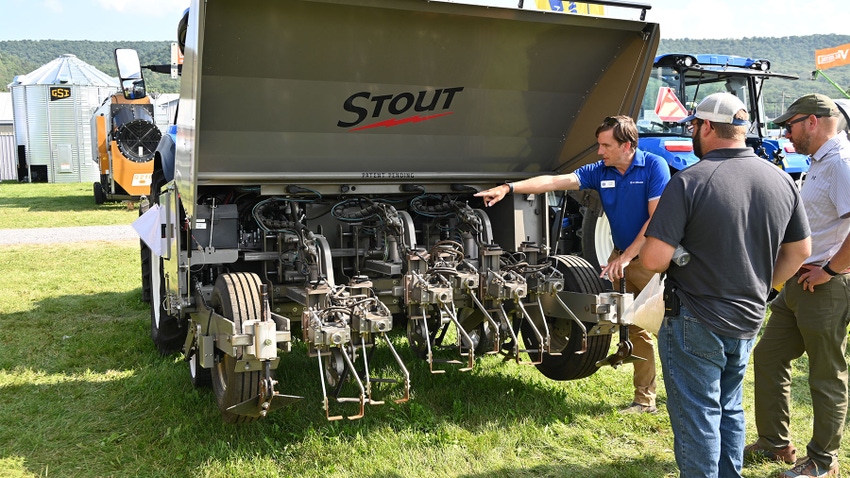 AI-POWERED: J. Cole Sanford, cash crops specialist with New Holland, shows Ag Progress Days visitors what the Stout Smart Cultivator is all about. The machine's self-tuning AI vision system allows it to learn crops and automatically adjust its cultivator sweeps to target only weeds.
Chris Torres
The Stout Smart Cultivator may look unassuming, but under the hood is where you see some impressive technology come to life.
I saw the machine during my recent visit to Ag Progress Days. I almost discovered it by accident. I was roaming around the New Holland lot when I remembered hearing about a vegetable cultivator the company was bringing to the show. I asked someone on the lot about it, and they took me to see it.
At first, I didn't know what to make of it. It looked like a box being pulled by a tractor, in this case a New Holland T6. But inside of the box is what counts. The six-row cultivator is guided by cameras, LED lights and on-wheel speed sensors that work in tandem to allow it to sweep around plants and cultivate weeds.
The sweeps automatically open and close, so the plants themselves are not disturbed during the process.
"They'll open and close at any rate you can set," said J. Cole Sanford, cash crops specialist with New Holland, who took me on a tour of the machine while at the show.
Check out this video of it in action. It's pretty cool stuff.
You can also check it out later this month if you're attending Farm Progress Show in Decatur, Ill. It will be on the New Holland lot.
Stout, a startup out of Salinas, Calif., officially brought the machine to market in 2021, but late last year, New Holland announced that it was investing in the company — enabling it to be sold through New Holland's dealership network.
"Stout was really inventive with the whole tool," Sanford said.
Its "self-tuning AI vision system" allows it to learn additional crops so that when it goes through a field, it will automatically tune itself to the crop it is cultivating. So far, Sanford said the machine has learned between 15 and 20 different vegetable crops. He added that New Holland has built a test rig that can learn additional crops.
The machine can be pulled by a tractor with 3-point lift and PTO to turn the hydraulic pump. The setup at Ag Progress Days was six rows, but Sanford said that additional half-row units can be installed on either side of it so that, in theory, it could cultivate up to 12 rows at a time.
You might be asking yourself, why would I buy a machine like this? Well, if you grow a lot of vegetables and still depend on manual labor for cultivating weeds, this could be useful. Sanford points out that most vegetable growers still depend on manual labor to weed fields, a process that costs anywhere from $700 to $1,000 per acre.
"Depending on the year and location, you can cut those costs in half" using this machine, he said.
And while the cultivator may give New Holland a market advantage over its competitors in the vegetable business, Sanford hinted the company is already looking at incorporating it into other machines and crops — say, corn or soybeans — although he was tight-lipped about any new developments.
As he points out, vegetable plants are usually planted 6 to 8 inches apart in a row, making it a much easier crop for an automated cultivator like this to work. Corn plants, on the other hand, are 2 to 3 inches apart, a much tighter fit. And corn plants can get very tall, which could limit its use there, although short-stature corn is on the way and will be on the market soon.
It also runs slow — very slow. The max speed is only 1 to 1.5 mph, a snail's pace.
And it's expensive, costing more than $300,000.
I attended an organic no-till soybean event the same day I saw the cultivator, and I immediately thought of the cultivator's usefulness in no-till organic soybeans. I'm not an engineer and don't pretend to know how this cultivator could work in a system like that. But there is no doubt the minds at New Holland are already thinking ahead to those possibilities.
As I have seen before, big ag companies will invest in startups that have a technology or process they lack, especially if it gives them a potential leg up on the competition.
For some producers, having the ability to do no-till organic corn and soybeans is the holy grail of crop production.
"The technology they are using to identify the plant is very high end, very accurate," Sanford said. "The cool part about it is that it's not just a green seeker; it's not just looking for the green leaf. It can identify lettuce separate of a broadleaf weed. And I think that ability is going to incredibly crucial for our applications, and why I think the sky is the limit with this technology that we're seeing here."
Keep an eye on this machine and what New Holland has planned for it.
Subscribe to receive top agriculture news
Be informed daily with these free e-newsletters
You May Also Like
---