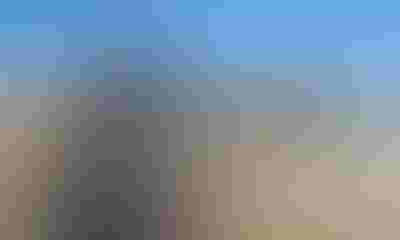 It's been just over a year ago since Chadron State College dedicated the institution's new Coffee Family Foundation Range Complex and Agriculture Pavilion, located high on a hill overlooking campus. With two dedicated laboratory spaces for animals, soils and grasses, classrooms, faculty office space and a 25,150-square-foot indoor arena, the facilities offer plenty of room for instruction and hands-on demonstrations with live animals. CSC can now host seminars, exhibitions and livestock workshops, plus the successful college rodeo team has a new arena for practice.

HOME ON THE RANGE: Standing in front of the new Range Complex at Chadron State College, Ron Bolze, CSC agriculture and range management associate professor, says ag students now have 400 acres of pasture laboratory right outside the facility.
CSC has a long tradition in range management, so this facility builds on coursework that has been a mainstay in their agriculture program. With 140 students enrolled in range management, CSC's program ranks as the second largest in the country.
According to Ron Bolze, CSC agriculture and range management associate professor, the college offers bachelor of science degrees in range management, with options in rangeland ecology, livestock management, wildlife management, fire management and equine. With strong agriculture roots that date back to the days when CSC started out in 1911 as the State Normal School, the new agriculture facilities continue what has been a strong range tradition, fitted to the High Plains.
"There have been several large donors who have contributed to this project to make it happen," Bolze says. "But the most significant by far has been the C.F. Coffee Family Foundation, which the facilities are named after." Bolze explains that C.F. Coffee was a large controller of land in the Pine Ridge as far back as the 1880s. Now, four of Coffee's great-granddaughters still have interest in a family foundation that has been generous to the agriculture programs at CSC.
As part of their contributions to the facilities and programming in range management, this foundation also contributed funding that helps cover three undergraduate student research efforts in range management. They also funded a "practitioner in residence" to teach range coursework for four weeks, as well as a major range event set for Jan. 12, which will be held in cooperation with several other agencies in the Chadron community, Bolze says.
These opportunities in the field are complemented by an outdoor laboratory of more than 400 acres of range and grazing land just outside the windows of the new facility to the west. "Students spend a fair amount of time out on this range," Bolze says. "They get hands-on experiences."
Thanks to the Coffee Family Foundation, these new opportunities and facilities are sure to attract new students to the college's range programs. "About 80% of our agriculture students come from within 200 miles from Chadron," says Bolze. "We have students from Nebraska, the Dakotas, Wyoming, Colorado and Kansas, but also from places farther away."
While the new complex opened officially for coursework this past fall semester, Bolze says that instructors are still in the process of moving to their new offices. In addition to Bolze, the other program instructors include Teresa Frink, wildlife management; Aaron Field and Tony Perlinski, range ecology and management; and Dustin Luper, equine management. You can learn more about the new Range Complex or range management at CSC by visiting csc.edu/appliedsciences.
Subscribe to receive top agriculture news
Be informed daily with these free e-newsletters
You May Also Like
---