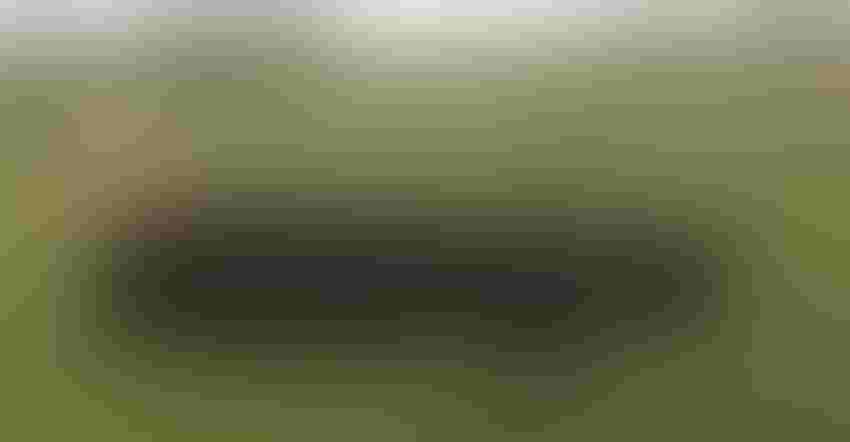 CO-GRAZING: Mike and Fran Wallace use multispecies grazing with cattle, sheep and goats to manage their pastures near Nelson, Neb., and diversify their income.
Nebraska Grazing Lands Coalition
"I believe there is an opportunity to benefit the range and economically benefit the operator." That's what Nelson, Neb., rancher Mike Wallace says of multispecies grazing, which involves grazing two or even three species of livestock together on rangeland.
Wallace and his wife, Fran, own and operate Double M Ranch and have been grazing sheep, cattle and goats together since 2000.
Wallace points out that because of the diverse range of plant species on the land, diversification of animals grazing the land also is important.
Cattle prefer taller, coarse grasses; sheep prefer forbs, shorter annual grasses and weedy species; and goats browse brush and cedar trees, he says.
"Because of the different species' preference, multispecies grazing works without negatively impacting the performance of the animal or sustainability of the resources," Wallace says.
The Wallaces currently run 40 cows, 230 ewes and 40 nannies on several hundred acres that are cross-fenced into small paddocks for rotational grazing. Their land is a mixture of mid-tall grass prairie, former cropland and abandoned cattle feedlots.
Cows calve mid-April, while sheep are put in a separate paddock in May for lambing, before returning to the herd. Goats are drylotted from January to April to provide protection from the winter elements and to kid. They return to the herd in May when young goat kids are a month old.
Other than those exceptions, the herd runs together year-round and uses the same mineral. Wallace uses holistic-planned grazing mapped out on a spreadsheet to give guidance to his rotations through the grazing year.
Wallace, who was the sheep operations manager at the U.S. Meat Animal Research Center near Clay Center, Neb., from 1978 to 2012, has been impressed by two outcomes from multispecies grazing.
First, he says including goats in his grazing has cleared his pastures of cedar trees. He reports that neighboring land has hundreds of ankle-high cedar trees, while Double M Ranch pastures do not.
Second, Wallace's land includes 17 acres of abandoned cattle feedlot pens. He tried to plant it to grass, but it has continued to be overgrown with weeds. Wallace has cross-fenced the area into several small paddocks and grazes it.
He reports, "It's weedy, but they love to eat it. I get tremendous carrying capacity from it." He grazes it in early May and returns to the area to re-graze every four to six weeks.
For others interested in multispecies grazing, Wallace advises a herd mix that provides a stocking rate based on pounds of animals of about 40% cattle, 40% sheep and 20% goats. He says cattle are the base. Then the operator can decide if they want to run sheep or goats or both. He reiterates goats can be beneficial for cedar control.
Wallace acknowledges sheep and goats can require additional fencing. He uses a single electrified wire with existing three- to five-strand barbed wire fences. Additionally, cross fences are two-strand electrified high-tensile.
Predators are another issue, especially for sheep. For Wallace, using guard dogs, a llama and a donkey with each herd and has been effective.
To learn more about Double M Ranch's multispecies grazing efforts, visit the ranch's Facebook page at www.facebook.com/Double-M-138083779651280/.
Since 2010, Wallace also has been active with the Nebraska Grazing Lands Coalition, and says the organization's tours, workshops and meetings provide a great conduit for sharing grazing-related experiences.
Source: Nebraska Grazing Lands Coalition, which is solely responsible for the information provided and is wholly owned by the source. Informa Business Media and all its subsidiaries are not responsible for any of the content contained in this information asset.
Subscribe to receive top agriculture news
Be informed daily with these free e-newsletters
You May Also Like
---