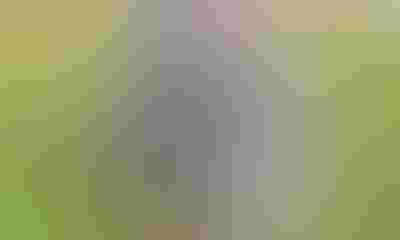 When it comes to cover crops and how best to use them productively and profitably, Kansas farmers are still feeling their way along.
Fifth-generation Barber County farmer Chris Boyd is no exception.
Over Labor Day weekend, he made a decision to try something new: aerial application of cover crop seed in a circle of corn that would not be harvested for another month.
"I really wanted to get the ground covered, and I wanted to have that crop up and growing so I would be able to graze it before frost," he says.

CHECKING STAND: Barber County farmer Chris Boyd checks the stand and growth of the cover crops that were aerial-seeded into his cornfield a couple of weeks before harvest.
He talked to his Natural Resources Conservation Service technical adviser Erin Batman about his idea, and Batman offered to seek a variance to NRCS cover crop standards and specifications so that Boyd could get some help trying out his idea through the Conservation Stewardship Program.
Boyd called his local aerial application company, Farmers Spraying Service out of Pratt, and hired them to fly on a mixture of wheat and tillage radish seed.
His cover crop seed provider, Jason Stucky with Cover Crop Club at Valley Center, says he normally recommends a blend of five different cover crops for the region where Boyd farms.
"Since this was an experiment and I plan to go back into that ground with beans or cotton next spring and then certified wheat production next fall, I didn't want to take a chance of something like triticale or rye in the field," he says.
By the last week of October, Boyd had a good stand of forage coming on strong. In fact, the stand was on track to rival the dryland cover crop mix that Boyd planted with a conventional drill on the corners of the irrigated field.
"I watered the circle a couple of times right at planting and then we got a hard, 2-inch rain and that got it up and going," he says.
Now that the corn has been harvested, the cover crop is growing rapidly, and Boyd is giving it another round of irrigation along with an application of nitrogen.
"I plan to graze it pretty heavily, and I want to make sure I get good-quality forage," he says. He harvested 207 bushels to the acre on that field and has plenty of stalks and residue.
Boyd's goal is twofold. He wants to run cattle on the forage and cornstalks through the winter and at the same time get good suppression of weeds in the fall and during early-spring growth.
Batman says cattle will choose to graze the stalks and green wheat in the fall and will eat less of the radish tops. After frost, when the radishes are winter-killed, the sugars are concentrated and the tops become more palatable to cattle, he says."That is actually good, because you get more fall growth of the radish, when the root penetrates deeper into the soil," he says.
"I would rather spend $30 an acre to get a good cover crop that I can graze and that also helps improve the organic matter and health of my soil than to wait until next spring and spend $30 on a chemical application that may or may not work for weed control," Boyd says. "I would much rather make the investment into something more sustainable than chemical weed control, which is becoming less reliable and more expensive."
He says he put on clean, certified wheat seed to have more seeds per pound and help out his applicator by reducing the amount of product he needed to carry.
Nate Williams, who works with Batman at NRCS, says experiments such as those Boyd is doing are the way forward for cover crops and that much of the science is trial and error
"One thing we have learned is that when soil moisture is adequate to get a cover crop up after wheat harvest, the canopy will cool the soil and you will actually get less evaporation loss than you would from the standing wheat stubble," he says "The cover crop has keeps microbial activity going in the subsoil, helps break up compaction and stores water longer."
He says that doesn't mean that always planting a cover crop behind wheat is a good idea.
"If it is very dry, you may not have enough water for the cover crop to become established," he says. "In that case you have spent money on seed and fuel to plant it and you get nothing for that expense."
Fall cover crop put on, as Boyd did, a few weeks before corn harvest, or drilled immediately after harvest, has less of a water use issue because some species typically self-terminate over the winter.
Subscribe to receive top agriculture news
Be informed daily with these free e-newsletters
You May Also Like
---