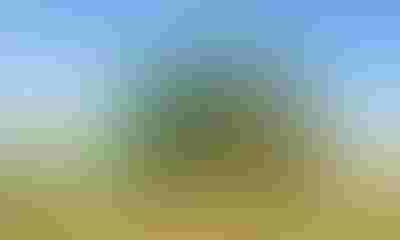 by Mario Parker
Deep in the heart of the U.S. grain belt, farm-equipment auctions are attracting bidders from as far away as South Africa as the agriculture rout makes used machinery more attractive.
As farmers move away from buying new tractors and combines, it could mean more pain for Deere & Co., the world's biggest agricultural equipment manufacturer, which is already struggling through an industry-wide glut. To understand why, look no further than Matt Maring, owner of an eponymous Kenyon, Minnesota-based auction operation.

Deere's third-quarter adjusted profit is expected to drop 38% from a year earlier to 94 cents a share. (Photo: Ingram Publishing/Thinkstock)
Buyers are driving more than 400 miles (644 kilometers) to attend his auctions and online simulcasts are drawing participants from around the globe, boosting the bidding field, said Maring, who's been an auctioneer for 36 years. Farmers are spending $50,000 on replacement tractors that would otherwise cost more than $100,000 new from Deere, he said.
As a global grain glut is poised to reduce U.S. farmer incomes for a third straight year, growers are tightening their pocket books and increasingly turning to used machinery to trim spending. Adding to the picture, credit conditions have eroded and made it tougher to get a loan for new equipment. For Moline, Illinois-based Deere, farmers turning away from its dealerships could further pressure profits and underscores why Moody's Investors Service this week downgraded its outlook on the company's credit rating to negative from stable.
'Much Worse'
"This is much worse than expected," Eli Lustgarten, an analyst at Longbow Research in Independence, Ohio, said by telephone. "The crops are so much bigger," making farmers less willing to spend, he said.
Deere's third-quarter adjusted profit is expected to drop 38% from a year earlier to 94 cents a share, the average of 19 estimates in a Bloomberg survey showed. The company is scheduled to report on Friday before the start of trading in New York. A Deere spokesman declined to comment on the earnings outlook, citing its quiet period ahead of the report.
The company's shares have fallen 18% over the past 12 months, compared with an 8.5 percent advance in the Standard and Poor's 500 Industrials Index. Even as Deere has shed jobs and reduced output, the prolonged slump in commodity prices has crimped demand and limited the impact of cost savings. Warren Buffett's Berkshire Hathaway Inc., Deere's second-biggest shareholder, reported a reduced stake in the company in a filing this week.
While inventories of farm tractors have declined since reaching a 16-year high in April, stockpiles are still at record seasonal highs, data from the Association of Equipment Manufacturers show. As farmers buy more used equipment, the glut is unlikely to be wiped out any time soon.
"It's like a bus service," Maring said. "If business is slow, but you need to get a new bus, you're going to go out and buy a well-cared-for used one."
Falling Income
Analysts are expecting that Deere's full-year net income will get dragged down to $1.23 billion, compared with the $1.2 billion the company forecast in May when it slashed guidance. That would be the lowest since 2009. Last month, it said it was laying off 120 workers at an Illinois plant because of slow sales. Potential customers are being squeezed by higher farming costs while crop prices decline, Bloomberg Intelligence analysts wrote in a report Wednesday.
Meanwhile, machinery auctions are on the rise, said Greg Peterson, the founder of MachineryPete.com, a website that monitors prices of farm equipment at auctions. He's seen a 20% jump in the past year for search traffic for low-horsepower machinery on his website.
At an auction last week in Hammond, Illinois, it took about 17 minutes for a large tractor in excellent condition to sell, when it should take about three minutes in a healthy market, Peterson said. The longer auction time reflects the increased number of bidders and an aversion to escalating prices.
Peterson said even dealers are showing up at auctions to get good deals and resale at a profit. For Deere, it means a prolonged rough market to navigate, according to Karen Ubelhart, an analyst at Bloomberg Intelligence in New York.
"People are comfortable that it's bad and that it will take a while" to recover, Ubelhart said. "It's not great, but they're not bleeding. It's just not getting better."
To contact the reporter on this story: Mario Parker in Chicago at [email protected]
To contact the editors responsible for this story: Simon Casey at [email protected]
 Millie Munshi
© 2016 Bloomberg L.P
Subscribe to receive top agriculture news
Be informed daily with these free e-newsletters
You May Also Like
---