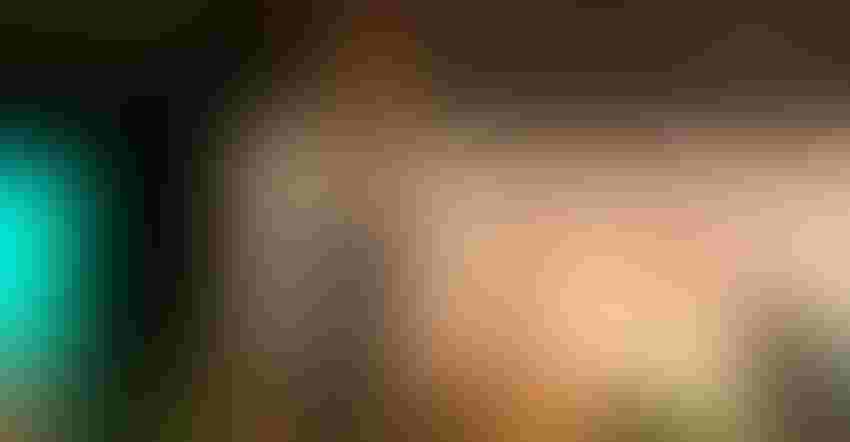 > KEY CONCERN: Robb Fraley, former chief technology officer at Monsanto, one of the speakers at the 2018 Borlaug Dialogue, emphasized that agricultural sustainability is of importance to consumers around the globe.
Executives of Bayer and Corteva, two global corporations that are offspring of recent mergers, told the 2018 World Food Prize symposium in Des Moines last week that their companies will help find solutions to the questions and problems related to agricultural sustainability and climate change. Around 1,200 people from 65 countries attend this annual event.
The three-day symposium, known as the Borlaug Dialogue, is named after Norman Borlaug, an agricultural scientist and plant breeder who won a Nobel Peace Prize for his efforts. Known as the father of the Green Revolution, which increased food production in impoverished areas of the world in the 1970s, Borlaug was born on a farm in northeast Iowa and eventually founded the World Food Prize to honor individuals who strive to improve the quantity, quality and availability of food around the globe. "Take it to the farmer" was Borlaug's famous last words. 
Innovations in ag are rapidly occurring
At last week's symposium, Robb Fraley, former chief technology officer at Monsanto, introduced the topic of sustainability and agriculture before introducing Liam Condon, president of the new Bayer Crop Science. Fraley is retiring at the end of 2018. Fraley, who has worked in various technology roles at Monsanto the past 37 years, made two points. 
First, the large amount of innovation and breakthroughs that are coming into agriculture. "It's unprecedented," he says. "There has never been a period like this, when we've had the advances we are now seeing in plant breeding, gene editing and digital tools, automation, robotics, etc."

His second point: "How do we communicate the importance of technology and advancement in agriculture, so everyone understands the link between agriculture, nutrition and food security? Finding an answer to that question is absolutely critical."
Connecting agriculture and environment
Fraley says there is now a unique linkage between ag and the environment. "In the experience we've had with GMOs and other new technologies, what we've found is consumers who may not be supportive of new technology for food production are supportive of the technology—if it helps the environment. My point is, these new tools not only help the world from a food security perspective but also help us farm better and smarter, use less inputs, use less land and water. Those are key benefits."
Fraley adds, "As a group, farmers and agribusiness, we need to step up and communicate both the food and the environmental benefits of these technologies. That will help agriculture gain public trust and support." 
Condon talked about the new Bayer Company, merger with Monsanto, and areas they will work on. Sustainability will be the focus of the new company. "We will look at the digital tools and platforms needed, a hot area for additional investment," says Condon. He emphasized the need for farmers around the world to benefit from these advances.
Technology can help address climate change
Jim Collins, the newly-named CEO at Corteva Agriscience, says his company will convene a global conference to identify three major initiatives addressing climate change and access to water. "As farmers and others in agriculture work to double food production to feed a projected world population of 9 billion people by 2050, we must work smarter, more efficiently and with a smaller carbon footprint," Collins says.
It will take innovation to do this. "We have new tools we didn't have before to work on drought tolerance, to improve the nutritional value of crops, to reduce livestock emissions," says Collins. 
Corteva, the agricultural company that will spin off next year from the merged DowDuPont, is the parent of Pioneer, the seed company based in Johnston, Iowa. Bayer recently merged with Monsanto, the St. Louis-based maker of and marketer of RoundUp herbicide, DeKalb seed corn and Asgrow soybeans.
Water availability is a looming issue
Collins called climate change and the global water shortage the "world's most challenging issues." Corteva wants to bring together companies, governments, scientists, nonprofit groups and other partners "to apply our collective intellectual capital to solve these problems." 
India, the world's second-largest food producer, has just half the water it will need for agriculture by the year 2030, he says. China and Brazil which rank No. 1 and 4 respectively in agricultural production are facing a similar dilemma. In less than 12 years, the world's current water supplies will only satisfy 60% of world demand. 
Farming is criticized by environmental groups for contributing to climate change. They cite the use of carbon-based fuel to manufacture fertilizer, herbicides, pesticides and they point to methane gas generated by livestock. Collins notes that farmers are also affected by drought and flooding caused by a changing climate. "The good news is we have the talent, technology and innovation to rise to this challenge," he adds.
Digital farming, gathering better data
Digital farming will transform farming as we know it today, says Condon, similar to how biotechnology has in the past. Bayer is working with about 40 companies to provide "field-level technology that's changing how farmers farm." The effort is gathering real-time data from soil, air and water by using technology such as advanced sensors and drones, and "turning that data into real-life decisions that can make or break a crop harvest."
Condon says with capabilities available today "we can move from a descriptive model to a predictive model. For example, for a specific area of a field we can say farmers should be planting a higher population of seed because soil fertility is higher. Or on a different part of a field, plant less seed because the soil isn't as fertile. Or on certain parts of a field you should apply more fertilizer, or less, as needed."
Helping farmers manage input costs
With improvements in precision recommendations, "we can help farmers better manage their input costs," says Condon. Likewise, that also remains the on-going goal of Corteva, says Collins. 
Collins says Corteva has an "open invitation so researchers and scientists can partner with the company on a global basis. And we will invest in these research projects and partnerships that offer strong, promising solutions. When we find a project or person with an idea that has economic viability, we will fund those initiatives." 
Corteva is already working on several projects using CRISPR technology that lets scientists edit genes to improve crop yields and even improve human health. "This is an amazing tool," says Collins. 
Consumers are on top of mind too
Summing up: All three executives linked their company's ongoing research and development pipeline to sustainability, a key concern of consumers everywhere. "We want to shape agriculture for the benefit of farmers, consumers and the environment," says Condon. Adds Collins, "Today, we are in midst of an ag revolution. It's every bit as groundbreaking as the Green Revolution in the 1970s. This current wave of innovation is the defining force of our lifetimes."
About the Author(s)
Subscribe to receive top agriculture news
Be informed daily with these free e-newsletters
You May Also Like
---