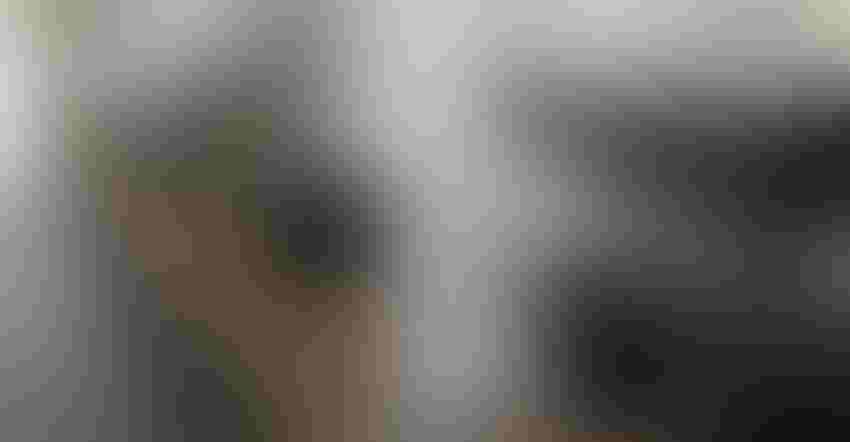 FUTURE MILKERS: Calves at Windyhurst Farm are housed in a separate barn with group and single pens. Windyhurst raises all the replacements for its closed herd of 500 head.
By Susan Harlow
Times have changed since 1974, when Stuart Adams and John Matthews began sugaring in Stuart's backyard in Westmoreland, N.H.
The longtime best friends are still at it. But they've gone from making 230 gallons of maple syrup from 920 taps to more than 10 times that much. Their modern sugarhouse is connected to a restaurant, Stuart and John's Sugar House and Restaurant, which does a lively business serving food and selling syrup.
Sugaring and the restaurant have provided some welcome income, especially during this long slog of low milk prices. The Adams family's Windyhurst Farm — John Matthews also has his own contracting business — milks about 240 Holsteins.
"Sugaring gives us some cash flow when we aren't making a lot of money," Stuart Adams says. "It's a long time between milk checks."
Keeping dairy alive
One adjustment Adams has made is increasing the size of the milking herd from about 190 cows five years ago. He's done this by keeping more heifer calves, and building a new barn for the dry cows and bred heifers. This allowed him to renovate the calf barn and move more cows into the milking barn.

GOOD PRODUCTION: The farm milks twice a day with a rolling herd average of 26,000 pounds.
The farm milks twice a day with a herd average of about 26,000 pounds. Still, it's tough being in the dairy business. "If this is going to be the new norm, we have to make some major changes or we're not going to survive," he says.
The Natural Resources Conservation Service helped the farm build a new aboveground Slurrystore, replacing an earthen pit, as well as a new waste-handling system about a year ago. Water quality is a huge concern on the farm because it's situated close to the Connecticut River.
The dairy raises all its own forage on 320 acres, plus 350 acres of rented ground. Corn silage and alfalfa-mixed grass haylage are packed in bunkers, and grass hay is put up in round bales. They feed seven different total mixed rations based on production and cow age.
Sugaring season
Before cropping season, there's sugaring to keep everyone on the farm busy. In the winter, a crew heads to the woods to repair damage to the tubing and pipelines. Matthews, who oversees much of the work in the sugarbush, begins tapping in February.
The 10,000 taps are spread within a 5-mile radius of the dairy farm that Adams operates. About one-quarter of the taps are on a vacuum system, which boosts sap yield.
Six years ago, Adams and Matthews installed a 40-inch-by-12-foot oil-fired evaporator, which replaced a larger 5-foot-by-16-foot evaporator. Their Steam-Away preheating system reduces the amount of front, or syrup, pan size they need.
The Steam-Away sits on top of a flue pan using steam from the boiling process to heat and concentrate the cold sap at 200 degrees before it goes into the front pan. Another bonus: It provides hot water for cleaning equipment and keeping the syrup storage tank hot.
Both the Steam-Away and a reverse osmosis system improve the evaporation rate of sap. The two have used an RO since 1986, purchasing a new one last year.
Energy efficiency is one of its key advantages. An RO can remove enough water before the evaporator to increase the ratio of sugar from 2% to 14%. That cuts down on boiling time and fuel. When the RO is working at peak efficiency, it takes only a half-gallon of oil to make a gallon of syrup.
On a good day, they produce as much as 300 gallons of maple syrup. It is transferred from the evaporator into a tank. From there, it's packed into bulk barrels or retail containers. About three-quarters of their syrup is sold retail.
Two years ago, the sugaring operation was certified organic.

SWEET GOODNESS: Stuart Adams daughter, Alisha, helps with boiling and bottling syrup. About 2,500 gallons of maple syrup are made from the 10,000 taps.
The higher the sugar content of the sap, the less evaporation it requires, and the less boiling, the lighter the syrup.
"A very good flavor Fancy is hard to beat," Adams says, when asked about his favorite syrup grade. "Darker syrup veers way from the true maple taste a little."
But more customers these days favor the darker, stronger grades. The quality is the same for all grades, which must meet the same standard for density and clarity.
Family affair
Adams' wife, Robyne, oversees the restaurant, which was opened by his parents, Roger and Ellie, almost 45 years ago.
Besides Nathan, several of the couple's other five children help with sugaring and on the dairy. On a Sunday in March, Alisha was helping during boiling, son Chad was cooking and daughter Francesca was waiting tables in the restaurant. Another son, Garrett, was working in the dairy barn. 
John Matthews' two sons have also worked in the sugaring business over the years.
"We're all involved in it some way or another," Alisha says.
Harlow writes from Vermont.
Subscribe to receive top agriculture news
Be informed daily with these free e-newsletters
You May Also Like
---