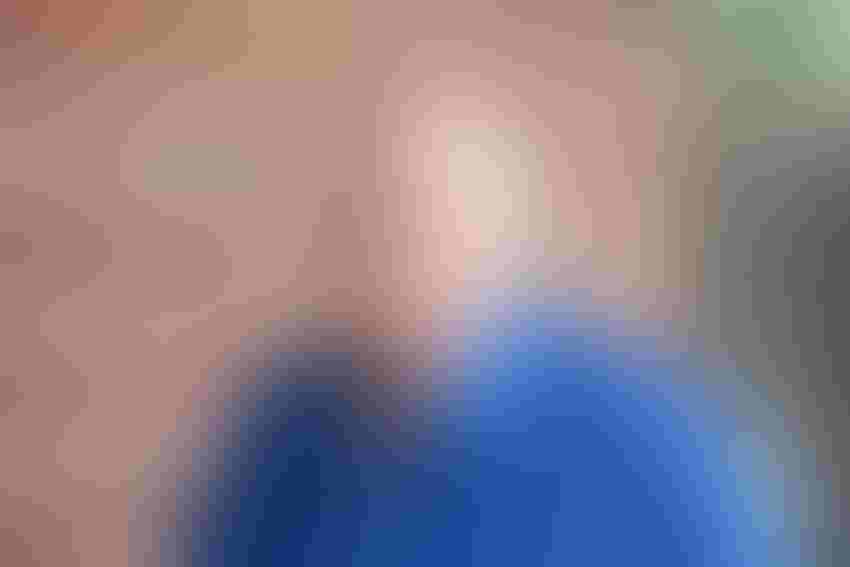 "People are responding to the lack of profitability by adjusting costs," says John McNutt, with LattaHarris.
A new projected cost analysis has Midwest corn and soybean farms barely breaking even this year.
Using projected sales of $3.78 per bu. corn and $9.64 per bu. soybeans, average farms will make $9 per acre, according to a study of 33 Iowa farms working with the Russell Consulting Group, a Minnesota-based consulting firm. The results were shared at the recent FBS Ag Software Success Summit.
The projected sales and cost analysis come from meetings with Midwest-based farmer clients and include 60,000 acres. Using projected average yields of 198 bu. corn and 59 bu. soybeans per acre, farms averaged $673 total revenue per acre and averaged $664 total cost per acre.
The most profitable farm made $275 per acre while the least profitable lost $222 per acre.
Machinery and land costs had a lot to do with that gap, but numbers can be deceiving. The farm showing $222 per acre loss records all corn income at loan rate, so the difference between $3.78 and $1.95 on 200-bu. corn takes the worst figure in the study to the third best at $144 per acre profit.
All these numbers are a starting point for further analysis says Moe Russell.   
Equipment costs averaged $112 per acre, ranging from $37 to $287. That figure can also be deceiving, says Russell, "because some farms in the southern corn belt have 44 days working days available for harvest, some have 30 in the middle of the corn belt and some in North Dakota just have 14 days – so their costs may be higher.
"There's nothing scientific here, but it may give a good look as you plan ahead for 2019," adds Russell.
Costs creeping down
John McNutt, an MBA with LattaHarris, an Iowa-based consulting firm, shared projected cost and profit benchmarks for 2017 using data from 19 Illinois and Iowa farms in the company's database. His numbers show corn production cost at $3.13 per bu. before storage, G&A (general and administrative expense) and insurance. By comparison, that same figure was $3.72 in 2014. Likewise, soybean costs per bu. were $8.36 in 2017, compared to $9.22 in 2014.
"Frankly, I'm encouraged - the 2017 cost numbers are looking better," McNutt says. "People are responding to the lack of profitability by adjusting costs. Input costs have been stickier than expected, but input suppliers will say, look at yields – they seem to keep improving, and that's covered a lot of problems.
"I'm sensing there is some improvement on costs and that rents are creeping down in this group."
Most all these farms, mainly in Iowa and Illinois, have the possibility of achieving 200-plus corn yields, he notes, "but there is still a huge range of difference in inputs, or direct costs."
Input costs for seed, chemical and fertilizer averaged $280 per acre for corn. By comparison Iowa State benchmarks averaged $233 per acre for corn inputs, while University of Illinois averaged $300 per acre for corn inputs.
While land costs can make it difficult to compare apples-to-apples, input costs can be a useful tool to see where your operation compares to others. For example, in 2017 the LattaHarris group of farms paid $103 per acre for corn seed, ranging from $48 per acre to $153 per acre. The farms averaged $57 per acre for soybean seed, with a range of $36 to $76 per acre.
"That's a huge range of difference in seed costs," McNutt notes. "When you look at a cost number and want to get better, you can compare yourself year to year. If you're a high cost seed buyer, looking at this you should ask, why is my seed cost so much different from this benchmark group? Hopefully it prompts a discussion between the grower and seed vendors and looking at other options.
"Farmers can work to improve yield and control cost, and maybe do better at marketing," he says. "Working on two of the three is not enough, you need to work on all three."
Which way cash rents?
According to USDA's latest land survey, average cash rents for Iowa, Illinois and Indiana went up in 2018, reflecting competition and lack of available land for rent. Meanwhile University of Illinois data show that cash rents fell from 2016 to 2018, but more cuts are needed based on projected grain prices.
If projected big yields come through this fall, some farmers may have some wiggle room on land cost budgeting for 2019. Using yields of 210 bu. per acre for corn and 65 bushels per acre for soybeans, University of Illinois economist Gary Schnitkey projects operator and land returns at $228 per acre for corn and $225 per acre for soybeans. This return is the amount that is left to split between the farmer and landowner. Cash rents for high-productivity farmland in central Illinois are averaging near $260 per acre; if that holds it would be a $32 per acre loss for corn and $35 per acre loss on soybeans. Something's gotta give.
"As long as corn prices remain below $4 per bushel, there will be downward pressures on cash rents," he says.
As a general rule, cash rent should be around 30% of gross revenues per acre, so a farm that grosses $673 per acre (see paragraph three) could afford to pay no more than $220 per acre cash rent.
Meanwhile, many landlords say skyrocketing property taxes make it difficult to lower rents. In Illinois, for example, property taxes increased from $24 per acre in 2008 to $53 per acre in 2016. That's an increase of 9.6% per year.
"Since farmland returns began to decline since 2013, property tax increases magnify farmland return decreases," Schnitkey says. "The increase in property taxes makes the adjustment downward in cash rents more difficult."
Farmers with less working capital may face loan restrictions on high cash rent farms. But farmers with good collateral may not push landlords to lower cash rent out of fear of losing the farm.
"It's hard to get acreage," says McNutt. "There's a lot of reluctance to push the landlords because there's a sense that, if I don't farm it someone else will.
"Some people have good relationships with landlords, where when times are good they paid them more, and when times are bad, they adjust down," he adds. "My sense is, landlords would be better served if they recognize the situation to help tenants bring costs down, because there just isn't money to be made there."
Subscribe to receive top agriculture news
Be informed daily with these free e-newsletters
You May Also Like
---