Louisiana officials, lawmakers work to bring home federal flood relief
Louisiana officials, lawmakers work to bring home federal flood relief
<ul><li>Will federal flood assistance come quickly or happen following November elections?</li><li>Concerns for state agriculture sector grow as frequent rains continue.</li></ul>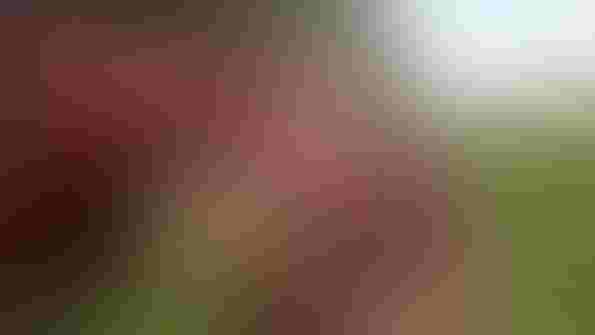 <p>Farmer Samuel Buller holds a rice plant with rice that had sprouted after the 48-acre field had fallen over into floodwater. Buller said the rice fell over because the panicles were loaded with a good crop, but he was able to harvest a few other fields between rains. <em>Photo by Bruce Schultz, LSU AgCenter.</em></p>
While the latest Louisiana floods have abated, the hard work of harvest and cleaning up still have to be done. Also part of the aftermath: state officials and lawmakers bringing home the best federal assistance package possible.
In mid-September, LSU AgCenter economists set the latest agriculture-related damage tally at $277 million. That doesn't take into account the flood damages in parts of the state from earlier this spring.
"We're looking, so far, at about $350 million in agriculture losses," said Louisiana Rep. Ralph Abraham on Wednesday (Sept. 14). "However, the clock is still ticking and the tally will be even higher. With the help of the governor, of (Louisiana Department of Agriculture and Forestry Commissioner Mike) Strain and the delegation, I think we'll definitely get some money directed towards the state's agriculture. We have to."
Is there any indication how that money might be appropriated or apportioned?
"The Senate today is debating the (continuing resolution) on their side of the turf, so to speak. The House is waiting to see what the Senate will send us.
"The Senate is very ready to get out of town and begin campaigning in some of the battleground states. So, I'm hopeful that either today, tomorrow – certainly no later than Friday (September 16) -- we have something that includes an agricultural and flood relief package."
If that scenario doesn't unfold, "unfortunately, we're likely looking at something happening in December," said Abraham. "It would be after the (November) elections, for sure. We're keeping our fingers crossed that the Senate will be doing the CR work and we're included in it. If not, we'll look at a month, or two, down the road."
Making plans
Farmers are already talking to bankers, said Abraham. "With the increased uncertainty that the floods and harvest have brought, it's hard to make plans for next year. That puts everyone in a very unstable position."
Strain lamented the amount of rain that keeps falling on the state while crops are ready for harvest. "That's increased the cost to harvest and hurt the quality of some crops. We can't shake the rains – there have been major storms over the last few days."
Strain has been traveling to Washington, D.C., regularly – "I'll be there tomorrow and was there two days last week" -- to try and get farmers the help they need. "We'll continue to travel there as long as necessary to bring some dollars back.
"We're trying to get an ad hoc appropriation and the initial ask is $50 million. That would be administered by the (LDAF) through community development block grants."
The blocks have to be an infusion to help businesses "come back and continue," said Strain. "The idea is to help with losses that aren't covered (by insurance) so we can get people back in production and keep communities going."
Future assistance
What could come later?
"We need to get a disaster declaration (from Agriculture Secretary Tom Vilsack) to cover additional affected parishes. Right now, under this set of storms we have 22 parishes declared disasters. Another 11 parishes are eligible for help as they're contiguous.
"Well, we have at least 37 parishes that are affected by all this rain. That figure may grow if these rains keep up. So, we're working with the FSA to get the secretarial disaster declaration."
Asked about the toll flooding and rains have taken on Louisiana's livestock and fisheries, Strain said "there has been damage to our hay supply and pasture damage. Any sell-off of cattle will happen after a proper assessment of how much hay is available for the winter and how badly damaged pastures are.
"We haven't determined how badly the crawfish industry may be affected by the floods. Our concern is if females were flushed from burrows or there was predation by fish. We won't have an accurate assessment until harvest – that may mean we're in the dark about crawfish losses until next year."
What about infrastructure losses?
"We estimate infrastructure losses of around $39 million. The loss of beehives, horticulture, grain bins, tractors and equipment."
While farmers are often reluctant to provide the government with information about their operations, Strain encouraged cooperation. "When NASS or officials come by or call, please give them the information they need. The compilation of that information is what we'll take to Secretary Vilsack."
IT'S FREE! Stay informed on what's happening in Mid-South agriculture: Subscribe to Delta Farm Press Daily.
Abraham said he understands farming constituents are being financially squeezed. "We still actively farm on my property, grow corn and soybeans. Right next to our property is a large field of cotton.
"With commodity prices continuing to be low and production costs continuing to be high, the farmers may not be able to afford a loan. We need relief in other forms – grants or monies that wouldn't have to be repaid. Without that, many won't make it."
Hard, hard rains
As with Strain, Abraham points to "hard, hard rainstorms in the state over the last two or three weeks. In my neck of the woods, there's cotton literally rotting on the stalk. The bolls can't take all the damp conditions. These (damage) figures will have to be added to the overall loss estimates later – and the final figure will be much higher."
Considering how the current farm bill deals with disasters, what might be the best approach in the next farm bill?
"I think we have to have some changes," said Abraham. "The March and August floods hurt Louisiana. But look across the nation at agricultural-type disasters. We've learned the lesson that it's much better, economically more feasible, to be proactive than reactive.
"How do we address that in the farm bill? Should we put aside funding specifically for disaster relief? Should it be somehow incorporated with the crop insurance industry to shore that up, make sure the farmers are better protected? These discussions are already taking place.
"I don't have anything concrete. But everyone should know we're already talking about these issues."
Abraham also says if forecasts play out, commodity prices don't look to go up much in 2017. "I just came from an agriculture committee hearing on exports to Cuba. The rice industry spokesmen are saying even for 2016 there will be a lot left in the bins. Unfortunately, I don't see commodity prices moving way up in the near future.
"There are global issues keeping demand down and there are national issues doing the same. I hope everyone is wrong, but the prices don't look to be making a big rebound."
Since that's the case, how about opening new markets for U.S. farmers? How close is Congress to moving the needle on a Cuba trade deal?
"As far as Cuba, I really believe we'll move that needle next year. Legislation from (Arkansas Rep. Rick) Crawford, which I'm an original co-sponsor on, is basically what the committee talked about today.
"We certainly want to protect human rights and address the things the Cuban government puts on its people. At the same time, we can help that aspect out just by (opening trade).
"Rice would be among the first products going to Cuba, the commodity that would gain the quickest. But there is so much more that would see a benefit: corn, beef, soybeans, on and on. It's a large market and we need to be there. We'll find a way to get that done and, at the same time, hopefully empower the people of Cuba."
Subscribe to receive top agriculture news
Be informed daily with these free e-newsletters
You May Also Like
---