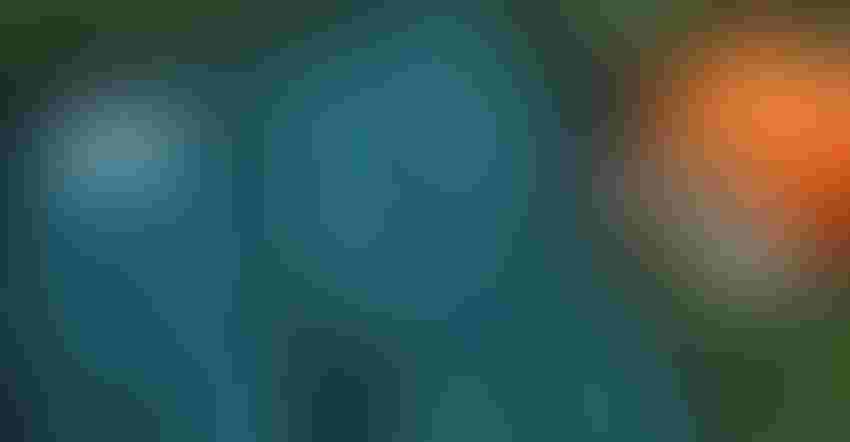 ALL THE GEAR: Chaps that protect the thigh and leg are just one piece of safety gear that you need to protect yourself when out cutting wood and clearing brush around the farm.
Curt Arens
It's wood-cutting time, so that means it is also time to revisit your safety gear to make sure you come home from clearing brush and cutting wood all in one piece. We asked Steve Rasmussen, retired Nebraska Forest Service district forester, about what safety clothing and gear is appropriate for light pruning or heavy wood-cutting with a chain saw.
With decades of experience working in the woods across Nebraska, along with operating his family's own choose-and-cut Christmas tree farm and his own sawmill, Rasmussen knows the importance of safety around these power equipment tools. Here is a rundown, from head to toe, on suggested safety gear for your time working on your woodlands.
Headgear
"If you are using a chain saw or conducting any work above your head, you will need a hard hat or safety headgear to protect yourself from limbs falling or keeping the chain saw from swinging around," Rasmussen says.
Many modern forestry hard hats are also equipped with a visor. "This keeps some, not all the fine dust, but some materials from hitting your face," Rasmussen says. "Hard hats can also include earmuffs as ear protection that just comes down over your head. This serves as a sound barrier, but it also protects your ears physically if branches strike you. Particularly if you are operating a chain saw, you must have some ear protection from noise."
Ear protection
If you are just doing some light pruning, earmuffs as protection may seem like overkill, Rasmussen says, but he notes there are many times when light branches strike your ears or hit you while you are pruning. "So, ear protection in that case is not so much for noise protection, but to physically keep branches from hitting your ears," he says.
Safety glasses for eyes
"I use regular safety glasses that have a yellow tint, so they are not too dark and you can still see in lower light," Rasmussen says. "Some glasses also have ear protection that pulls out." Goggles may be a little too much for hand pruning, but they can be very useful for chain saw work or sawmilling. "In those cases, I wear my safety glasses, but also have the visor down from my hard hat," he adds.
Gloves for hands
"Any time there is a tool that is sharpened, or you are using something that can cut you or cause injury, you need to wear a pair of leather gloves," Rasmussen says. "If you are applying herbicides or other chemicals, you wouldn't want leather, but would want some kind of rubberized gloves to protect you from the chemicals."
Leg wear
If you are using a chain saw, you need to wear chaps. "These protect your thigh and lower leg," says Rasmussen. "They won't protect your toes, but they can protect your legs when cutting wood." Most chaps can be adjusted, and they just strap around your legs.
Good boots
When operating a chain saw, the saw can cut your foot or heavy limbs can fall on your feet. "That's why I'm glad that I wear steel-toed boots," Rasmussen says. The height of the boot can make a difference on how much of your foot and ankle are protected. "The boots won't stop the chain saw, but they will protect the foot and ankle," he adds.
Rasmussen says that head-to-toe protection is needed when out pruning, clearing brush and cutting wood for the winter. "Take your time to protect yourself with safety gear before going out to cut," he says. "Accidents can happen at any time, so you want to always be prepared."
Learn more about safety gear from your local forestry professional or chain saw retailer.
Subscribe to receive top agriculture news
Be informed daily with these free e-newsletters
You May Also Like
---