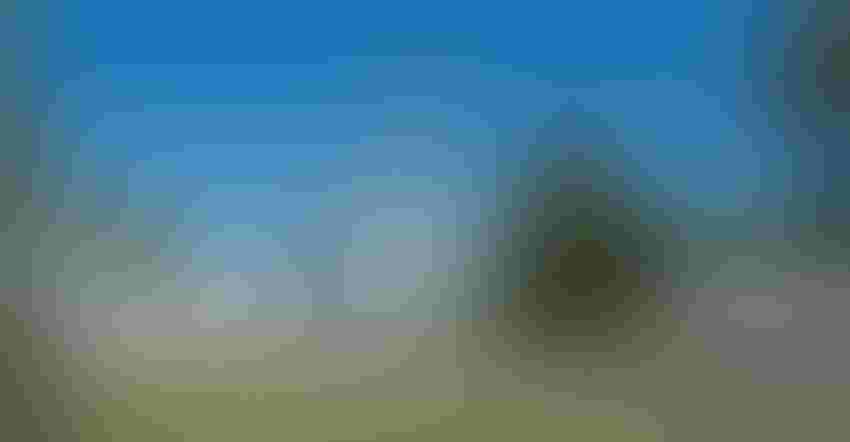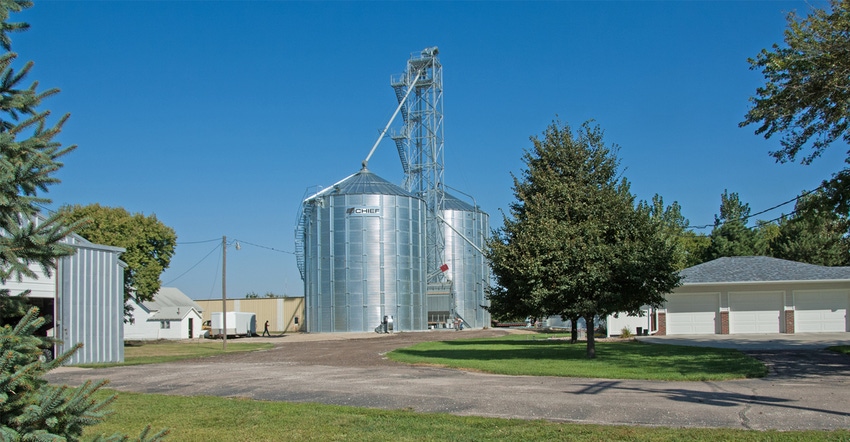 SHINY AND NEW: The grain bin system at Dave Utecht's farm saw a complete overhaul by Chief Agri. Utecht, who's been farming near Hastings, Neb., for 30 years, says the new bins are needed for future storage on the farm.
Courtesy of Chief
As COVID-19 twists and turns keep coming in 2020, there is comfort in some things remaining the same. The seasons will continue to plod along, mask or no mask, and farmers in Nebraska can take pride in doing what they do best this fall — harvesting their crops and getting them into the hands of processors and consumers that need them.
But that path from field to fork has a lot of variables and, as farmers well know, a lot of opportunity to lose or boost profit potential. Right now, in times of thin profit margins, farmers are weighing their options, including on-farm storage and marketing.
For many, boosting storage capacity makes sense, as studies have shown that storing grain postharvest and being able to take advantage of the carry in the market can mean extra profitability — plus the extra flexibility of being able to sell when and to whom you want.
Storage and processor needs vary from farm to farm, of course, and that's where partnering with an expert can make a big impact for a farm and its bottom line. Since 1961, Chief Agri has been working with farmers and companies throughout the Midwest to serve their grain storage and handling needs.
"Over the years, Chief has continuously innovated grain storage products that are built to last," says Matt Podany, Chief North American sales manager. He says these new designs and enhancements include the company's unique "W" stiffener for added strength, increased coating on Chief's roof panels for extended life span, and new aeration transitions that provide clean and simple installation.
"We also have the ability to offer an entire package of high-quality products for a complete grain storage system, including grain bins, aeration products, material handling, structures and grain dryers," Podany adds.
Grain handling on the farm
Dave Utecht, who farms corn and soybeans near Hastings, Neb., recognized that durability when he upgraded his storage and grain-handling facility.
"I farm with my nephew, and we'd been using an older system that my dad put up. It was undersized and needed to be replaced," explains Utecht, who recently put up two new Chief bins, as well as a receiving leg, Chief tower and drag.
When weighing which company could make the upgrades, Utecht says there were two things that stuck out about Chief — their local connections and their honesty.
"It means something to me that they are a Nebraska company, and they have a reputation of stability," he says. "They're heavy duty and meant to stand the test of time. I also knew that repairs, parts and service wouldn't be an issue."
While the local aspect was great, what impressed Utecht was how Chief kept his best interests in mind throughout the process.
He worked with Mike Skeen, a salesman for M & N Millwright LLC, an independent authorized Chief dealer, to design the system. "Before I started working with Mike, I had been trying to repurpose bits and pieces of what I had," Utecht says.
Instead, Skeen recommended tearing down the old and starting over. It was a more expensive, but Utecht, who's been farming for more than 30 years, says it was "the right call for the long run."
Market opportunities in ethanol
While well known for grain storage product offerings, helping farmers maintain and sell their grain also is important for Chief. In 1990, Chief purchased the ethanol plant in Hastings, which is Nebraska's first dry-mill ethanol plant.
In 2017, the company also purchased the Cornhusker Energy ethanol plant in Lexington, which now operates as Chief Ethanol Fuels. Together, the two Nebraska plants have a production capacity of 120 million gallons of fuel annually.
When some of Chief's total ethanol production was reduced because of the collapse of the fuel market, some of that production was redirected to begin supplying industrial alcohol into the hand sanitizer market. Its efforts helped Americans fight the coronavirus.
"We initially began to work with the local Pacha Soap Co. in Hastings to provide hand sanitizer for the immediate need," says Duane Kristensen, general manager at Chief Ethanol. "Andrew Vrbas and his crew at Pacha continued to improve and expand their product line, which has given Chief an opportunity to increase our industrial production." Pacha and Chief Ethanol donated many cases of hand sanitizer within the local area.
Even as the fuel ethanol market begins to ramp up production with the overall economy improving, Chief's commitment to provide environmentally friendly renewable fuels and a consistently high-quality feed to the local markets is now combined with a new product line of industrial alcohol.
"Having a Chief ethanol plant near me is convenient, and it's great to have the market competition and avoid the middleman," Utecht says. "I'm going straight to end user, and it's nice that it's a well-established and stable operation. I don't have to worry if they're going to be here next month."
To learn more information about Chief Agri and the grain storage, handling and quality equipment they produce, visit agri.chiefind.com.
For information on Chief's two Nebraska ethanol production plants, visit chiefethanol.com.
Lutter writes from Carroll, Neb.
Subscribe to receive top agriculture news
Be informed daily with these free e-newsletters
You May Also Like
---