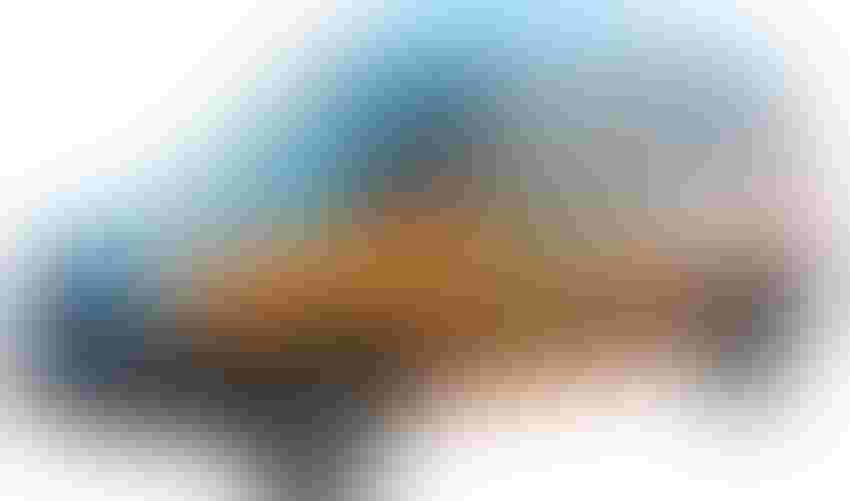 The Almond Board of California's Fritz promotional van will make 20 stops to distribute materials to growers in May.
Almond Board of California
After more than a year of holding events online or cancelling them altogether because of coronavirus-related restrictions on public gatherings, several California farm groups and companies are ready to proceed with in-person events.
Two companies, Holloway and AgSoilworks, will get the activities started this week with a spring field day April 28 in Lost Hills, Calif., featuring presentations on soil amendments and agronomy.
Beginning May 4, the Almond Board of California's field outreach and education team will embark on its previously postponed Industry Roadshow, visiting 20 locations throughout the state to educate growers about the organization's programs.
And the California Cotton Ginners and Growers Association (CCGGA) plans to host its annual meeting live at the International Agri-Center in Tulare, Calif., on May 12, barring any last-minute changes to state COVID-19 mandates.
Association President Roger Isom said the meeting will be an opportunity for the industry to gather in person after over a year of conversing virtually – or not meeting at all.
Related: Hansen Ranches exemplifies best management practices
Here is a rundown on each event, according to their hosts.
Spring field day
Attendees at Holloway and AgSoilworks' grower-specific gathering will include demonstrations of AgSoilworks' deep-ripping and development services, which include single to five-shank ripping for optimal root-zone conditions and placement of gypsum, compost and fertilizer, according to the event's website.
The event will also feature redevelopment planning discussions from local growers and experts; updates on Holloway's soil amendments and other products and services; Holloway gypsum mine tours, and a barbecue lunch.
The field day will be held just north of Holloway's Lost Hills location, 13850 Holloway Road.
Because of COVID-19 protocols, start times for the hour-long demonstrations will be staggered, with identical sessions beginning at 10 a.m., 11:30 a.m. and 1 p.m. Attendees must reserve one of the sessions in advance by calling Holloway at (661) 758-6484 or AgSoilworks at (805) 400-4582.
Almond Roadshow
The Almond Board's outreach team is loading up Fritz the almond van with 3,000 informational packets featuring the latest board resources and travelling to 20 locations throughout the state.
One of the purposes of the tour is just to give Almond Board members an opportunity to meet organization staff and leadership, spokeswoman Ashley Knoblauch said.
"We have missed spending time with industry members, and as things begin to normalize we look forward to connecting with the industry, answering their questions, hearing updates from the field, etc.," she said in an email.
The roadshow will begin at 8:30 a.m. May 4 in Corning and finish May 21 in Shafter, Calif. The van will also visit Orland, Durham, Williams, Woodland, Arbuckle, Waterford, Atwater, Merced, Escalon, Patterson, Lodi, Madera, Fresno, Firebaugh and Lemoore.
For details on each stop, visit Almonds.com/Events.
CCGGA Annual Meeting
The meeting begins with registration and continental breakfast at 7:30 a.m. in the banquet hall of the Agri-Center's Heritage Complex in Tulare. Welcome and introductions begin at 8:30 a.m.
Breakout and general-session meetings will run through noon, with a luncheon and keynote address to close the meeting.
Included in this year's event will be the opportunity to honor in person the Farm Press High Cotton recipient from the West, Hansen Ranches. Farm Press announced its High Cotton winners across the four U.S. growing regions – Far West, Southwest, Southeast and Delta – earlier this year through a virtual event. Each year for the past 27, Farm Press honors four U.S. cotton producers for their environmental stewardship and sustainable farming practices.
Typically the awards are presented at the Mid-South Farm and Gin Show in Memphis, Tenn., but that live event for late February was cancelled out of an abundance of caution due to continued pandemic health and safety concerns.
The award presented to Hansen Ranches will be an opportunity to honor them for their environmental stewardship and sustainable farming practices in growing high quality Pima cotton. Hansen Ranches farms cotton and other crops near Corcoran, Calif. Phil Hansen is a past board chairman of the CCGGA.
Dan Walters, opinion columnist for CalMatters, is this year's invited luncheon speaker. Walters is well known as a columnist for the Sacramento Bee newspaper and was once the nation's youngest daily newspaper editor at the age of 22, when he served as editor for the Hanford Sentinel.
CalMatters is a nonpartisan, nonprofit journalism venture committed to explaining how California's state capitol works and why it matters.
The half-day CCGGA meeting will include breakout sessions on two tracks. Ginners will hear from National Cotton Ginners Association President Curtis Stewart, the USDA on a gin lab update, and from the local air district on incentive programs available to cotton gins.
The growers track will also include an air district incentives update, an update on crop protection tools still available in California, and a cotton variety report and fusarium update from University of California Cotton Extension Specialist Bob Hutmacher.
General session topics will include regulatory and legislative updates by CCGGA staff, and a national farm policy outlook from the National Cotton Council.
Subscribe to receive top agriculture news
Be informed daily with these free e-newsletters
You May Also Like
---