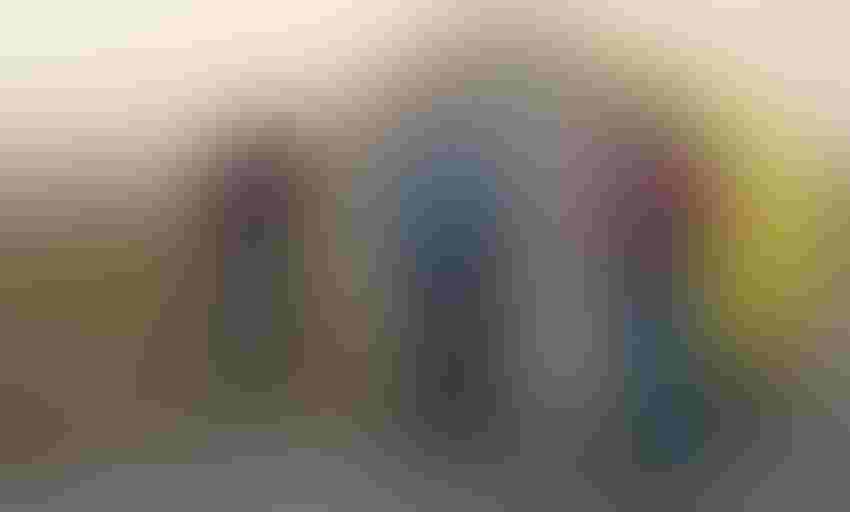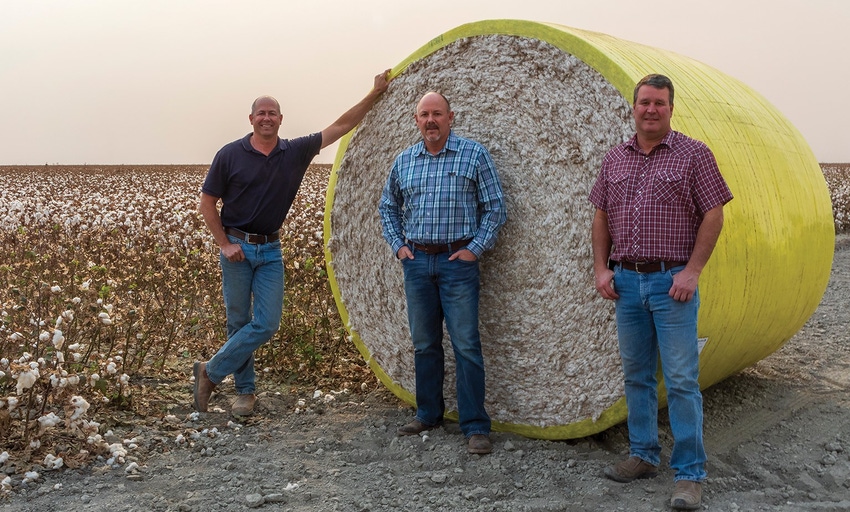 From left, Erik, Phil, and Nis Hansen.
Todd Fitchette
As a sixth generation of Hansens waits in the wings, history suggests that combined, the five generations of family before them created a farming legacy. They did so by successfully and sustainably farming cotton and other crops in the same lake bottom region of the San Joaquin Valley that Hansen Ranches patriarch Nis Hansen first tilled in the late 19th Century.
Brothers Phil and Erik, and their cousin, Nis Hansen, oversee the day-to-day operations of a diverse farming operation that includes upwards of 10,000 acres of high-quality, extra-long-staple Pima cotton known for its strength and ability to mill fine clothing and linens. It is their dedication to sustainable farming practices, a strong business acumen that continues to focus on environmental stewardship and irrigation efficiency practices that makes Hansen Ranches this year's Farm Press High Cotton winner from the West.
Phil oversees day-to-day operations of the diversified farming business that includes cotton, pistachios, almonds, pomegranates, and safflower. His brother Erik is general manager of farming operations, more directly handling cropping decisions, while their cousin Nis oversees equipment and well operations. Phil's son Brock is already starting to learn about the family business that covers approximately 20,000 acres of farmland in and around the Tulare Lake bottom.
The Hansen family is a partner in nearby Cross Creek Gin, where their cotton is ginned. They are also active in their community on various civic and agricultural boards. Phil is past chairman of the California Cotton Ginners and Growers Association, is the current board chairman for Horizon Nut Company, a pistachio processor, and is elected to the boards of Supima Cotton and Superior Almond Hulling.
Focus on Pima
Hansen Ranches has grown Pima cotton for a couple of generations. Phil says the family's decision to transition from Acala and Upland varieties to Pima came about when Pima was first introduced to California as an experimental crop in the 1980s. At the time Pima was billed as a higher priced cotton that could do well in the dry heat of the San Joaquin Valley.
"It was pure economics for us," Phil said. "We were just trying to see if we could grow something that would provide us a better return on our investment."
Among the questions that needed to be answered before making the switch: could they produce similar or better yields than Acala and Upland varieties? Could the Pima stand up to the Valley's heat and not shed like the other varieties? Could they sell it for a premium price as promised early on? Could they gin the cotton properly to take advantage of the fiber quality and strength?
Those and other questions were successfully answered as Jim Hansen, Phil, and Erik's dad, made the transition during a period when "one variety laws" prohibited Pima outside of experimental trials. Phil credits his father with the foresight to consider Pima cotton while he worked to greatly increase the family's farmland holdings. During his days of running the farm, Jim Hansen more than doubled the family's farming acreage through the acquisition of land at low prices.
Phil said after trying Pima it appeared his area of heavy soil and climate conditions made it a better fit than Upland or Acala varieties for reasons that would be revealed over time.
Hansen Ranches works closely with the University of California Cooperative Extension and UCCE cotton specialist Robert Hutmacher to perfect Pima varieties and growing practices each year. The farming operation is also a regular stop during the National Cotton Council's annual Producer Information Exchange, or PIE Tour. It is here that cotton farmers from elsewhere in the United States learn first-hand what their peers in California do to produce high-quality cotton under the state's climatic and regulatory conditions.
"We do that to expose ourselves to other ideas," said Erik of hosting a PIE Tour stop. "It's good to communicate with other people in your industry and you may learn something about ginning or irrigation that you didn't know."
Flood irrigating?
In an age of increasing acceptance of water thrifty technologies that include drip and micro irrigation systems (systems employed elsewhere on the ranch in their permanent crops) the Hansen's still flood irrigate their cotton, and for good reason. They grow cotton at the bottom of the old Tulare Lake bottom, an ancient fresh water lake that has long-since dried up in the wake of water diversions, dams, and canals that brought great agricultural success to the San Joaquin Valley. The ancient lake was once the largest body of water west of the Mississippi River before those diversions began in the 19th Century.
The heavy soil holds water well. The region is also naturally flat for miles in all directions. This aids the efficient use of flood irrigation within a closed system that allows for easy return of unused water back to the canal system. Planting permanent crops here would not be wise with the propensity of the ancient lakebed to occasionally flood during high flow runoff events and rain.
"We're susceptible to flooding out here, so this ground is not conducive to permanent crops," Phil said. "Even though we don't get many big floods out here, you have a lot of money in these trees — they'd be gone in a hurry if we did that."
Flooding the cotton as they do and planting safflower in rotation fits well with management practices that tend to rotate crops much quicker than is practiced elsewhere. Phil says they can better manage the effects of yield-robbing pathogens that lead to diseases like Fusarium Race 4 with such practices. It shows in their annual yield and quality averages, which consistently rank above the statewide average.
"We can make four-bale cotton out here," Phil said.
Many cotton fields may only be used one season before rotating to another crop. Erik says cotton will typically follow a cereal crop then be rotated to corn, alfalfa, or sorghum, depending on the farm's needs or soil requirements. The Hansen's also have a 2,000-cow dairy nearby that requires forage crops and an outlet for the manure it generates.
A relatively popular crop in the area is safflower, which Phil says is not a money maker, but bears fruit in how its deep roots benefit the soil ahead of cotton.
"Safflower helps the ground quite a bit," he said. "It kind of dries it out and opens up the soil."
Following a safflower crop they will deep rip, put up large borders then flood those fields for about 30 days during the warmer days of September and October. Such practices help control soil-borne diseases.
"Cotton does really well after we do this," he said.
Hansen Ranches is also perfecting no-till efforts in some of its cotton to further improve soil health.
Integrated pest management
IPM efforts seem to benefit from the all-Pima variety decision. Erik says mite pressures are lower with the Pima varieties and efforts to control pests in nearby alfalfa are coupled with best management practices that benefit cotton. This includes leaving uncut strips of alfalfa near cotton fields, which tend to hold lygus bugs and keep them from drifting to the cotton.
Technology in the crop protection industry has helped too with targeted insecticides that are less harmful to beneficial insects, Erik says.
Controlling insects in cotton is crucial to maintaining California's good standing with cotton markets. Phil says the industry's laser-focus on preventing sticky cotton must continue if California growers are to compete in a global marketplace.
For those years where the growing season extends through October and into November with no major weather, good insect control and a lack of early-season rain can help them go after a top crop to gain more yield.
Still, Phil says this is a "fine line" and "you can't get too greedy and wait for it because the weather can change."
They had at least some of the makings for a top crop in 2020, but depressed cotton prices ended that quest as it was too costly to pick twice — something Phil said they will do to go after the highest yields possible.
Presentation
Join Farm Press and The Cotton Foundation for a livestream presentation of the 2021 High Cotton awards, March 23, 1 p.m. CDT. Farm Press will stream from four locations across the U.S. and recognize each grower/operation. Follow this link for more information. 
Subscribe to receive top agriculture news
Be informed daily with these free e-newsletters
You May Also Like
---