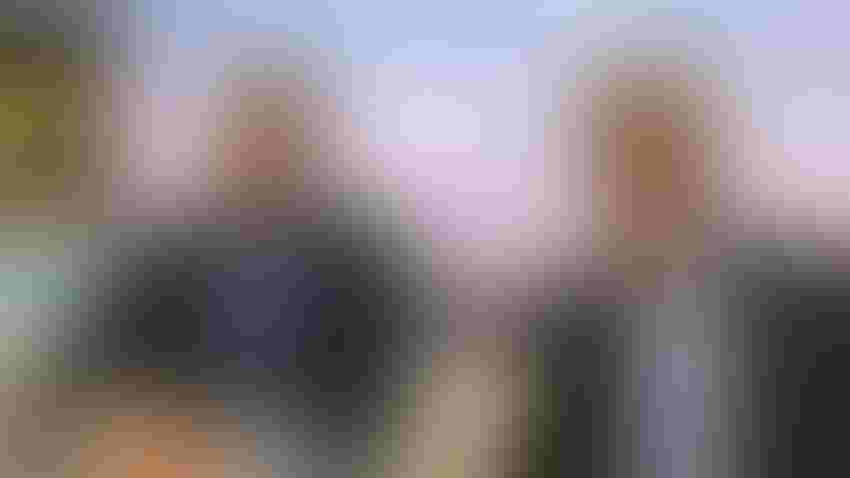 LOOK AHEAD: BASF execs Paul Rea and Livio Tedeschi share ag outlook at Commodity Classic.
Miracle King-Wilson
Despite inflation and higher land and input costs, agribusiness leaders see a promising future for the U.S. farm economy – as long as farmers find ways to manage ongoing volatility.
That was one of the messages we heard as we sat down with BASF leaders at the recently held Commodity Classic in Orlando, FL. Paul Rea, BASF Senior Vice President of Agricultural Solutions North America, and Livio Tedeschi, President of BASF Agricultural Solutions, shared with Farm Futures a wide range of insights on the coming growing season.
What's your take on the U.S. farm economy as we head into spring planting?
Rea: Farmers are experiencing a tremendous amount of volatility – spending a lot of money on the front side of the crop, waiting for the backside. What I'm hearing from farmers is worries over managing risk. Many are managing risk by marketing a portion of their crop ahead of the growing season and managing margins. That means they have more surety. Prices are good at the moment.
Tedeschi: The balance sheets are good, mainly because of the last couple years. It's very difficult to draw a historical line when margins improved, because of so many disruptions. The first half of last year was driven by emotional fear of shortages of grain from Ukraine, and it didn't happen to the extent that the market expected. But it drove prices up. The main increase in input costs was fertilizer, but with corresponding higher prices in commodities. Now both commodities and fertilizer prices are coming down a bit.
Exports are very important to the U.S. farm economy. U.S. soybean exports to China have seen some softer demand, particularly because of the pandemic, but we're now seeing an uptick in domestic demand. So, in the United States, I think it's positive near term.
What are the headwinds farmers need to watch out for?
Rea: Managing volatility is really about changing behavior. If farmers want to protect their legacy they'll think about how to manage the risk that's on the table. That doesn't mean forward selling all of their crop, but proactively spreading risk throughout the growing season. It's about behavior change. Four years ago farmers would have given their right arm for the prices we have today.
You also have to manage working capital, but those decisions are very farmer specific, based on size, scale, how much land they lease vs. own. What we saw coming was that capital would be tighter, and lending much more scrutinized by the banks because of interest rates, which is why we offer zero percent interest rates if you buy BASF inputs through your retailer. You don't pay until after harvest. That's free money so you can do something else with your working capital.
Another challenge is weed resistance. Farmers are using herbicides, so weed resistance isn't going away. It will remain a challenge, so having the right mode of action and rotating chemistry will pay off down the road.
World fertilizer and grains output were impacted by the Russia-Ukraine war. The real issue now is inflation. It's impacting farmers in Europe as well as the United States.
There's a lot of talk at Commodity Classic about a new era of renewable fuel based on low carbon feedstocks like soybeans. Do you expect big changes in rotations?
Rea: We don't see soybeans replacing corn. For a long time soybeans have been neglected in terms of agronomic research. Even so we've seen great improvements from seed treatments and fungicide improvements leading to yields of 60 or 70 bu. per acre and more. With commodity prices today it becomes a very profitable crop. So we're optimistic about the outlook for soybeans, and farmers should be too. Anything they do to improve their agronomic practices now will pay off when this (increased soybean crushing) capacity comes online.
What should farmers be thinking about long-term?
Rea: Having a plan is very important in these volatile times and taking some risk off the table is a good thing. Take advantage of the tools that are out there, particularly on the finance side.
Tedeschi: Think about how you will manage your crops five years from now. Think about ways to boost productivity and minimize input costs. In the next 5 to 10 years we'll see better seed treatments, and improvements in oil content as we strive to improve genetics. There's not much more land we can use so to satisfy demand, so we have to change export balance or improve productivity on the acres we have already in production.
Subscribe to receive top agriculture news
Be informed daily with these free e-newsletters
You May Also Like
---