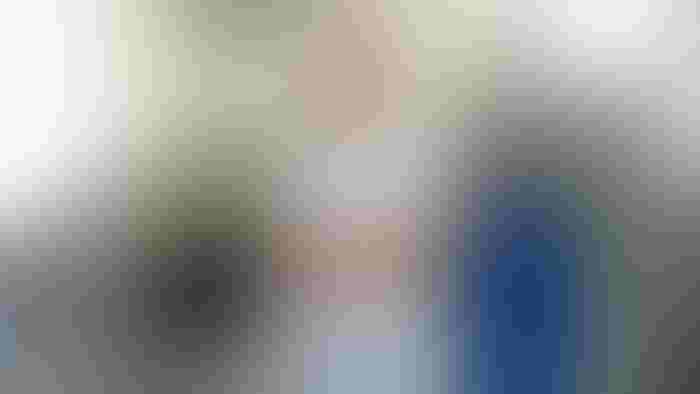 by Jim Massey
When COVID-19 flipped the meat-processing business upside down in 2020 and farmers had nowhere to turn to butcher their cattle, hogs, lambs and goats, Alex Lease saw an opportunity to transform his Outdoor Addiction deer-processing business into something more.
The young entrepreneur went to work to get a state license to process livestock in his Dane County, Wis., meat-processing facility, allowing mobile slaughter units to harvest animals on southern Wisconsin farms and bring the meat to him to be turned into products that could be sold anywhere in the state. He has now gone a step further with a state-of-the-art USDA-inspected mobile slaughter trailer that is one-of-a-kind in Wisconsin, which gives producers an opportunity to sell meat from animals he slaughters on the farm and processes in his Blue Mounds, Wis., plant anywhere in the U.S.
Lease, 31, began his professional career as a taxidermist, working out of his mother's garage before renting space from his uncle Jim Lease, who had purchased a deer-processing facility just west of Mouny Horeb, Wis. It was a one-stop shop for hunters who could bring in their deer and leave with meat and an impressive head mount.
When Lease's uncle decided to sell the business in 2019, Lease stepped up to the plate. He bought the building and began processing an average of 700 deer every fall. He made plans to develop his own line of Outdoor Addiction beef sticks and jerky and grow the business from there.
And then 2020 came along.
"Things got a little crazy," Lease says. "Farmers couldn't get their animals in [for processing] anywhere. The big meat plants shut down for a few days and the grocery store shelves were empty. The supply chain got messed up. I was getting lots of calls from farmers asking if I could process pigs and beef, so I began to make some calls to see what I could do."
He made some improvements to the meat plant. It was inspected by state officials, and he was given approval to work with the Wisconsin Pork Producers Association on a food pantry project that got his foot in the livestock-processing door. He purchased a truck for carrying out the food pantry pork contracts and later came up with the idea to convert the truck into a mobile slaughter unit.
Continued growth
In the meantime, other local mobile slaughterers began bringing animals to Outdoor Addiction for processing, and his business continued to grow. Lease built a 30-animal-capacity, stainless steel, walk-in cooler; added vacuum-sealing capability, a new stuffing machine, a bacon slicer and a patty machine; and renovated the processing plant from top to bottom.
About two years ago, Lease decided to take his business to the next level by applying to become a USDA-inspected meat-processing facility. He was given the green light for his plant and then set about to build a mobile slaughter unit that he could take to farms across southern Wisconsin. The goal was for the mobile slaughter unit to be USDA-certified, too, so meat from animals slaughtered in his unit on the farm could be sold anywhere in the U.S.
The trailer was designed with the help of his uncle Fred Groth of McFarland, Wis., and took nearly two years to build from start to finish. Long waits for various trailer components delayed the project's completion.
The $200,000 mobile slaughter unit is housed in a 38-foot gooseneck trailer that is 9 feet high and rides on three 7,000-pound axles. The trailer includes a generator, water heater, water pump, electric panels, cooler, winch, rail system, slaughter area and inspection table.
The trailer was first put into service on Aug. 21 and was used to slaughter elk, bison, beef and pigs the first week.
"With this unit, we could build up to 30 beef a week with a two-man crew," Lease says. "We will travel as far as two hours with the trailer."
Federally inspected
Because the unit is federally inspected — an inspector meets the slaughter crew at each location — meat from the harvests can be sold to restaurants, grocery stores, farmers markets and across state lines. If the farmer doesn't intend to ship the meat out of state, an inspector isn't needed at that stop.
One of Lease's key employees has been on medical leave, so Lease has been manning the trailer with one other worker during its early days on the road. He currently has a staff of six in his Blue Mounds processing plant.
"I've got no problem [with the on-farm slaughter]," Lease says. "God put animals on this Earth for us to eat. I did taxidermy and skinning deer for many years, so it's all second nature to me."
He has slaughter appointments on the books into December but is always willing to schedule more animals.
The Outdoor Addiction building just off of Highway 18-151 between Mount Horeb and Blue Mounds stood as the Blue Mounds Cheese House in the 1980s before becoming Dick's Meat Market and Uncle Jimmy's Deer Processing after that. Lease says he has long-term plans to add onto the building to the west to accommodate what he hopes will be a national ready-to-eat meat-product business.
Lease and his wife, Samantha, a doctor of osteopathic medicine, married in June and live in an apartment above the slaughter facility.
"We're cool with being here for 10 years, if we need to be, to pay off our business debt and student loans," he says.
Outdoor Addiction
Lease came up with the Outdoor Addiction name for his business when he first began doing his taxidermy work and processing deer after completing taxidermy school. He compiled a list of words he wanted to consider in his business name, and when "outdoor" and "addiction" came together, he knew he had a winner.
"I knew that was the one," he says. "I was addicted to hunting. My dad and grandpa passed it down to me."
Lease says he appreciates the assistance of USDA officials who helped him jump through the hoops necessary to get his federal slaughter and meat-processing authority. Catherine Pierce, a frontline supervisor in the Food Safety and Inspection Service's Des Moines, Iowa, district, has been his direct contact. He says it took nearly two years from the time he began planning for USDA approval before the license was issued.
"[Pierce] kind of helped me put the pieces together," he says.
The Outdoor Addiction mobile slaughter unit is the only vehicle of its kind in Wisconsin that is processing livestock and is certified by USDA, according to Jackson Collier, a public affairs specialist with USDA's Food Safety and Inspection Service. There are 26 USDA-certified mobile slaughter units in the U.S., Collier says.
A second federally inspected mobile slaughter unit is in the works in Wisconsin to process poultry for Nico Bryant and Driftless Harvest of Mineral Point, Wis., but it has faced construction delays. Bryant says it should be ready to hit the road soon.
The only state-certified mobile slaughter unit in Wisconsin is owned by Prem Meats of Spring Green, Wis., with the mobile unit going by the name of Natural Harvest, according to Paul Humphrey, director of the Bureau of Meat and Poultry Businesses at the Wisconsin Department of Agriculture, Trade and Consumer Protection. Animals processed by Prem Meats can be sold anywhere in Wisconsin.
For more information, contact Outdoor Addiction at oameat.com, [email protected] or 608-437-3337.
Massey lives in Barneveld, Wis.
Subscribe to receive top agriculture news
Be informed daily with these free e-newsletters
You May Also Like
---