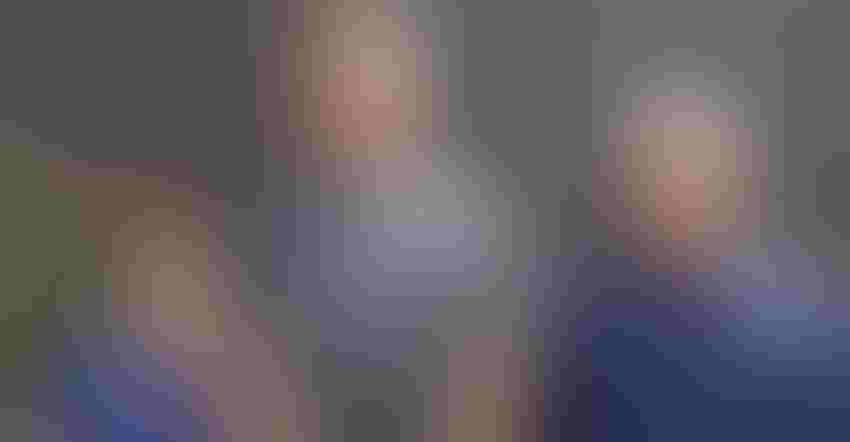 MAKING CHANGES: MacGlafin Farm of Claremont, N.H., has seen its rolling herd average, butterfat and protein increase over the past five years without increasing grain intake. Pictured are (from left) Julie, Jason and Ed MacGlaflin.
Courtesy of John C. Porter
Editor's note: Each year, the New England Green Pastures Award honors an outstanding dairy family from each New England state for its production and financial management, as well as its contribution to the local community. The award winners will be honored next month at the Eastern States Exposition (Big E) in West Springfield, Mass. Today's feature is from New Hampshire.
MacGlaflin Farm LLC has been in operation since 1971, beginning in Connecticut and then moving to New Hampshire in 1996.
The family milks more than 450 cows. They are members of AgriMark cooperative, raise their own replacement heifers, and farm 600 acres of owned and leased farmland.
Ed MacGlaflin began the farm, and his son, Jason, started helping with chores at a very early age. The father-son partnership has worked together for nearly all of Jason's life. In 2015, Jason and Julie married, and she later joined the team after selling her small Vermont dairy. The three work alongside a talented group of employees who manage day-to-day operations.
Increased milk production
Over the past five years, the production per cow has increased from 63.5 to 72.1 pounds of milk per cow per day with an annual herd average of 23,237 pounds, while averaging 4.26% butterfat and 3.2% protein without increasing grain.
The increase is credited to quality forages, improved calf growth, proper genetic mating and overall cow management. Working alongside nutritionist Amanda Lovell of Poulin Grain, the rations are well-balanced and cost-effective.
Somatic cell count is under 150,000. The average annual raw count has been reduced from 14,000 to less than 2,000 in recent years. The family credits better employee training, enhanced milking protocols and bedding management for the improved milk quality.
Calves are raised in groups of seven to eight on free-choice milk. They grow well, are strong and are well-socialized to prepare them for a successful future. Working with their veterinarian, Dr. Jadene Patch, the calves are fully vaccinated, and they have instituted management protocols that have reduced the mortality rate to 1% with a minuscule number of treatments needed.
The introduction of polled genetics began in 2015, with over 33% of the herd being polled today. Aside from being a labor-saving practice, it negates the need for pain management drugs.
The polled cows keep pace with their herd mates in production, reproduction and longevity. The family's goal is all calves born polled.
Managing resources
Conserving and properly managing resources is critical to the future of agriculture. The farm is a member of the Connecticut River Watershed Farmer Alliance.
The family plants cover crops in addition to using nutrients properly.
MacGlaflin Farm has met or exceeded expectations of the FARM animal care program for cow scoring metrics on cleanliness, lameness, body condition, hock and knee abrasions. All treatments and vaccines are recorded through PCDart to maintain thorough records for the herd.
The farm's goal in the community and industry is to consistently improve cow comfort, land management and the lives of its employees. Great efforts are taken to make improvements year after year while being financially responsible, ensuring the future of the farm.
Porter is an emeritus dairy Extension professor/specialist with University of New Hampshire Extension.
Subscribe to receive top agriculture news
Be informed daily with these free e-newsletters
You May Also Like
---