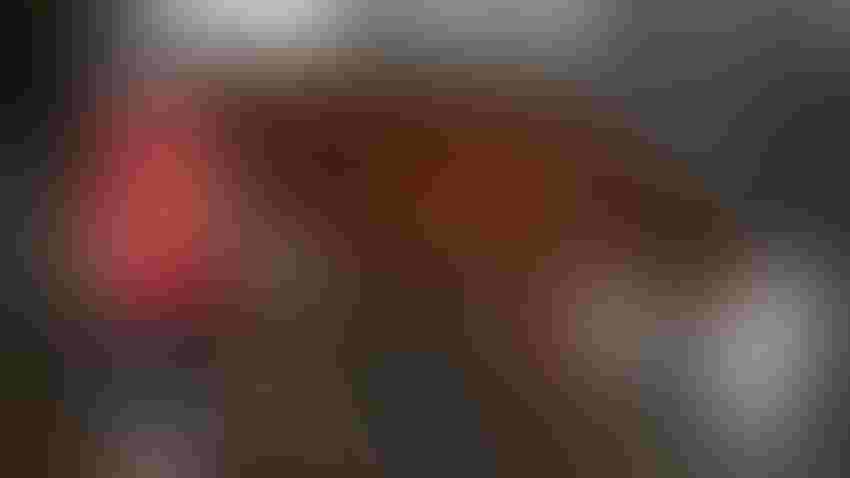 COUNTY FAIRS ON HORIZON: Kansas State University beef cattle veterinarians remind youth livestock exhibitors to prepare for the health and safety of their show cattle during the hot fair days this summer.
Courtesy of K-State Research and Extension News Service
The show box is packed, and the livestock are loaded onto the trailer to head to town for the county fair. But amid the excitement of competition and seeing friends, there's a responsibility to the health and safety of the livestock you're exhibiting.
A.J. Tarpoff, Kansas State University beef Extension veterinarian, reminds exhibitors that heat stress is a top concern for their livestock — especially those at their finished weights.
Tarpoff reminds cattle showmen, especially, that cattle struggle to sweat, which means they rely on their respiratory system to reduce their heat load. They also rely on cooler nighttime temperatures to help them dissipate the day's heat.
"It takes four to six hours to return cattle to regular temperature," Tarpoff says.
In show steers and heifers, look for unusual behavior that can signal heat stress:
increased crowding around water
Tarpoff advises exhibitors to use heat stress mitigation strategies at home and at the fair.
Ensure plenty of ventilation, and use fans in the barn.

Account for your animal's hair coat and color — black-hided calves with longer hair need more consideration in the heat, for example.

Consider past health issues of your steer or heifer.

Reduce all animal handling during heat intervals if you can help it. Time your weighing, processing, sampling and shipping for cooler morning hours.

Provide plenty of clean water to cattle. Their water consumption doubles as the temperature rises from 70 to 90 degrees F, he says.

Watch overly humid areas, like wash racks with poor ventilation.

Also, check with the Kansas Mesonet's Animal Comfort Index, bit.ly/mesonetanimalforecast, to see when you should plan to adjust your heat mitigation strategies.
Other health concerns
Kansas State University veterinarian Bob Larson also reminded 4-H'ers and other livestock exhibitors that other health concerns can crop up at fair time for their livestock. He spoke on the Beef Cattle Institute's Cattle Chat podcast about ringworm and warts, two of the most common conditions that would keep a show steer or heifer home from the show.
Before you take your show cattle to the veterinarian for their health papers, look carefully for warts, ringworm or other problems well in advance of the show so there's time to treat them, he advised.
Warts have to be removed, but it takes time for the calf's body to create an immune response to clear them up. And ringworm is a fungus that is best treated with sunlight and a topical cream, Larson said.
Larson and Phillip Lancaster, K-State beef cattle nutritionist, also have this advice:
Examine trailers for any sharp edges or rotten flooring that could injure animals in transport.

Provide familiar feed, forage and water and stick to a familiar routine to reduce your animal's stress in a new environment.

If cattle are used to well water, they may turn up their noses at city water, so be prepared to bring in 15 to 20 gallons of water per day if your show cattle refuse to drink in town.
Learn more by listening to the full Cattle Chat podcast online or on your favorite streaming platform.
Kansas State Research and Extension News Service and the Beef Cattle Institute contributed to this article.
Subscribe to receive top agriculture news
Be informed daily with these free e-newsletters
You May Also Like
---