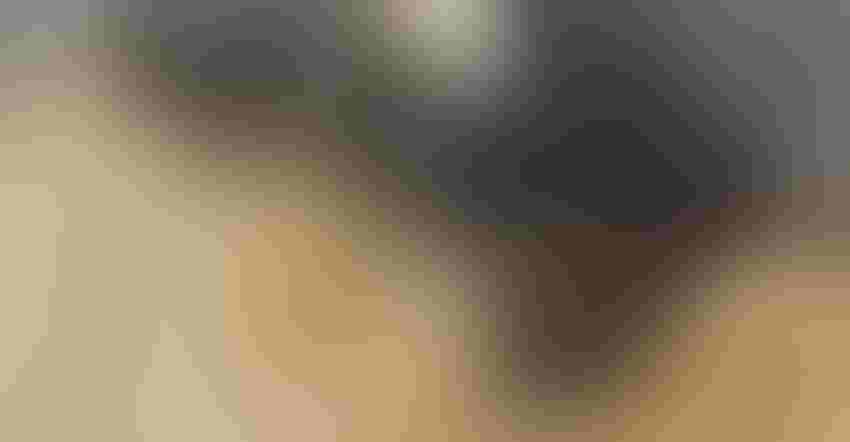 2 TACTICS: Dairy nutritionist David Carlson says producers can decrease heat stress in their heard through facility and nutrient management.
Farm Progress
With regions across the country being affected by hot conditions, what can dairy producers do to keep cows comfortable?
David Carlson, a dairy nutritionist and technical services specialist for Vita Plus, says heat abatement can be acquired with both environmental and nutritional strategies. "It's important for producers, nutritionists and veterinarians to continue to learn about the impacts of heat stress," he says.
One way to assess heat stress is with the Temperature Humidity Index, which combines environmental temperature and relative humidity to dictate level:
"For a frame of reference, a THI of 68 would be 70 degrees at 65% relative humidity," Carlson explains. "On a common Upper Midwest day, that's probably happening midmorning."
Signs of heat stress in dairy cattle include:
decreased dry matter intake
"Some of the consequences of heat stress are very well known, with lower milk production and cows will be more prone to rumen acidosis," Carlson says.
Other consequences include decreased reproductive performance, a compromised immune system, decreased calf birthweight, shorter gestation length, lameness and weight loss. Hotter days and higher heat indexes can lead to extreme heat stress in cattle.
Heat stress management
Carlson says the two main ways to achieve heat abatement in a dairy herd is through facility and nutrient management.
"We have four components of cow cooling in a facility: the shade, the air velocity, water [for] both drinking and applied for evaporative cooling, and time, which refers to the duration of these cooling episodes," he explains. "For the air velocity, we ideally want to maintain a 4- to 6-mile-per-hour constant breeze over the cows as they lie down."
Carlson says these components should be prioritized in the holding pen, as this is the most heat-hostile area on the farm. "We see cows bunched in together. They're all standing up, and we want to apply water and air velocity on a frequent basis," he says.
The next area of priority is cows close to calving, as heat stress in the cow can be passed down to their offspring. The third priority would be the maternity pens and fresh cows and heifers, as well as the highest-producing cows, and the final priority would be the milking parlor.
"Heat stress is a factor even in the most well-managed and best barns out there," he says. "These strategies are things to think about to raise the bar to help these calves and cows through this period of heat stress."
In managing nutrition, Carlson offers these areas to examine:
Water access. "Cows will drink more during the heat," Carlson says. He recommends that there are at least two waterers per pen, located every 80 feet in the pen. Cattle should have at minimum a linear water space of 400 inches per cow.
"We want to think about how when cows leave the parlor, they drink a large portion of their daily allotment during that period," he says. "We figure a cow drinks 10% of their water right after milking, so if a herd is milking three times a day, that's 30% of their water intake occurring right after milking."
Rumen health. Minimize rumen fermentation of the dairy herd. Accounting for an increased starch availability and ensuring the cattle diet has adequate and effective fiber are ways to maintain a healthy rumen.
"We want to be provided that adequate fiber. We know that the longer corn silage stays in the pile, we get increased starch availability and want to consider that when we think about cows being more prone to rumen acidosis," he explains.
Feed additives and supplements. Nutrient supplements and additives can aid in adapting to heat stress, as well as improving intestinal integrity. Metabolic modifiers can help cattle manage heat stress and can be added into a complete balanced ration.
"These aid the cow in adapting to heat stress, so we know that her body is adapting to hot weather," Carlson says. "One category would be vasodilation, and we know that niacin and essential oils can increase vasodilation, so the blood vessels are dilated for greater blood flow, especially in the skin, which then helps to dissipate the heat through the skin and glucose metabolism."
Carlson says that stressful events such as a high heat index can cause cows to decrease consumption of dry matter, which can lead to a phenomenon known as "leaky gut." "The gut becomes more permeable," he says. "It's an adaptation to stress to try to get more nutrients into the cow. But with that, there's negative things that happen during leaky gut."
He says feed additives that improve intestinal integrity will be microbial products such as probiotics, prebiotics and toxin binders.
"Managing the cow's environment is the first priority," Carlson says of combating heat stress. "Second is to evaluate well-research feed additives that help the cow to adapt to heat stress."
With many negative outcomes for heat-stressed dairy cows, producers can take many routes to ensure their cows stay cool and comfortable during times of high heat.
Subscribe to receive top agriculture news
Be informed daily with these free e-newsletters
You May Also Like
---