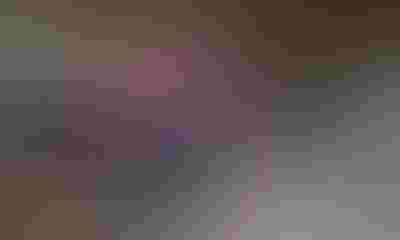 Sarah Lloyd wears many hats. The 44-year-old farms with her husband, Nels Nelson, and his brother and parents on a 400-cow, 1,000-acre family operation near Wisconsin Dells in Columbia County. Lloyd is also running for Congress, and she works off the farm for the Wisconsin Farmers Union and the Wisconsin Food Hub Cooperative.

FARM ADVOCATE: Sarah Lloyd and her husband, Nels Nelson, milk 400 cows and farm 1,000 acres with his family in Columbia County near Wisconsin Dells. Lloyd is running for Congress to represent the 6th Congressional District.
In these positions, she helps farmers build their farm enterprises and gain access to better markets for their products. She also works on solar initiatives for Wisconsin Farmers Union, helping farmers and rural residents learn about opportunities for solar. Lloyd is secretary of the Wisconsin Food Hub Cooperative board of directors and runs the farmers market in Wisconsin Dells on Sundays. 
Lloyd has an interesting agricultural background. In 2013, she was appointed by U.S. Secretary of Agriculture Tom Vilsack to represent Wisconsin dairy farmers on the National Dairy Promotion and Research Board. She also served from 2008 to 2014 in an elected position on the Wisconsin Milk Marketing Board. From 2004 to 2007, she served on the Columbia County board of supervisors.
She is currently on the advisory board for the University of Wisconsin-Stevens Point College of Natural Resources and on the Citizens Advisory Committee for the UW-Madison Center for Integrated Agricultural Systems. Lloyd is president of the Columbia County Farmers Union. She also serves as treasurer of the board of directors for the Wormfarm Institute, a Reedsburg organization that works at "the intersection of culture and agriculture," which is featured in the annual Fermentation Fest and Farm/Art DTour.
Education and teaching
Lloyd has a doctorate in rural sociology from UW-Madison and teaches the rural social and economic issues course in the UW-Madison Farm Industry Short Course, covering social, economic and ecological issues in agriculture.
"My dissertation and doctoral research examined structures and framings of agricultural sustainability in rural communities," Lloyd explains. She has a master's degree in rural development from the Swedish University of Agricultural Sciences and a bachelor's degree in environmental studies from Brown University.
"In the 1990s, I worked on sustainable forest management issues in Russia, Sweden and Finland, living for a number of years in both Sweden and Finland, and working in Russia" Lloyd says. "I looked at how rural communities were transitioning from timber-based economies to tourism."
In 2001, Lloyd returned to the U.S. and moved to the farm her dad and grandfather grew up on in Columbia County.
"I started growing vegetables, and I direct-marketed them at the Lodi and Portage farmers markets," she says. "I also substitute-taught in Cambria, Rio and Randolph school districts and worked at the Del Monte canning factory in Cambria." For a time, she served as membership coordinator at the Aldo Leopold Foundation in Baraboo.
In 2007, Lloyd and her husband, Nels Nelson, were married.
Running for Congress
About a year ago, Lloyd decided to run for Congress and represent the 6th District, which includes all or portions of Adams, Columbia, Waushara, Marquette, Green Lake, Winnebago, Fond du Lac, Sheboygan, Manitowoc, Ozaukee, Dodge and Jefferson counties, and the Milwaukee County suburb of River Hills. She is a Democrat and is running against incumbent Republican Rep. Glenn Grothman, who was elected in 2014. For more about Grothman, see the related story at the end of this article.
"I decided to run because I am completely frustrated with what is going on in Congress," Lloyd explains. "The big issues impacting farm families and working families are not being addressed."
Those issues include:
• providing a family with a living wage or a farm family with a living
• making college affordable
• making sure  technical colleges have the necessary resources so workers can get the skills they need for jobs for today and tomorrow
• health care and health insurance
"We started with the Affordable Care Act ['Obamacare']," she says. "That's a step in the right direction, but there are things that need to be improved."
Lloyd believes the playing field between chief executive officers and farmers and the working class is not level.
"The system is broken right now," she explains. "CEOs are making record incomes and profits, and nobody else is. We should have a system that works for everyone. What we have now is not acceptable. The average person is getting dragged down. We need a system that is fair."
As a dairy farmer, Lloyd believes dairy farmers are not getting the protection they need with the Margin Protection Program when milk prices get low.
"We've seen this historically low milk price for the past year," Lloyd explains. "The MPP is supposed to kick in and help farmers, but it hasn't. An 80-cow dairy producer gets a small return of $300, while a 220-cow dairy gets no return on their premiums. It's not working."
If elected, Lloyd says she would like to serve on the House Ag Committee. "The next farm bill is already being discussed. We need a farm bill that helps all farmers. Everyone is getting their butts kicked by this economy. They are squeezing farmers and consumers from both sides."
Lloyd believes every input sector for agriculture is getting bigger, and that is having a negative impact on agriculture.
"Seed companies, farm chemical companies, fertilizer companies, dairy and meat processors, canning companies, and grocery stores are all merging and getting bigger. And farmers are being forced to get bigger. My concern is you have to get bigger or get out," she says. "That's not right.
"If I am elected, I will push hard for the Department of Justice to break up or act on the monopoly power," she says. "We could say 'no' to the merger between Bayer and Monsanto. The same thing is true with grocery stores. Kroger bought Roundy's earlier this year, which owns most of the Pick 'n Saves and Copps grocery stores in Wisconsin. Our system is not functioning, and I want to make it work for everyone."
Glenn Grothman seeks 2nd term
Dairy farmer Sarah Lloyd is running against incumbent Republican Rep. Glenn Grothman, who was elected in 2014 for the 6th Congressional District.
On his website, Grothman states: "The 6th District is home to many of Wisconsin's farms and agriculture production jobs, playing a major role in our state and national economies. Besides Wisconsin's famous dairy industry, our state's numerous crops put food on the tables of many in our district, as well as feed the world through our strong export markets. Many current and proposed federal regulations threaten the livelihoods of Wisconsin farmers. The EPA in particular has gone much too far to impose top-down, nationwide restrictions that attempt to address issues which would be better handled locally or regionally. I'll always put Wisconsin's agriculture workers and farms before overzealous federal bureaucrats."
For more on Grothman, see grothman.house.gov/news.
Subscribe to receive top agriculture news
Be informed daily with these free e-newsletters
You May Also Like
---