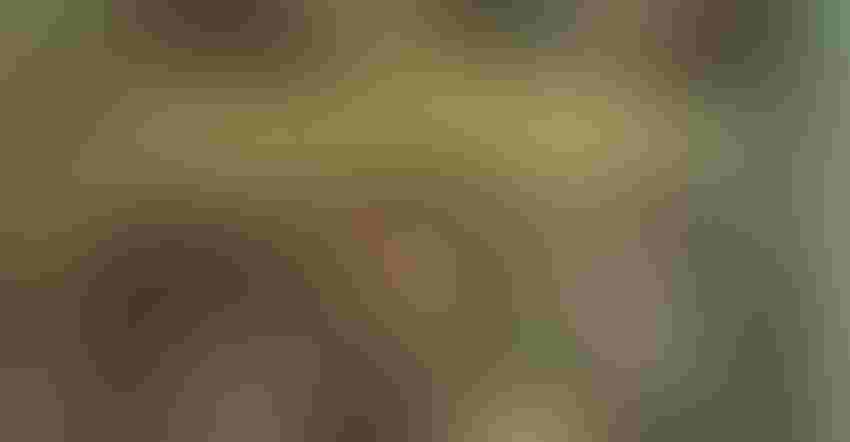 NO. 1 PROBLEM: While Nebraska's winter wheat acres have been affected by several challenges this year, including wheat streak mosaic in the Panhandle and septoria leaf spot in eastern Nebraska, Bob Harveson says the increasing prevalence of stripe rust is becoming the No. 1 problem.
Stephen Wegulo
It's been an abnormal season for winter wheat growers in Nebraska. Growers faced stripe rust in the fall in 2016, following additional stripe rust pressure this spring after an unseasonably mild winter. However, with 2016 being the third year in a row for stripe rust on recently planted wheat in the fall in the Nebraska Panhandle, it may not seem all that abnormal anymore.
Since it was confirmed in the Panhandle earlier this spring, it's been found in south-central and southeast Nebraska. "The fact we've confirmed it in southeast Nebraska, south-central Nebraska and the Panhandle tells me there's a probability you can go anywhere in a wheat field in the state and find it in the next couple weeks," says Stephen Wegulo, University of Nebraska plant pathologist. "As for the individual presence in individual fields, it may not be widespread, but it is pretty much throughout the state."
And if the cool, wet conditions persist this spring, stripe rust will continue to be a problem, Wegulo adds.
Wait to spray
"At the same time, I'm not recommending growers rush to spray unless they see it developing and threatening the flag leaf. Right now my recommendation is to wait until the flag leaf has emerged. Once 50% to 100% flag leaf emergence, I strongly suggest they spray to protect the flag leaf," he says. "For various reasons, it can be easy to wait too long. This happened in the Panhandle recently. Growers waited too long, then they panicked when stripe rust levels were too high. They applied fungicide, and it didn't work. It's very critical to scout ahead of time and not wait too long after the flag leaf has emerged to apply."
The increased prevalence of stripe rust is likely due to the mild winter and increased inoculum from the Southern states. Meanwhile, because the wheat crop is also ahead by a week to 10 days, stripe rust made its appearance earlier this spring.
Bob Harveson, Extension plant pathologist at the Panhandle Research and Extension Center, notes this is the third year stripe rust has been identified on newly planted wheat in the fall.
"We strongly suspect that it's overwintering. If wheat is infected in the fall, and it's infected early in the spring, that would suggest the stripe rust overwintering," says Harveson. "Normally we wouldn't worry about it until we hear about it Oklahoma, Texas and Kansas. The fact we're finding it before we hear that it's problematic to the south of us suggests it's overwintered."
Other diseases an issue
Stripe rust isn't the only disease affecting winter wheat fields so far this year. A high incidence of septoria leaf spot and other fungal leaf spots have also been identified in eastern Nebraska, along with lower incidence of powdery mildew and barley yellow dwarf. Wheat streak mosaic has been spotted in the Panhandle in fields that were planted in proximity to fields hit with preharvest hail last summer. After these hail events, volunteer wheat emerged and wasn't controlled, giving wheat curl mites and the virus a green bridge to spread to fall-planted wheat. However, at this point, there isn't anything that can be done to control wheat streak mosaic.
Earlier this spring, freeze damage was a concern for some producers. While nighttime temperatures in parts of the Panhandle dipped down into the low 30s and upper 20s in late April, Harveson notes there isn't much to worry about in terms of freeze damage. At that point, most of Nebraska's winter wheat acres were in the jointing to pre-boot stage, and jointing wheat can usually tolerate temperatures in the mid-to-upper 20s without significant injury. Winter wheat is most susceptible to freeze injury just after heading.
At this point, however, stripe rust is the biggest concern. "Stripe rust, in my opinion, has sort of displaced wheat streak mosaic as the most predominant problem. Wheat streak mosaic has always been around, but it fluctuates in severity," adds Harveson. "Stripe rust has come out of nowhere in the last decade, and in my opinion, it's the No. 1 issue to worry about in terms of wheat diseases."
Harveson is working with colleagues in the Panhandle and at North Dakota State University to develop a decision tree to help growers decide whether or not it's economical to apply a fungicide on their wheat acres. The decision tree includes a number of different categories growers can input information into, with a certain number of points assigned to each category. The grower can add up the points and use the tool to determine how severe the risk of infection is, and whether or not it pays to apply fungicide.
"With current wheat prices, dryland growers have very little wiggle room, particularly if you have potential stripe rust issues," says Harveson. "That's a tough call to make. Is it going to pay to treat it? Are you going to receive that back in increased yield or not? It depends on so many different things."
Read more about this decision tool in related article: Stripe rust becoming more prevalent in Nebraska winter wheat.
About the Author(s) Tyler Harris is the editor for Wallaces Farmer. He started at Farm Progress as a field editor, covering Missouri, Kansas and Iowa. Before joining Farm Progress, Tyler got his feet wet covering agriculture and rural issues while attending the University of Iowa, taking any chance he could to get outside the city limits and get on to the farm. This included working for Kalona News, south of Iowa City in the town of Kalona, followed by an internship at Wallaces Farmer in Des Moines after graduation.
Coming from a farm family in southwest Iowa, Tyler is largely interested in how issues impact people at the producer level. True to the reason he started reporting, he loves getting out of town and meeting with producers on the farm, which also gives him a firsthand look at how agriculture and urban interact.
Subscribe to receive top agriculture news
Be informed daily with these free e-newsletters
You May Also Like
---