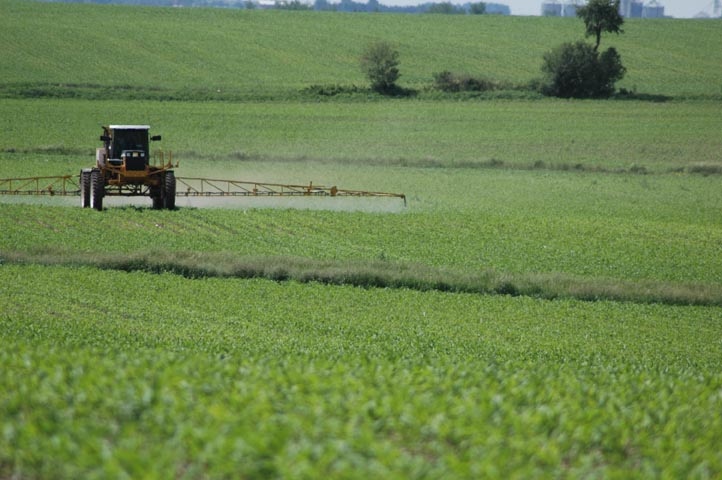 Some producers have been asking whether or not applying herbicide in the cold weather is a good idea.
Simply put, it's not a good idea.
According to North Dakota State University, herbicide application should be postponed until consistent warm temperatures. Contact herbicides used for burndown, such as Sharpen, Verdict, and systemic herbicides, such as glyphosate, and phenoxys (2,4-D) are much less active at low temperatures. Sunlight can be as important as temperature for contact herbicides. Daytime temperatures of 50 degrees or above is ideal and nighttime lows above freezing. Adjuvants can increase the activity of these herbicides in adverse conditions such as these. Use 1 to 1.5 pt/A of MSO or 1 pt/A of an HSMOC (MSO based) and 8.5 lbs/100 equivalent of AMS or at least 1.25 gal/100 gal of UAN.
Cold temperatures may also plug nozzles with some mixtures.
Meanwhile, when it comes to urease inhibitor or nitrification inhibitors, they may benefit growers this spring.
There are a number of products on the market that include a urease inhibitor or nitrification inhibitor on their label.
The only chemistry with urease inhibiting abilities that can delay ammonia volatilization from urea from surface or near surface application is NBPT and a related NPPT (Limus). It is important that any NBPT product is used at a rate that can delay ammonia volatilization, which is 1.3 pounds a.i. NBPT per ton of urea. There are some labels that do not include a % NBPT statement. I would recommend that if the manufacturer is reluctant to reveal how much NBPT is in the container, you should be reluctant to buy it or sell it.
The nitrification inhibitor DCD is offered in formulations by several manufacturers. This is a legitimate nitrification inhibitor; not as effective as nitrapyrin for anhydrous ammonia, but close in effectiveness to nitrapyrin as Instinct II (Dow Agrosciences). The important consideration for a DCD additive is to apply DCD as at least 1% of the total N in the N application. Therefore, if 100 lb. N is applied, 1 lb. N as DCD (66-0-0), or 1.5 pounds DCD. Agrotain Ultra contains enough DCD to be an effective nitrification inhibitor, however, it would be difficult to apply some other products as a urea coating to achieve the 1% N as DCD required for efficacy. For more information on urease and nitrification inhibitors, please see 'Nitrogen Extenders and Additives for Field Crops, 2017' at https://www.ndsu.edu/fileadmin/soils/pdfs/Nitrogen_Extenders_and_Additive_for_Field_Crops_2017.pdf
Subscribe to receive top agriculture news
Be informed daily with these free e-newsletters
You May Also Like
---