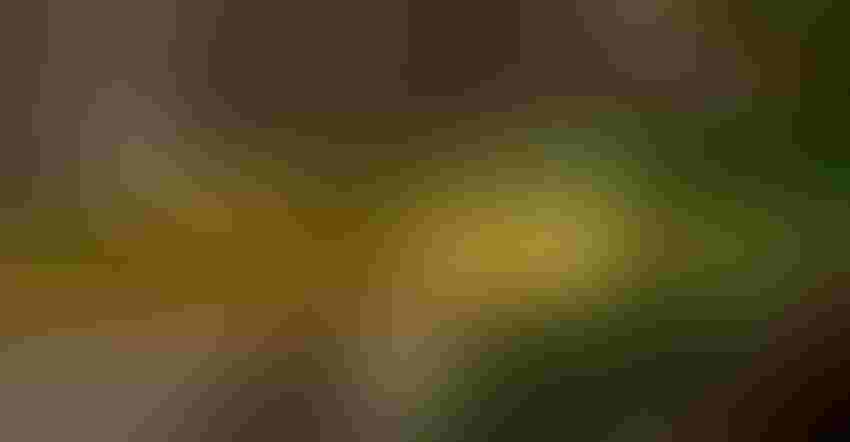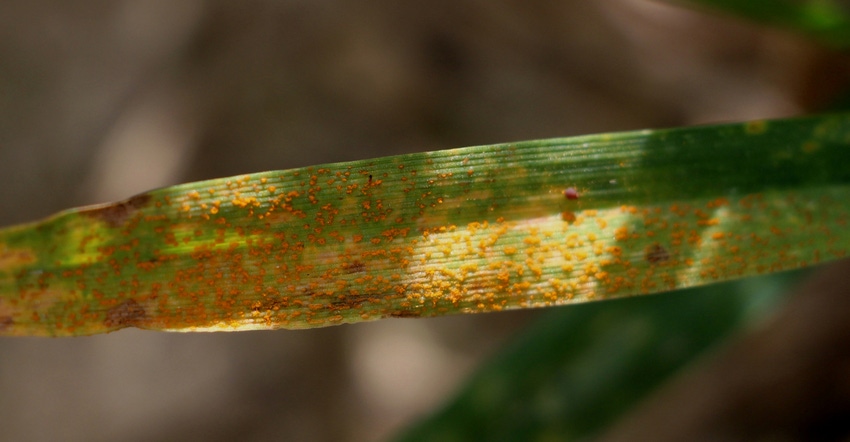 STRIPE RUST: Farmers need to have a treatment plan in place to protect their winter wheat before stripe rust lands in their fields.
Courtesy of Michigan State University ANR Communications
Reports of stripe rust in wheat are as reliable as the wind in Kansas.
Some years stripe rust scouting reports are more prevalent than others, to be sure. But in a year like this one, when wheat prices are higher than they've been in some farmers' lifetimes, giving your crop protection it needs against stripe rust may make all the difference.
An advantage
The 2022 Kansas wheat crop has a lot going against it this year. The Kansas Mesonet released its weekly drought update April 23, and the western three-quarters of the state is in extreme and severe drought. The April 25 USDA National Agricultural Statistics Service crop progress report showed 49% of the Kansas wheat crop is jointed, and 74% of the crop is rated very poor to fair condition.
As of April 21, Kansas State University reports that dry conditions in the state have resulted in below-average disease pressure in most scouted locations in Kansas. With reports of low rust pressure in Oklahoma and Texas, the dry conditions may have been suppressing disease development, according to K-State.
However, all it takes for stripe rust to develop are periods of cool, wet weather and periods of time where the canopy is wet. And, according to K-State, that's only been reported in eastern parts of the state. Stripe rust can reduce yields by as much as 40% — and in a time of incredible wheat demand, it may make sense to consider preventative measures this year.
Scout often
Jeff Ellis is an agronomic service representative for central and eastern Kansas with Syngenta. He says wheat growers should already be scouting their fields through the critical spring months. While there haven't been many reports of stripe rust in Southern states to date, all it takes is the right conditions for the spores to blow in from the south and create troubles, especially if those spores are from stripe rust strains that have adapted to warmer conditions.
We could get a little further into the season, and if those spores infect a wheat field at low levels, the right weather could cause the disease to blow up and affect wheat yields. By that time, it would be long after a farmer can get in to treat the crop. That's why Ellis recommends growers consider a prophylactic treatment of fungicide now, to protect the wheat crop tomorrow.
Don't wait to use fungicide
"Don't wait until you see it to treat," Ellis says. "By the time you've seen it, it's already been in the plant seven to 10 days." The point of applying fungicide is to give it time to work in the plant and lessen the rust's impact on the leaf's surface. Protecting the flag leaf means protecting the wheat plant's photosynthesis capabilities, which in turn creates more energy to be used in grain development.
Trivapro is a Syngenta product that has preventive and curative control of rusts, leaf spots and blights, according to the company. Ellis says it works on stripe rust in wheat, or southern rust in corn, and offers a good residual package. That residual package is what farmers might need later in the season if stripe rust takes hold.
Subscribe to receive top agriculture news
Be informed daily with these free e-newsletters
You May Also Like
---