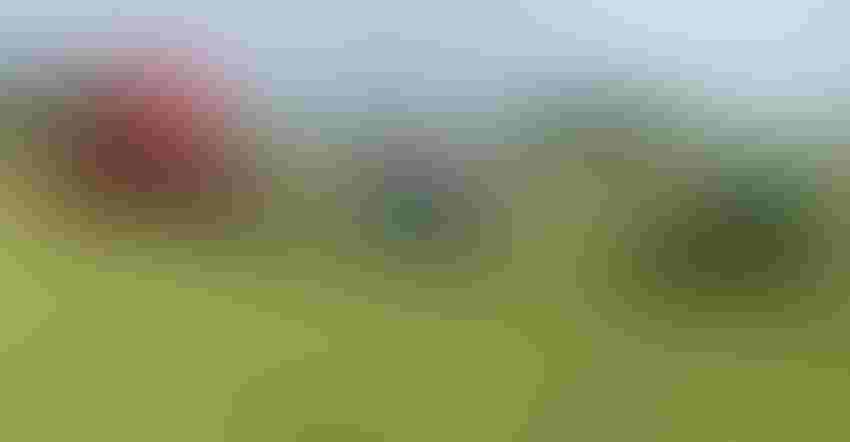 WHEAT PLANTERS: MSU Extension wheat specialist Dennis Pennington is comparing a spill-type drill, a row unit vacuum planter and a traditional air planter.
Nicole Heslip
The Michigan Wheat Program and Michigan State University are researching planting technologies that can be used for wheat and other crops.
MSU Extension wheat specialist Dennis Pennington says it's difficult for planters to cross over into wheat because populations are sometimes three to four times larger.
"We're asking a planter to do something that's making it operate three to seven times faster than what it does for corn and soybeans," he explains. "We're really good at singulating seed for corn and soybeans, but trying to figure out how to make it work and do it accurately with wheat has been a bit of a challenge."
Research this year was on display June 12 during the Michigan Wheat Program's summer field day at the MSU Pathology Farm in Lansing, Mich.

FIELD DAY: MSU's wheat research this year was on display during the Michigan Wheat Program's summer field day at the beginning of June.
Pennington says the control in the trial is a spill-type drill, which calibrates according to how fast it meters the seed out. While not commonly used to plant wheat, the research also is comparing a Monosem row unit planter, which has been adjusted with wheat planting seed plates.
"It's got a vacuum on the back side of the seed plate and as the seed disk spins, it picks up an individual seed and drops it down a drop tube — we're trying to control how well it does that," Pennington explains.
The third planter is set up like a traditional air planter for corn and soybeans with a large seed box on top, a metering system on the bottom, and uses air to force seed through a distribution box and into row units. Pennington believes the air seeder and Monosem row unit seeder can better control planting depths.
"When you get good uniform depth, you get uniform emergence, more uniform growth throughout the growing season, uniform flowering and so on," he says.

WHEAT SEEDING: Kalvin Canfield and Manni Singh of Michigan State University explain wheat seeding population trials June 12 during the Michigan Wheat Program summer field day.
Michigan growers also are experimenting with ways to increase wheat yields, which Pennington says includes singulating seed, planting in different patterns and adjusting row spacing. A desire for high yields in a normal year, along with ideal weather during grain fill, has pushed the state's average yield near 80 bushels per acre.
"Some farmers are actually planting with a drill in seven and a half inch row spacings, but they're checkering it," Pennington explains. "They'll plant half of their population going north and south in the field, the other half east and west. In some cases, they've been able to bump yields by doing that."
Pennington's expectation for yields this year are a little different.
"It was a challenge to get it planted last year," he says. "A lot of the wheat in Michigan got planted late and didn't get much growth in the fall. There's a lot of unevenness out there just based on water patterns in the field and how well it's drained."

FIRSTHAND: Farmers rotated through several sessions during the Michigan Wheat Program's summer field day, learning firsthand about disease management, weed control, planting technologies and more.
Pennington says that uneven development will cause issues with flowering, maturity and at harvest. "I don't think our yields are going to be anything to get excited about," he says. "I hope we're not too far below our average."
For information about wheat research, visit miwheat.org.
Heslip works as the Michigan anchor/reporter for Brownfield Ag News.
Subscribe to receive top agriculture news
Be informed daily with these free e-newsletters
You May Also Like
---