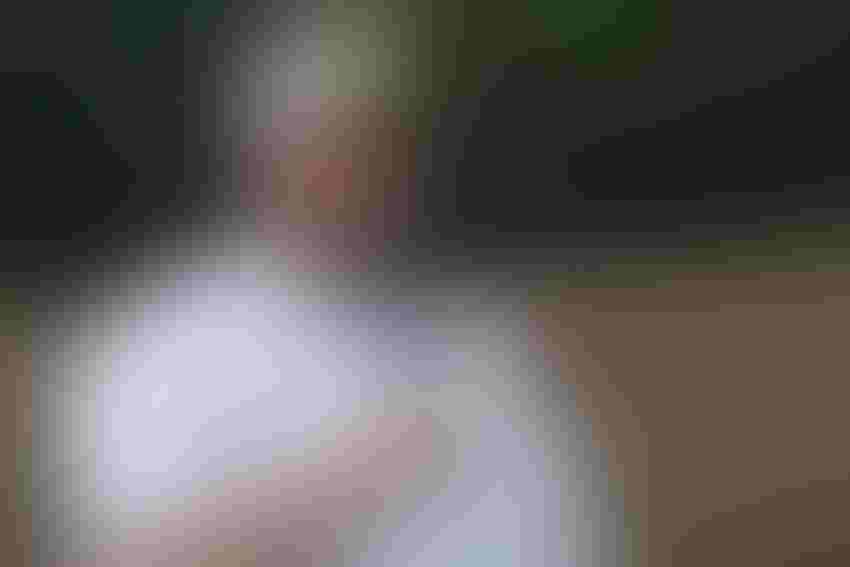 Wes Everman, North Carolina State University Extension weed specialist, says a combination of light tillage with an effective pre-emergence herbicide program is the best way to control Italian ryegrass in wheat.
The key to successful Italian ryegrass control in winter wheat is to take advantage of some of the weaknesses of the troublesome weed.
Wes Everman, North Carolina State University Extension weed specialist, says the university is looking to crop rotation, light tillage and row spacing to help reduce Italian ryegrass pressure in wheat. It turns out row spacing doesn't make a big difference, but light tillage does seem to help. In the research, N.C. State compared narrow rows planted at 3.75 inches to conventional rows planted at 7.5 inches.
"What we noticed is row spacing doesn't seem to help us out much at all. We have several years of data that shows that," Everman said at the Central Piedmont Small Grains Field Day at the Coastal Plan Research Station in Salisbury May 11. "Tillage, surprisingly, does seem to help. I'm not talking about using a bottom plow, turning the soil over type of tillage. I'm talking vertical tillage, just cutting up the soil and mixing it up a little bit."
Pairing that light tillage with the right herbicide program leads to better Italian ryegrass control in wheat. Everman explains that applying products such as Valor at burndown and then applying products such as Zidua or Anthem Flex after the radical on the wheat plant emerges works well.
"Dry weather over the past few years really shows that we need our herbicides out there when the plants germinate," Everman stressed. "If we are planting and then waiting to put that herbicide out, or if we are waiting to do a POST application, we're not being effective or being proactive," he said.
Everman recommends applying Valor with a burn down which sets up residual Italian ryegrass control. That way, when the wheat plant germinates, there's already herbicide in the ground controlling weeds. "Then we come back with one of the other products, whether it's Zidua or Anthem Flex or Fierce," he said.
This approach tied in with light tillage practices offers good Italian ryegrass control.
Making an application of Axial XL either following a pre-emergent herbicide or applied with a pre-emergent product in January both showed 100 percent Italian ryegrass control in research. "What was interesting is where we had that residual out up front when we planted, we had almost 20 bushels better yield compared to where we waited to clean it up later," he said, noting that this shows early season competition from Italian ryegrass is limiting wheat yields.
"The more we can control those weeds up front by using a couple of residual products, one in the fall and one in December, sets us up to be really successful and less reliant on those POST products late," he said.
Subscribe to receive top agriculture news
Be informed daily with these free e-newsletters
You May Also Like
---