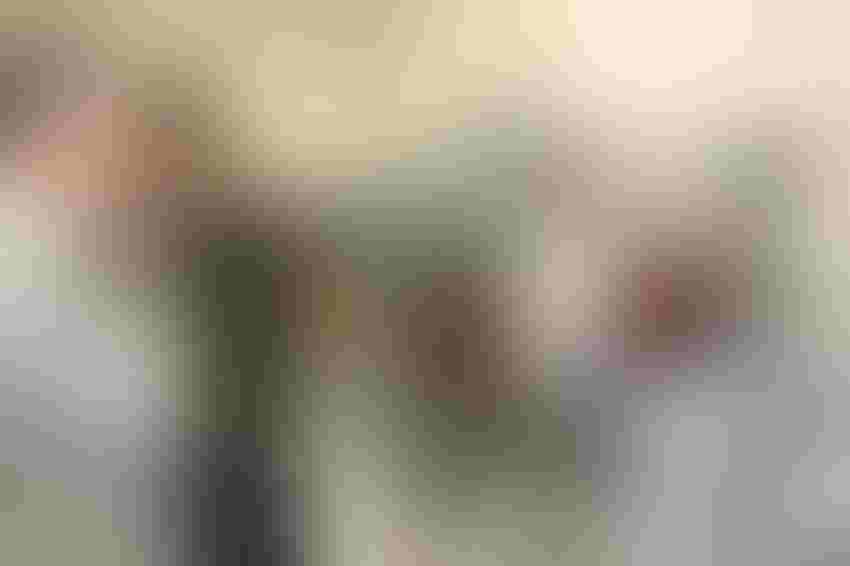 Japanese flour-milling executives received a first-hand look at California's wheat industry recently, and Golden State producers hope their visit will lead to increased export opportunities.
The team of six Japanese businessmen met with different sectors of the West Coast grain trade - from wheat breeders to farmers to exporters in California, Oregon, Washington, and Idaho - during a trip sponsored by the U.S. Wheat Associates.
They discussed factors including supply-chain and quality-assurance systems face-to-face with the Americans.
"U.S. Wheat Associates sponsors these trade teams from various countries that purchase our wheat," said California wheat grower Roy Motter of Brawley. "Half of the wheat grown in the U.S. is exported. Japan is typically the number one market for U.S. wheat."
Motter is the new chairman of the U.S. Wheat Associates board of directors effective in June, and the first Californian to serve in that position. He also chairs the California Wheat Commission board.
"We have trade teams visit us since foreign buyers like to see where their wheat is coming from," Motter said.
The Japanese delegation was accompanied by Wataru "Charlie" Utsunomiya, director of the U.S. Wheat Associates office in Tokyo. He said the milling executives are from small- to medium-size mills which belong to the Cooperatives of All Japan Flour Millers.
Utsunomiya says the co-op members use about 20 percent of the five million tons of wheat they import annually from the U.S. Most of the mills are in major port areas, including Tokyo.
Develop relationships
The U.S. Wheat official said the millers' visit was an opportunity to develop relationships with Californians which could lead to increased business for Golden State wheat growers.
The Japanese delegation watched Larry Hunn harvest his field of hard red winter wheat near Hood in Sacramento County.
"We're always trying to expand our markets and Japan has to rely on imports," said Hunn, a third-generation wheat grower in Clarksburg. "We have excellent quality here which can fill their niche markets."
Since these are medium- and small-scale flour mills, "They are looking for specific varieties to be shipped to them in containers rather than a boatload," Hunn said.
He estimated that a truck-size intermodal container holds about 25 tons of grain, compared to a ship with thousands of tons of bulk grain stored in the cargo hold.
"These millers are making the flour that goes to bakeries," Hunn explained.
The Japanese use wheat to make bread, cookies, cakes, noodles, and other products.
The Arlington, Virginia-based U.S. Wheat Associates is the industry's market-development organization. The association's purpose is to develop, maintain, and expand international markets to enhance the profitability of U.S. wheat producers.
Its activities are funded through producer check-off dollars managed by 19 state wheat commissions and through cost-share funding from the U.S. Department of Agriculture's Foreign Agricultural Service.
Trade teams
Buyers from Japan, Brazil, South Africa, and Nigeria have visited the U.S. since late April as part of the 11 trade teams planned for 2014.
At press time, flour-miller teams from Taiwan and Korea were scheduled to visit the states in mid-summer. Separate teams from Europe and the Philippines will arrive in August. Another team from Japan will arrive in September during the U.S. northern spring wheat harvest.
The California Wheat Commission (CWC) hosted the Japanese delegation during their recent tour of the Golden State.
"This the second trade team we've had and there seems to be interest in our wheat," said Janice Cooper, executive director of the Woodland-based CWC. "There is active interest among the Japanese millers."
Cooper provided the group with an overview of California's wheat industry, including the fact that state wheat acreage is down about 20 percent this year due to the on-going drought.
"The lack of water is really the major issue this year," Cooper said "This is the driest year ever and the third dry year in a row."
Despite the drought, "The crop we have this year looks very good," she said, noting that some growers have reported high yields and protein levels.
Dairy demand
"The other challenge we have this year for grain production is that dairies are demanding animal feed so many growers chopped their wheat for hay before it became grain," Cooper said.
The Japanese millers toured the commission's wheat quality laboratory. Cooper says the CWC is the only state wheat commission with an on-site lab which focuses on bread and pasta quality.
Claudia Carter, the new lab director, took the Japanese delegation on a tour of the facility built in 1990. The laboratory serves as a source of technical information and assistance to wheat growers, millers, bakers, and processors. It is available for flour, milling, end-product, and new-product research.
Technical expertise is available for standard loaf bread, hearth breads, pasta, cookies, and Asian food products. Tortillas and middle-eastern flat breads are also areas of interest.
The Japanese delegation also visited a Yolo County grain elevator. Farmers Grain Elevator is a grain and field-bean company owned by the Mezger family.
Dan Mezger Jr. told the group, "We supply the local mills here and we send rail cars down to Los Angeles - about 450 miles to the south."
"In the past, we've exported some wheat (from here)," Mezger said. "I expect that demand will be very strong locally this year due to the shortness of the crop, but we're not eliminating export opportunities."
Drought toll
California growers planted more than 700,000 acres of wheat with a farm value of approximately $270 million for grain produced in 2013, according to the CWC.
Total grain production for all wheat classes is down this year.
Last year, combined production totaled about one million tons. This year it will be about half that, Cooper said.
Lower production impacts the wheat commission's annual budget which is based on assessments on wheat grown ($1.20 per ton). With half of the production this year, this means less money in the commission's budget.
"This is why we maintain a reserve in our budget for years like this," Cooper said.
"This is an unusual year. We're hoping that we'll get rain in the fall, and we'll have more acres, more grain, and more wheat to sell next year," Cooper concluded.
Subscribe to receive top agriculture news
Be informed daily with these free e-newsletters
You May Also Like
---