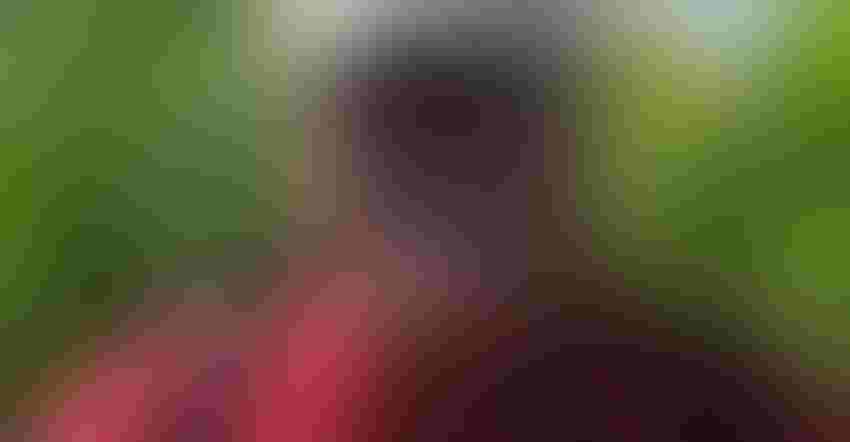 IRRIGATING WHEAT: Longtime no-tiller, Mark Watson, Alliance, Neb., knows how to manage crops under center-pivot irrigation, including winter wheat.
Only a fraction of Nebraska's wheat acres is planted under irrigation every year, with the practice normally concentrated in western parts of the state. However, wheat is being planted under center pivots in eastern counties as well. In a state where irrigation is such a key aspect of agriculture, it's important to note some of the unique management that surrounds raising wheat under a sprinkler.
Mark Watson, who farms with his brother, Bruce, near Alliance, Neb., has been a no-till farmer for many years. Winter wheat works into the normal crop rotation for the Watsons, because of soil health benefits and economic returns.
For Watson, getting the crop rotation right was a crucial factor in the success of irrigated wheat. "We had always planted wheat following edible beans," Watson says. "We usually planted the wheat past the optimal planting date in the fall because of bean harvest, so that put our wheat at a disadvantage."
Watson made the management decision to plant yellow field peas prior to winter wheat in recent years because the harvest date for the peas is earlier.
"Following peas, we are able to plant the wheat in a timely manner, which has led to more consistent high yielding wheat," he says. "We haven't irrigated at planting time in the fall to get the crop germinated," he adds. "The peas are done using moisture by the middle of July, so we have a two-month fallow period to get some rain to plant the wheat into moisture."
After wheat, they plant a forage crop for grazing and to build soil health. Then, the following spring, they normally plant the field into edible beans, such as pintos.
"We have been able to raise good-quality wheat with high protein levels, which has helped the financial benefits of wheat in the irrigated rotation. I think we are getting a benefit by seeding wheat following peas and using split applications of nitrogen fertilizer during the growing season."
Timing is everything when irrigating wheat, Watson says. "Wheat requires good moisture prior to flowering and during grain fill, and it can be a challenge to raise consistently as far as quality and yield," he says. "Leaf rust and stripe rust are concerns in irrigated wheat due to higher humidity in the crop canopy. We always spray a fungicide during flag leaf emergence."
WHEAT OUT WEST: Only a fraction of Nebraska's wheat acres is planted under irrigation — typically in the western reaches of the state, like this irrigated wheat field on Mark Watson's farm.
They also choose seed varieties with disease resistance, good stalk strength and high yields.
Wheat has had benefits to the soil on Watson's farm, too. "Wheat gives us consistent residues across the field to provide good carbon levels for the soil," he says. "We follow our wheat crop with a diverse forage crop for grazing in the winter. We feel this practice will improve the health of the soils we work with over time."
In the east
Management is quite different for irrigated wheat in the eastern portion of the state. "I get a few calls every year from my irrigated wheat producers on timing of watering," says Nebraska Extension educator, Jennifer Rees. "The bigger concern though is the disease issue. If you are irrigating wheat in the eastern portions of the state where humidity and rainfall are greater, you just have to plan on fungicide applications to prevent diseases."
For nonirrigated growers who are not experiencing rust issues during the flag leaf stage, one fungicide application about a third of the way through flowering might be enough to kill rust and prevent scab, Rees says. With higher rust pressure the last several years, nonirrigated farmers have applied fungicides to protect the flag leaf and hoped environmental conditions didn't favor scab. "For wheat irrigators, it can take two applications," she says. "You will need one fungicide application to protect the flag leaf and potentially a second application during the flowering time frame, depending on weather conditions."
It is also crucial to irrigate the field in a way that doesn't worsen disease pressure. "They should plan to irrigate the field during the boot stage and before heads emerge if moisture is lacking in the soil profile," Rees says. "You want to make sure you have enough water in the soil profile through the pollination period, and to plan not to do any watering during pollination."
You can learn more about managing wheat under irrigation in the west by contacting Watson at [email protected]. Get details on irrigated wheat in the east by contacting Rees at [email protected].
Subscribe to receive top agriculture news
Be informed daily with these free e-newsletters
You May Also Like
---