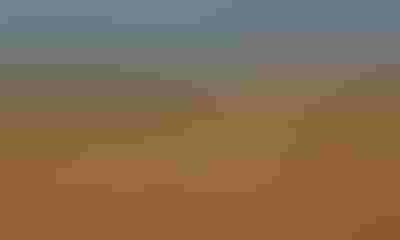 Results of the 2016 Michigan State University Wheat Performance Trials have just been published by Michigan State University Wheat Breeder Dr. Eric Olson and Lee Siler. The trails are designed to help wheat farmers make decisions for this fall's planting, according to the Michigan Wheat Program, which sponsored the high management portion of the trials.
The high-management plot comparisons have been part of the Wheat Performance Trials since 2013, when the Michigan Wheat Program board of directors voted to fund it. The trials continue to show very promising results for over 90% of the wheat seed lines being tested.

2016 Michigan Wheat Performance Trials data now available
The MSU wheat research team has planted wheat varietal trial plots for more than 20 years, currently at six locations in five counties.  Test sites are located on private farmland in Huron, Lenawee, Sanilac and Tuscola counties.
At five sites the wheat trials are under a high-management system, which are then compared to "control" plots that utilized conventional production practices.  All high-management trials were funded by the Michigan Wheat Program, as part of the check-off board's research emphasis on high-management wheat systems.
The four-year study of high high-management practices have included an additional 30 pounds of 28 percent nitrogen per acre.  Quilt® Xcel applied at Feekes stage 8.5-9, and Prosaro® applied to control fungal diseases at about the average flowering date in each location.  This year, 90 wheat varieties were tested including 26 experimental lines.  Fifteen organizations provided seed lines for testing, including MSU, the Michigan and Virginia Crop Improvement Associations.
"Data from the high-management variety trials were again very supportive of high-management practices," says Dave Milligan, chairman of the Michigan Wheat Program and wheat farmer from Cass City.  "While most varieties performed a little to significantly better under high management, the improvement in yield was less pronounced this year than last year.  Stripe rust and the very dry weather in June took their toll, on an otherwise good growing season.
"Wheat farmers should consider these results, along with input costs to make the decisions that make the most sense for their farming operation.  The check-off is reviewing a proposal at its meeting later this month to fund these plot trials again in 2016 and add a location in the southwest corner of the state. This project is a very important part of our research portfolio."
"The Michigan Wheat Program's board has also invested significantly in other research projects that are fine-tuning high-management practices, and we've featured high management in all of our educational programs," says Jody Pollok-Newsom, MWP executive director.  For more results from the program's robust research agenda, visit miwheat.org and visit the Research tab.
Data on the 2016 trials is posted on the home page at www.miwheat.org at the top of the "What's Hot" box.  The site also includes 2015, 2014 and 2013 MSU wheat variety trials – and a link to data from 2012 and prior years.
Michigan State researchers recommend that farmers use at least three years of data to make decisions about varieties. Varietal trials provide the opportunity to compare data on dozens of varieties on multiple sites, which may have experienced different weather conditions.
According to MSU wheat breeder Dr. Eric Olson, the 2016 winter wheat crop got off to a great start last fall due to near perfect planting conditions and a late winter. The crop overwintered well and emerged in good condition this spring. Even though the weather was hot and dry during grain fill, the crop still out-yielded expectations. The weather held in most areas of the state and harvest was smooth across most of Michigan. 
The Michigan Wheat Program is funded by nearly 8,000 farmers who grow wheat in 50 of Michigan's 83 counties. The Michigan Wheat Program board seeks to promote the state's wheat industry by funding and supporting the strategic priorities of wheat farmers working with input suppliers, seed producers, millers, end users and consumers.  Research on wheat production practices and grower education have been early priorities for the organization.
Information about Michigan's wheat industry is found at www.miwheat.org, or by calling 888-WHEAT01 (888-943-2801).

Source: MWP
Subscribe to receive top agriculture news
Be informed daily with these free e-newsletters
You May Also Like
---