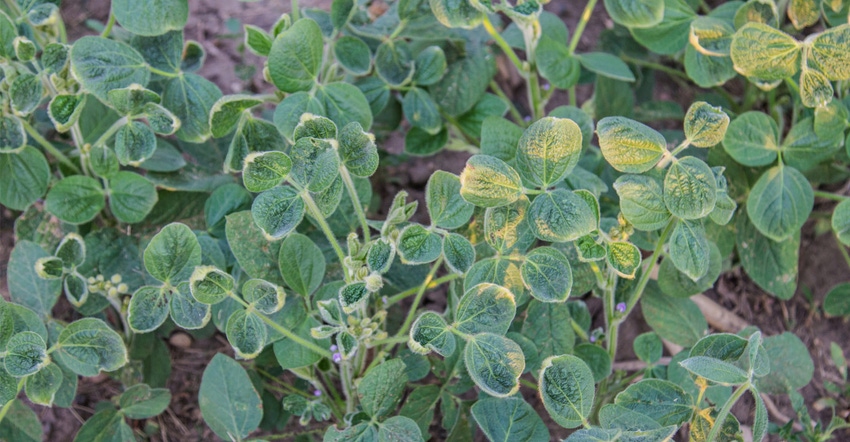 REDUCING DAMAGE: The discovery that using a second adjuvant to the spray tank reduced fine droplets and therefore drift of dicamba herbicide, has helped reduce the number of fields showing this type of "cupped leaf" damage.
PBouman/getty
Research has led to a clearer understanding of the phenomenon that contributes to dicamba herbicide drift, says WinField United senior research manager for product development, Lillian Magidow.
Almost a year ago, Magidow says researchers working at the WinField United Innovation Center in River Falls, Wisc., had determined that adding a second adjuvant called InterLock to the drift reduction adjuvant along with a water conditioner reduced driftable fine droplets by 60%. What they weren't sure of was why driftable droplets were forming when applicators were using the recommended DRA and the right type of nozzle.
"We continued to study the problem and what we discovered is something we call 'bag breakup,'" she says. "The DRA itself was causing the formation of tiny bags of fine droplets that, when exposed to the crosswind created by the sprayer moving across the field, broke open releasing the fine droplets."
She says scientists have been aware of the bag breakup phenomenon for many years, but they hadn't considered how it might impact agricultural sprays.
"What we found was when we added InterLock with the OnTarget adjuvant, it helped prevent the formation of bags and optimized the spray to reduce drift potential," Magidow says. "As a result, you get more product on the plants where you want it and prevent it from drifting onto plants where you don't want it."
WinField United has just completed the construction of a new wind tunnel at its River Falls Innovation Center, she says.
"It's the only one of its kind in the world. You can put an entire boom section in the tunnel, subject it to different winds and measure exactly how droplets react under a lot of different conditions," she says. "When we can get a better understanding of why and how these sprays are different, we can come up with different solutions for different applications."
Magidow says scientists determined that it was the DRA, rather than dicamba, that was responsible for causing the bag development and breakup.
"Any time you are using a polymer, this type of bag formation and breakup can happen," she says. "Now that we have a better understanding of what is happening and why, we can concentrate on refinements that will further improve the products."
Significant improvements have been made in reducing dicamba damage. There were more than 3 million drift complaints from farmers who said their crops were damaged in 2017, the year dicamba was introduced. In 2018, there were still more than 1 million acres of damaged crops. Numbers for 2019 have not yet been compiled.
Magidow says researchers have also determined that viscosity of the spray tank mixture also matters.
"As the spray gets thinner, when the bags break, the droplets are smaller," she says. "The smaller the droplets, the more they drift."
InterLock is labeled for use with dicamba. With Engenia, it can be used alone or with a DRA. With Xtendimax, it must be used with a DRA. WinField United recommends that a DRA is used in all tank mixtures and InterLock be added on top of that at 2 ounces per acre. The recommended adjuvant combination is 2 ounces per acre of InteLock, 0.5% v/v On Target (a DRA) and 0.75% v/v Class Act Ridion for water conditioner.
"As we continue to see herbicide-resistant weeds such as Palmer amaranth, tall waterhemp and marestail, preserving new technologies, including dicamba, become more and more important," Magidow says. "Adding InterLock is a minimal investment to help reduce the risk of damage and get better herbicide perform ace."
Locally owned and operated retail outlets can provide product and price information.
Subscribe to receive top agriculture news
Be informed daily with these free e-newsletters
You May Also Like
---