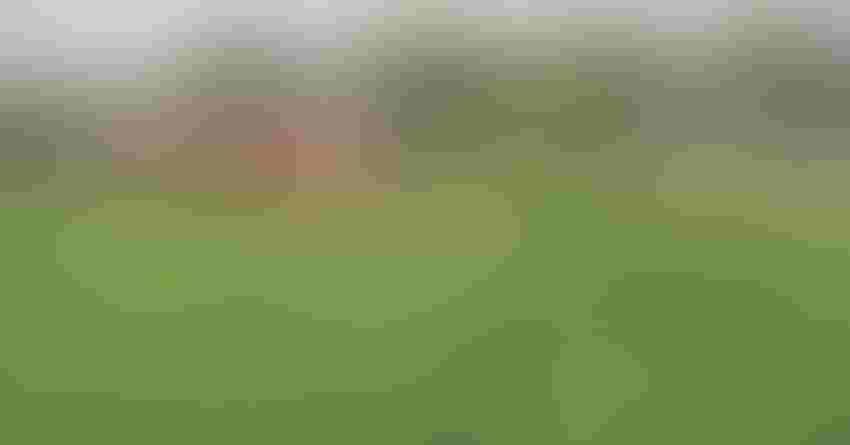 If effective pigweed control tactics are not implemented resistance will spread, and growers may see the utility of 2,4-D and dicamba diminish rather quickly.
Farm Press
(This is a continuing series on 2023 herbicide strategies and selection across row crops in the Delta.)
Ideal fall planting conditions and good wheat prices likewise brought acres up in Arkansas this year, and late-season herbicide selection will depend on whether farmers intend to double-crop soybeans behind the wheat crop. Specialists from the University of Arkansas Division of Agriculture discuss chemical control methods to battle ryegrass this spring and look ahead at the 2023 soybean crop.
Ryegrass and broadleaves in wheat
Tommy Butts, Extension weed scientist for the University of Arkansas System Division of Agriculture, noted that ryegrass is a huge issue for all crops in the state, and he recommends one good option to manage the weed on spring wheat acres.
"Axial Bold is my number one go-to for managing ryegrass in the spring, and it is basically the only herbicide that still works for most of our state. Anymore, there is a lot of resistance to PowerFlex and Osprey," he said.
Butts noted that broadleaves can be managed rather successfully, with several options in the spring. Producers should pick and choose the best fit between Harmony or Peak, depending on whether they plan to double-crop soybeans. For marestail (horseweed), he recommends Quelex.
While we are behind the fall application window now, the best plan for wheat is to get out residuals early.
"We are past that point this year, but moving forward, a fall application of Zidua on our wheat acres is the best way to get ahead of ryegrass and other weeds in the crop," he noted.
Metribuzin for weed control in soybean
No regulation changes are expected for 2023 soybean herbicides, and both specialists echo the importance of timely applications of residuals.
"The biggest thing is to get them out there and get them activated, either with irrigation or by catching a rainfall," Butts said.
Jason Norsworthy, distinguished professor of weed science for the University of Arkansas System Division of Agriculture, concurred and said a farmer's best interest is to use a metribuzin-containing product on every allowable acre – for soils not exceeding a pH of 7 or mid-7.
He assured that metribuzin applied in combination with another herbicide is the best way to manage fields resistant to PPO inhibitors and metolachlor.
Norsworthy reminded us that while products such as Trivence and Fierce MTZ contain metribuzin, they have low rates of the ingredient. His advice is to increase the metribuzin rate to 1 pound on clay soils and bring it up to half a pound on silt loam soils.
"The key is to plant a metribuzin-tolerant soybean variety. We screen these each year, and a list of these varieties will be available in early 2023.
"There are 50 to 60 metribuzin-tolerant options out there most years to choose – regardless of your preference amongst conventional, Xtend, XtendFlex, or Enlist varieties," he said.
Butts mentioned the grass pressure in the 2022 rice crop due to the hot, dry conditions. He advised farmers with a rice and soybean rotation to watch for grass pressure on soybean acres this year and to act throughout the upcoming production season.
"A lot of grass made it through harvest, and that seed was returned to the seed bank. Eliminating grass pressure with residuals and timely POST applications will be critical more than ever this year on those fields," he urged.
Pigweed control in soybean
Norsworthy expressed concern about pigweed resistance to auxin herbicides in Arkansas, noting an increase in failures with 2,4-D and dicamba.
"We do not have the same extent of auxin-resistance as our neighbors in Tennessee, but we are beginning to see these failures, indicating the onset of resistance.
"If we do not integrate other effective pigweed control tactics, this resistance will spread, and we will see the utility of 2,4-D and dicamba diminish rather quickly," he cautioned.
Keeping pigweed from producing seed is crucial, and Norsworthy specified an effective combination.
"The one that has probably looked the best in our work has been metribuzin plus Zidua. That has been very stout in dealing with pigweeds at planting," he stated.
Upcoming production meetings
Arkansas Cooperative Extension will soon kick off the 2023 county production meeting season, and the schedule is available on their website.
Butts and Tom Barber, extension weed scientist with the University of Arkansas System Division of Agriculture, will present at these meetings and be available to answer questions from growers, consultants, and ag industry representatives.
Likewise, the 2023 Arkansas Crop Management Conference is set for Jan. 17 – 19 at the Wyndham Hotel in North Little Rock, Ark. Registration for in-person attendees is $200, and the cost is $125 for in-person government employee attendance.
More information and a registration link are available on the Arkansas Crop Protection Agency website.
"This conference is a great opportunity with sessions specifically dedicated to each row crop, issues we dealt with in 2022, as well as recommendations for 2023," Norsworthy said.
About the Author(s)
Subscribe to receive top agriculture news
Be informed daily with these free e-newsletters
You May Also Like
---