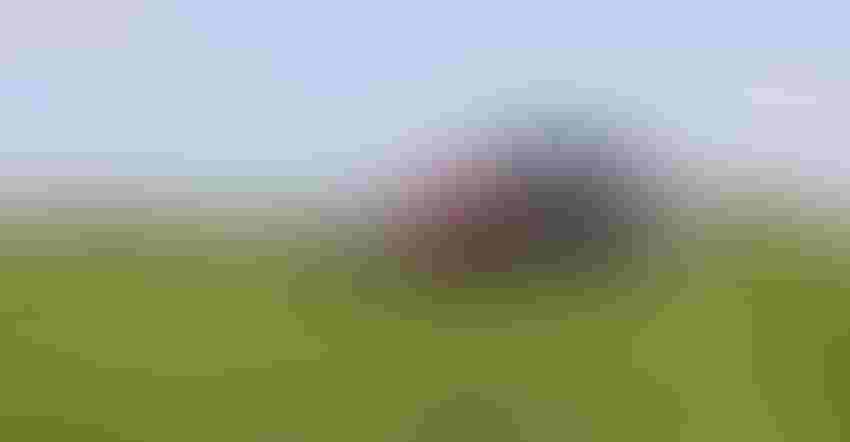 NEW TOOL: The Weed Zapper is being tested by the University of Missouri to see whether weed electrocution works, and if it affects soybean yields.
Photos courtesy of MU Weed Science
Flames coming from any piece of equipment hooked to a tractor are not typically a welcome sight. However, for one University of Missouri graduate student, it means fewer weeds in a field.
Haylee Schreier is a graduate student at the University of Missouri College of Agriculture, Food and Natural Resources studying weed science. This year, her research includes studying weed electrocution.
"Several different weed species are becoming resistant to chemical control options," Schreier says during her virtual field day video. "Weed electrocution has been introduced as a nonchemical method for weed control."
With funding from the Missouri Soybean Merchandising Council, the University of Missouri bought a commercially available weed electrocution implement known as the Weed Zapper. It works by electrocuting any weed that comes in contact with the boom located in front of the tractor.
This is the first of a two-year study where MU will test how well weed electrocution works against several different factors, including plant moisture, soil moisture, weed species, weed height, weed density and speed of the implement.
Weed electrocution results
In 2020, Schreier looked at controlling weed species, including marestail or horseweed, giant ragweed, common ragweed, and waterhemp, along with several different grass species. In test plots, damage to the weeds happens almost immediately. Only three hours after treatment, the plant still had some green present, but 24 hours after weed electrocution, the plant was almost completely dead.

NEXT GEN RESEARCH: Haylee Schreier is a University of Missouri graduate student in weed science. She is researching how effective the Weed Zapper is for weed control and soybean production.
One question MU is trying to answer is whether weed electrocution will affect soybean yields. To find the answer, researchers will travel across fields frying weeds during different stages of soybean growth. The boom can be set to different heights to adapt to the growth of the weeds and soybean plants.
Schreier says the level of weed control diminishes when weeds are short because it may not be touching the weed electrocution boom. So far, she's seen good control when weeds reach 24 inches tall.
More power, less speed
It requires a lot of power to kill problem weeds.
The Weed Zapper used by the university has a 110,000-watt generator, which is attached to the back of the tractor. However, the company, based in Sedalia, Mo., also offers models with up to 200,000-watt generators. To pull the MU model requires tractors with at least 120 hp. For the largest Weed Zapper, the company suggests a 275-hp tractor.
Even with all that power, Schreier found traveling too fast will affect weed kill success rates. One plot was treated at 2 mph and another at 4 mph. The increase in speed resulted in more weed escapes.
The Weed Zapper starts at $42,000 for the smallest model and increases to $59,500 for the largest model.
While the results are preliminary, farmers will be able to judge for themselves at the end of the research project as to whether weed electrocution is an economical and environmental solution for resistant weeds.
Subscribe to receive top agriculture news
Be informed daily with these free e-newsletters
You May Also Like
---