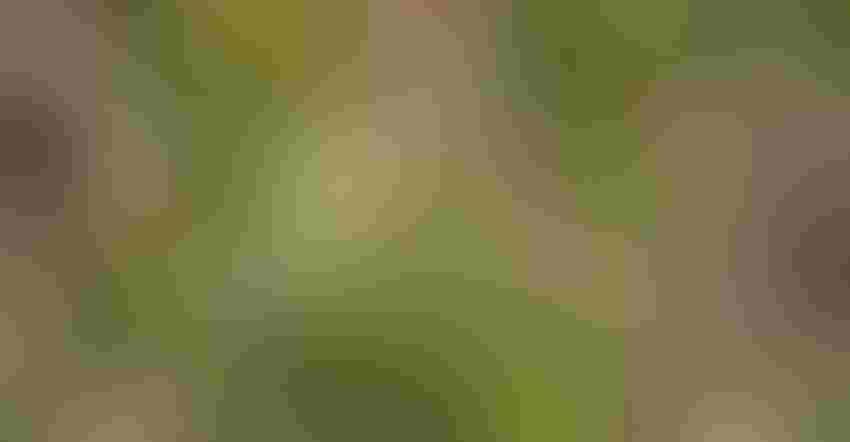 TROUBLE IN THE FIELD: Big weeds, especially tough perennials such as dandelion, can be tough to control. Purdue's Bill Johnson offers tips for weed control in fields where planting is delayed.
Cress-leaf groundsel turned many fields yellow this spring where no one could get in to spray a burndown or knock them down with tillage because field conditions were too wet. Some cover crops, particularly cereal rye, also couldn't be terminated on time. If you're still battling one or both of these situations, Bill Johnson has advice. He's a Purdue University Extension weed control specialist.
"The first thing you need to do is assess what weeds you're trying to control," he says. "Obviously, you've got winter annuals out there, but what about marestail, lambsquarters, giant ragweed and tall waterhemp? It's a wet year, so we're likely to see more pressure from waterhemp than Palmer amaranth. You're going to need a burndown, but you will also need residuals for those tough weeds."
Next, re-examine your sprayer setup, he says. "Make sure you're using nozzles which will produce the right droplet size to get good coverage," Johnson says.
Then, re-examine your rates, starting with burndown rates. If you're burning down with glyphosate, the quart per acre that you might use normally likely won't cut it, he says.
"You're going to need to go to higher rates," he explains. "The label allows a lot of flexibility on burndown rates. There will be situations where you need 2 to 3 quarts per acre of glyphosate to get the control you need."
Cover crop situations
One cover crop question Johnson is fielding right now is if people should mow down a field, particularly if it's a tall cover crop, before spraying. Johnson advises against mowing. "If you do that, you're going to have material you cut off interfering with getting herbicides where they need to be," he says. "You're better off upping the rate and spraying without mowing it."
In cover crop situations with cereal rye, that may mean planting into the green vegetation and then spraying it. "If you spray first and wait for it to die, you're going to be waiting at least 10 days to two weeks," he explains. "No-tillers tell me that if you try to go sooner than that, material you've sprayed will cause problems with the planter working effectively. Given that we're already in late May, the better option would seem to be planting into it green, then spraying the burndown. Many people have reported few problems with the planting operation planting into standing cereal rye.   
The only catch is you need to be planting Roundup Ready corn to make that work. And if there's crimson clover in the mix, make sure what you can spray to kill the clover later won't harm the corn.
"I would never recommend someone with non-GMO corn planting green," he says.
Tough weeds
If you've got a field where marestail is an issue, Johnson points out that you're into a two-pass approach now. Include a residual with the burndown, and then apply another residual later. If it's a LibertyLink system, you may be able to knock down marestail escapes with Liberty. It's a similar situation for waterhemp, he says. Glyphosate postemergence isn't going to help on these weeds.
Another option could be Enlist herbicides for Enlist soybeans or one of the dicamba herbicides in Xtend soybeans. However, Johnson says that if June turns hot, be extremely careful spraying a dicamba product. Problems over the past two seasons with dicamba herbicides have increased when the products were sprayed in June during hot weather. Follow all label directions carefully.
Subscribe to receive top agriculture news
Be informed daily with these free e-newsletters
You May Also Like
---