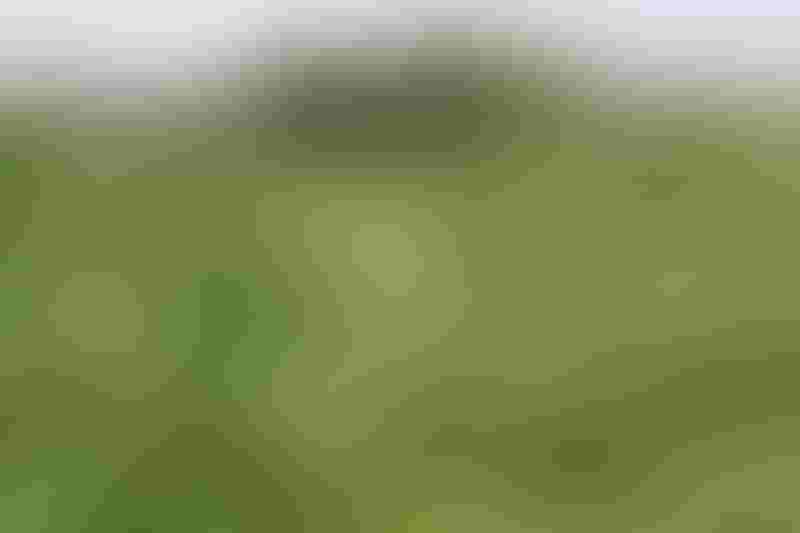 At the start of August, how was the weed control landscape looking in the Mid-South?
"If you go back three or four weeks, there was landscape damage from dicamba being illegally applied to soybean and cotton" beyond the spraying cut-off date, says Jason Norsworthy, University of Arkansas weed scientist. "That was mainly in the area around Mississippi County and Crittenden County (in northeast Arkansas) although there were other areas with dicamba symptoms. Overall, the extent of symptoms observed this year is less than those in 2017."
Since mid-July, "there's been a lot of recovery of those beans injured earlier. Most of our soybean acres are irrigated, which aids recovery."
That doesn't mean the road has become entirely smooth.
"There is still damage happening today from illegal applications of dicamba," says Norsworthy. "For instance, about 10 days ago, dicamba symptoms started showing up on young beans at the Northeast Research and Extension Center in Keiser, Ark.
"Overall, the spraying season has begun to close and with that there's not as much potential for seeing dicamba symptoms on soybean moving forward."
How is the situation in Missouri?
"Things have changed quite a bit in the last three weeks," says Kevin Bradley, University of Missouri weed specialist. "We're past all our spraying deadlines and problems should come to an end. Missouri is now about 50/50 with dicamba cases in and outside the Bootheel. The drift cases have shown up more in the Midwestern geography in the northern part of the state."
There are also "more cases of non-farmer/non-soybean with complaints — specialty crops, homeowners and others," says Bradley.
Meanwhile, in Louisiana, "we're past most of the phone calls on weed control," says Daniel Stephenson, LSU AgCenter weed specialist. "If I get calls now they're on late soybeans, double-crop beans.
"As far as resistance this year, I'm not going to say it's spreading. It's always been there. What's obvious is the growers are talking about it more."
Protect PPOs
Stephenson visited a "problem field yesterday in the northeast part of the state that wasn't Palmer amaranth but waterhemp. It was quite a severe infestation. The waterhemp is resistant to glyphosate and another mode of action failed to control it. We'll have to screen it in the greenhouse to see if it's an application timing issue or if it actually has multiple resistances."
When Stephenson arrived in Louisiana in 2008, "really the only area of Louisiana with Palmer amaranth in large amounts was in the northwest around Shreveport. That area, with the way Palmer was on the roadsides and in the ditches reminded me of the Delta of Arkansas.
"So, I was shocked when I saw that much Palmer north of Shreveport. I knew it was just a matter of time before it spread. And that's what is happening — it is moving whether by equipment, by flooding, whatever. What is very scary is the possibility of losing the PPOs. We're telling growers to protect the PPO chemistry because — that's an absolute must."
Interest
Asked about calls from outside the state, Norsworthy says there's a steady stream. "I'm getting a lot of calls, e-mails and texts from folks wanting to write about the dicamba situation or to get an update on what is happening in Arkansas this year. It's hard to escape. Many of these requests are from writers that typically don't report on agricultural topics.
"Relative to 2017 there's been more concern with how species outside of our typical agronomic crops are handling multiple years of exposure to dicamba. For instance, my colleague Larry Steckel (University of Tennessee weed specialist) recently wrote a blog article about cypress trees in Tennessee along Reelfoot Lake. Kevin Bradley with the University of Missouri is conducting research to understand sensitivity of trees to low doses of dicamba. The media seems to be more interested in trees this year."
Norsworthy and colleagues have "tried to do a lot of dicamba drift and volatility research at Keiser for the last two or two-and-a-half months. We had trials ready to initiate in early June. We lost those due to dicamba. We worked over the fourth of July to establish research in conjunction with BASF, but that trial — as well as others established in the same timeframe — has been lost because of dicamba symptoms.
"There's a good deal of research we've conducted in Fayetteville (northwest Arkansas) that we're just starting to get data from. It's hard to talk about results from 2018 at this point because many of the trials involved collecting air samples for dicamba following application and these samples have yet to be analyzed."
Similar to university findings in 2017, "the new dicamba formulations continue to elicit symptoms on soybean placed inside treated plots several days after application. We should have a good idea of the concentration in air needed to induce symptoms in soybean when the analysis of air samples has been completed.
"Regardless, it's been a difficult year to conduct research in northeast Arkansas and that includes evaluating other weed control options or traits that don't contain tolerance to dicamba."
Report/EPA
Norsworthy says he "as well as many of my colleagues have seen absolutely nothing at this point to change our minds on the science" regarding the new formulations of dicamba. "The science says we have a volatility issue and there's nothing that would indicate otherwise."
On July 19, Bradley published a report containing several maps regarding suspected acreage totals for dicamba-related injuries. Added up, the 1.1 million acre total has been cited repeatedly in media reports.
Asked if that total has been tweaked since, Bradley says it hasn't. "Unfortunately, I was reluctant to put that report out. I was getting so many requests that I put it out, but it's incomplete because we have fewer states reporting. I'm not faulting anyone, throwing them under the bus — it's very complicated and I understand that.
"But you can go look at the map in the report and see many states that aren't reporting — either from the university perspective or from the state departments of ag. So, there are some major ag states that aren't participating. Many of the states don't want the headache, and I get it."
Bradley says he's keeping a keen eye out for an expected EPA registration decision on the new dicamba formulations. "We're all just waiting anxiously. The EPA said they'd come out with a decision in August. I sure hope they do. It would be a bit surprising if they follow through with that timeline, but I hope it's soon.
"Some kind of decision needs to be made so we all know what to do and where to go with (new formulations of dicamba) into the future. But I have no idea what they're thinking, which way they're leaning."
Subscribe to receive top agriculture news
Be informed daily with these free e-newsletters
You May Also Like
---