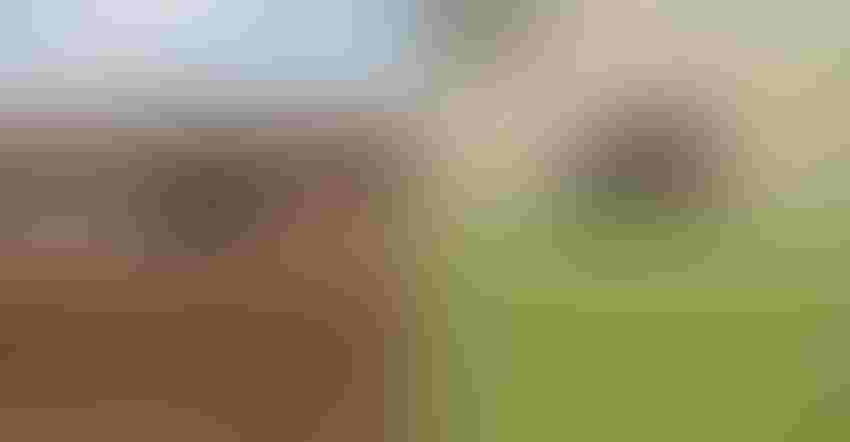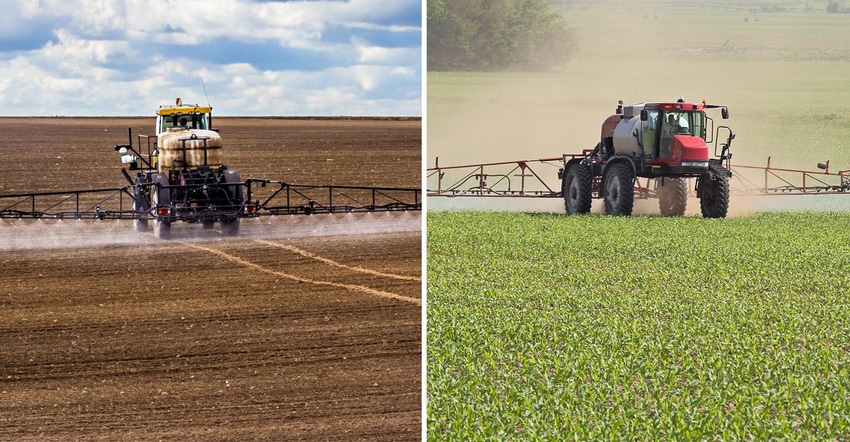 WIPE OUT WEEDS: Wet weather during spray season may have boosted weed pressure in some cornfields this year. To help with management next growing season, plan now for a two-pass system.
Nosyrevy/chas53/Getty Images
Farmers facing tough weed problems this year may want to consider a two-pass weed control management program in corn next year.
While farmers cannot walk the fields at the University of Missouri Bradford Research Center, MU senior research associate Brian Dintelmann explains how the two-pass application system works in a new video series.
More passes matter in weed control
Dintelmann, along with other members of the MU weed science team, analyzed a one-pass versus two-pass weed control management system. His conclusion: A two-pass system garners better control, with some herbicide combinations providing almost 100% weed control.
He looked at either Bicep II Magnum or Lexar EZ, followed by Halex GT and Atrazine, and found a 99% weed control for corn. The MU weed science team also tested herbicide treatments from Corteva, including a split start of Resicore plus Atrazine, and SureStart II plus Atrazine followed by Resicore plus Atrazine plus Durango, and again found broad spectrum weed control of 99%.
However, Dintelmann says researchers this year noticed that Resicore struggled to control grasses, especially fall panicum. But he notes the product is performing "exceptionally well on waterhemp."
Single pass herbicide application concern
Farmers with just one preemergent herbicide application in corn may not get the results they want when there is extreme weed pressure in previous years. "One pass did not look clean where weed pressure was heavy before," Dintelmann says.
However, when weeds were controlled yearly, the preemergent herbicide provides better results. The plots assessed just an Acuron or Resicore treatment and found the rows "cleaner," he notes. Other herbicides working well in low weed pressure environments include Corus, Harness Max and SureStart II.
But those same treatments under heavy weed pressure did not provide 100% weed control. The group noticed weed escapes, and those particular herbicides struggled to hold back late-emerging grasses.
"Based on these results," Dintelmann says, "if a field has a history of heavy weed pressure, a one-pass pre-program in corn may not be the best solution. A layered approach of a two-pass system will provide the best control in these areas."
More modes of action
When it comes to a single post application of herbicides for weed control in corn, Dintelmann says it is risky, "especially if the weed is waterhemp."
Heavy waterhemp pressure with post treatments of Armezon Pro plus Roundup and Resicore plus Roundup only provided about 65% of control. However, with those formulations, Dintelmann notes, there was only one effective mode of action to control waterhemp postemergent. "From a resistant management standpoint," he adds, "we want to have at least two modes of action working on the waterhemp."
Dintelmann says mixing 4-Hydroxyphenylpyruvate dioxygenase or HPPD compounds, such as mesotrione tolpyralate and topramezone, with atrazine works. Where high population of glyphosate-resistant waterhemp is present, he notes, mixing the two increases weed control.
New chemistry update
Dintelmann explains more about the new corn herbicide Shieldex and another coming on the market —Acuron GT. Click on the video below to view MU recommendations, along with rates and response data.
The video also shows the two-pass versus one-pass study complete with photos, rates and data from the field.
About the Author(s)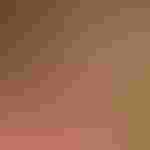 Editor, Missouri Ruralist
Mindy resides on a small farm just outside of Holstein, Mo, about 80 miles southwest of St. Louis.
After graduating from the University of Missouri-Columbia with a bachelor's degree in agricultural journalism, she worked briefly at a public relations firm in Kansas City. Her husband's career led the couple north to Minnesota.
There, she reported on large-scale production of corn, soybeans, sugar beets, and dairy, as well as, biofuels for The Land. After 10 years, the couple returned to Missouri and she began covering agriculture in the Show-Me State.
"In all my 15 years of writing about agriculture, I have found some of the most progressive thinkers are farmers," she says. "They are constantly searching for ways to do more with less, improve their land and leave their legacy to the next generation."
Mindy and her husband, Stacy, together with their daughters, Elisa and Cassidy, operate Showtime Farms in southern Warren County. The family spends a great deal of time caring for and showing Dorset, Oxford and crossbred sheep.
Subscribe to receive top agriculture news
Be informed daily with these free e-newsletters
You May Also Like
---