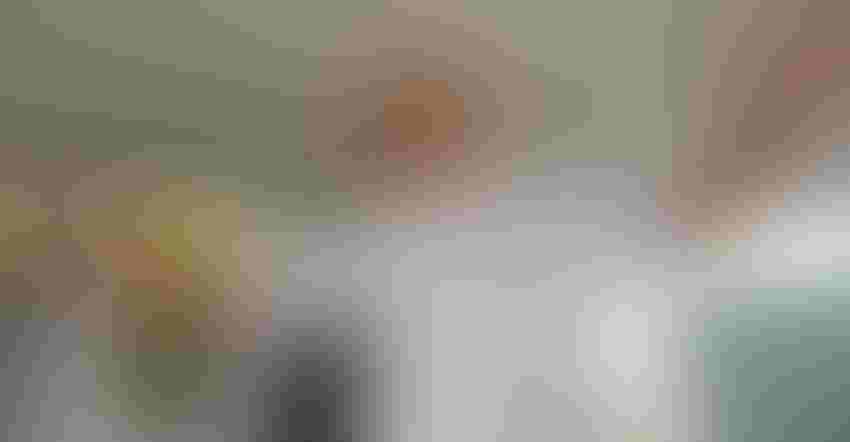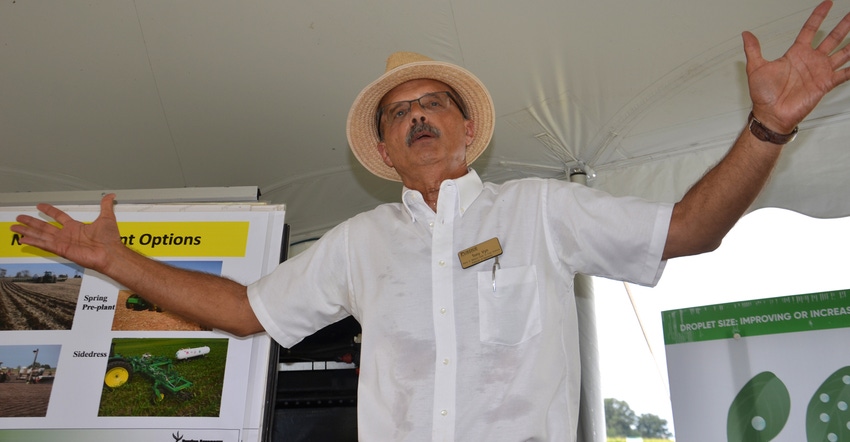 PASSIONATE ABOUT HIS WORK: Purdue agronomist Tony Vyn makes a point about fertilizer for corn based on his research findings during a recent presentation.
Tom J. Bechman
By Stan Maddux          
Someday you might use half the fertilizer and still achieve higher yields with corn.
That's what early findings show from ongoing research led by Purdue University Extension agronomist Tony Vyn. A three-year study in silty clay soils near West Lafayette, Ind., moved to the Pinney-Purdue Agricultural Center near Wanatah last fall to see if initial findings differ in the sandier soils of northwest Indiana.
Unlike the customary use of a spreader to cover the entire field, potash is laid strictly in rows where corn will be planted, Vyn explains.
He suspects higher yields are from potash in strip-till applications being closer to early root development. Potash in the research is also applied deeper into the soil, he says.
''The best response to potash application has been in strip-till positions,'' Vyn says. "We're kind of excited about this."
He is conducting another trial, working with farmers near West Lafayette and Wanatah. In this trial, Vyn says potash is laid down during the growing season when demand for nutrients is highest. He wants to see if results change from traditional spring or fall applications.
"We're basically waiting until the corn gets up around knee-high and then adding some more," he says.
In-season applications of potash and potash with some nitrogen in irrigated and nonirrigated fields are also under research. The trials are funded by the Indiana Corn Marketing Council.

FIELD TRIALS: Part of Tony Vyn's research on fertilizer needs for corn includes planting plots at the Pinney-Purdue Ag Center near Wanatah, Ind.
Other Pinney-Purdue trials
The Pinney-Purdue Ag Center was founded 100 years ago when William E. Pinney donated the property to Purdue University to use strictly for the betterment of farming and home life on farms. Research on the 640-acre farm once included work with red poll cattle and hogs, but the focus has changed strictly to crops.
Gary Tragesser, superintendent at Pinney-Purdue, says most research now involves testing new fertilizer and herbicide products as they're being developed to determine their effectiveness on crops.           
"That's what farmers want to know," he says. "They want to know if new products are going to help their operation or not."
Besides Vyn's fertilizer trials on corn, there is also vegetable research at the farm, Tragesser says. Vegetables are raised to meet specific needs expressed by area growers.
For example, high tunnels are used to grow some vegetables at the farm. Experiments in the more controlled environment of a high tunnel reflect higher demand from area growers to have early-spring and late-fall crops to offer consumers.
Diversified testing
Woods make up 36 acres at Pinney-Purdue. Tragesser says forestry research includes crossbreeding of butternut trees to develop versions more resistant to disease causing premature death.
Gene Matzat, an Extension ag educator in La Porte County, says crop research at Pinney-Purdue includes finding ways to fight tar spot. This disease began showing up in Midwest corn in Indiana and Illinois after migrating from Mexico and Central America. The fungus is marked by small, raised black and circular spots on corn leaves. Concern is great enough to try and develop ways of combating it.
"It's nice to have local research here that can be strictly applied to our fields,'' Matzat concludes.
Maddux writes from South Bend, Ind.
Subscribe to receive top agriculture news
Be informed daily with these free e-newsletters
You May Also Like
---