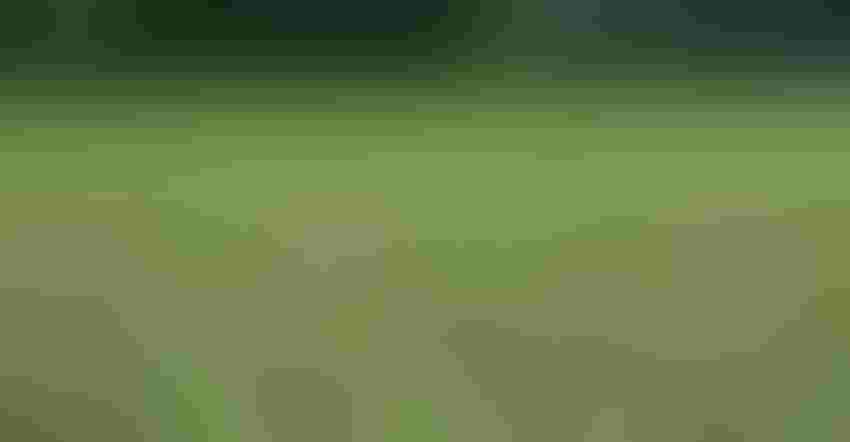 TOO MANY WEEDS: Recent studies indicate that even scattered grass and weeds, while not providing heavy weed pressure, can steal yield potential by reflecting light.
Tom J. Bechman
What is your strategy for weed control in a year when some herbicides are hard to get and input prices are high? If conditioning yourself to accept more weed pressure is part of your plan, you may want to rethink your approach. Recent research at the University of Guelph in Canada, just north of the border, indicates that early weed pressure in soybeans, even when it seems inconsequential, may steal more yield potential than you think.
"Their research indicated that yields suffer even when weed pressure doesn't appear heavy and weeds are sprayed postemergence, when they are still within label height," says Luke Schulte, an agronomist with Beck's who examines weed control in Beck's Practical Farm Research program. "Most of us have thought minimal weed pressure with relatively small weeds doesn't impact yield, but their work found that not to be the case."
How? Apparently, negative effects to crop plants were the result of reflected light. In this case, the reflected light comes from neighboring small weeds. Researchers believe that reflected light from weeds disrupts cell activities within the crop plant, causing damage. Repairing this damage is an energy drain, which disrupts energy that no longer generates yield.
This is not the first time someone has theorized that reflected light plays a role in a crop's reaction to its environment. Dave Nanda, who works primarily with corn, says a corn plant that senses reflected light knows it has a neighbor nearby. It could be a weed or another corn plant. Either way, the plant sensing the neighbor reacts. That's why Nanda says a late-emerging corn plant in corn is worse than a weed. You can remove weeds, but you can't kill the late corn plant. It serves as competition for the original corn plant.
Weed control revisited
Once you accept that scattered weeds can suppress yield, you should be challenged to think about weed control differently, especially this year, Schulte says. "You need to remove the competition to soybeans," he says. "The easiest way to do that is before weeds ever emerge. Weeds which never emerge are the easiest to control. Those that are injured but survive a herbicide application or tillage are usually the hardest to control."
Schulte recommends applying residual herbicides preemergence to help eliminate as many weeds as possible from reflecting light. If the application is successful, you can wipe out a large portion of potential weed competition before it ever gets out of the ground. Do what you can to keep weeds from getting a foothold early in the season.
Controlling weeds before they germinate could lead to another strategy, he notes. If you want fewer weeds, you need to minimize the weed seed bank. That can affect your weed control strategy later in the year as well as for future years.
Perhaps you're debating whether to make a late pass to clean up weeds, or you're deciding if you can accept less than 100% control. Suppose you control 94% of a weed population. Is that good enough?
"If it's waterhemp, which is very prolific, and 6% of the original weed population survives, some work we've done indicates that those remaining plants could still produce millions of viable seeds per acre," Schulte says. "Is spending more money on an in-season residual worth 6%? You will have to answer that one yourself."
Subscribe to receive top agriculture news
Be informed daily with these free e-newsletters
You May Also Like
---