Arizona Veg IPM: aphid control, downy mildew, and weed science
Arizona Veg IPM: aphid control, downy mildew, and weed science
Alate (winged) green peach aphids have begun to show up on younger lettuce plants (1st side-dress stage) and populations are beginning to colonize in Arizona's Yuma Valley.Downy mildew has been observed on nettleleaf goosefoot and swiss chard in Yuma County, Ariz. and Imperial County, Calif. respectively.The University of Arizona in Yuma offers degree programs in agricultural systems management and crop production.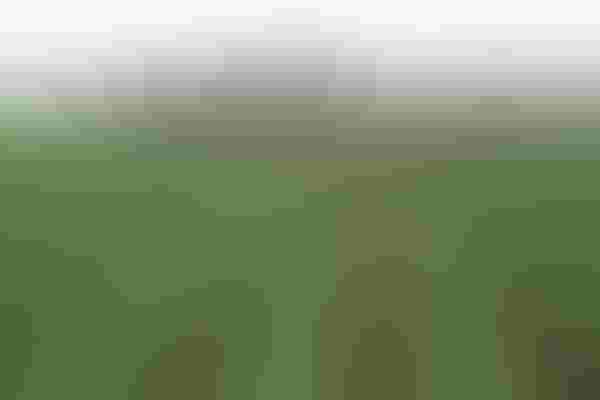 The latest Arizona Vegetable Integrated Pest Management Update from the University of Arizona (UA) Cooperative Extension in Yuma, Ariz., released Feb. 8, 2012.
Aphid control in desert produce
By John Palumbo, UA Research Scientist and Extension Specialist
Aphid pressure in the Yuma Valley has been quite low this season. However, alate (winged) green peach aphids have begun to show up on younger lettuce plants (1st side-dress stage) and populations are beginning to colonize.
Reports from the Dome Valley and Wellton suggest aphid populations are increasing there as well. This is common during February when produce acreage begins to rapidly decline and aphids tend to disperse to available crops.
The key to effective aphid management with foliar insecticide is to initiate sprays at the time apterous (wingless) aphids begin to colonize. This requires diligent scouting and sampling.
The UA action threshold for aphids recommends applications be made when 10 percent of the plants sampled contain aphid colonies (four or more apterous aphids).
Fortunately, pest control advisers (PCAs) have numerous alternatives for foliar aphid control in this Aphid Control Chart 2012.
Movento is highly effective and has the broadest spectrum of activity against aphids commonly found on desert produce crops. In addition, because it is fully systemic, the spray timing or application method is not as critical as with the other alternatives that are translaminar or require contact activity.
Beleaf and Assail are also good foliar alternatives for aphids, and typically perform best with ground applications.
Be sure to check that maximum residue levels are established for export before using these products.
Contact Palumbo: (928) 782-3836 or [email protected].
Downy mildew on spinach and related plants
Downy mildew on spinach and related plants
By Mike Matheron, UA Extension Plant Pathologist
Downy mildew has been observed recently on nettleleaf goosefoot and swiss chard in Yuma County, Ariz. and Imperial County, Calif. respectively.
These plants are members of the plant family called the Chenopodiaceae which also contains the important vegetable crop spinach.
Since spinach can also be infected with downy mildew, the question arises - can the pathogen from one member of this plant family infect one or more of the other family members?
University of California farm advisor Steve Koike, Monterey County, and colleagues conducted research to answer this question. The downy mildew pathogen from spinach was used to inoculate nettleleaf goosefoot and lambsquarters. The result was no disease development.
In another trial, the isolates of the pathogen from nettleleaf goosefoot, lambsquarters, beet and swiss chard were each used to inoculate spinach. The result again was no disease development.
The bottom line is that spinach growers do not need to worry about related Chenopodiaceae including nettleleaf goosefoot, lambsquarters, beets or swiss chard as potential sources of inoculum for the spinach crop.
Even though the bluish-purple evidence of the pathogen on the underside of leaves is similar in appearance on all of these plants, the particular isolates of the downy mildew pathogen have very specific and limited host ranges.
Contact Matheron: (928) 726-6856 or [email protected].
Weed science and the agricultural systems management degree in Yuma
Weed science and the agricultural systems management degree in Yuma
The UA in Yuma offers degree programs in agricultural systems management and crop production. These programs are conducted cooperatively with Northern Arizona University and Arizona Western College.
These programs are housed at the Arizona Western College campus and include classes in pest management, crop production, business management, agricultural law, and other subjects. Classes are offered primarily in the evening to accommodate students who have full or part-time jobs.
While fundamental academics are important, many of the classes offered in Yuma include practical, hands-on experience that is more difficult to acquire on the campus in Tucson.
The Applied Weed Science Class, PLS 300, currently taught puts emphasis on the practical aspects of weed science that will be helpful to pest control advisors, farm managers, and others involved in field and vegetable crop production in the low deserts. This course includes segments in general weed science, plus chemical and non-chemical weed control.
The 14 students enrolled in the spring semester of this course are currently presenting written and oral reports on a weed species common in this area. We hope to include many of the presentations in these advisories.
The one included in this article is presented by Ryan McGuire about the weed southern brass buttons. This weed has become increasingly widespread in La Paz County where Ryan works as a PCA with the Wilbur Ellis Company.
Click on this link: http://www.youtube.com/watch?v=N-bWbsDMXM4&list=UUKPJQggz9RYVFrj6Gby3JNQ&index=1&feature=plcp.
Contact Tickes: (928) 580-9902 or [email protected].
Chlorotic spots at regular intervals on wheat seedlings
Chlorotic spots at regular intervals on wheat seedlings
By Marco Peña
The Yuma integrated pest management team received wheat samples from Jim Ellsworth, a PCA in Yuma, Ariz.
The plants showed an injury or a discoloration evenly spaced on the leaves. In some cases there were double spots on the opposite side of the leaves but always the spacing was very even (about 0.5" apart).
The previous crop was lettuce and melons with different herbicide regimens. There was no defined herbicide drift pattern observed in the field.
The affected area was approximately 100 acres in Wellton, Ariz. The team determined it was due to abiotic factors discarding insect damage and disease symptoms.
Check out the symptoms in the following video recorded Jan. 11, 2012: "Wheat in Wellton AZ".
Contact Peña: (928) or [email protected]. 
Subscribe to receive top agriculture news
Be informed daily with these free e-newsletters
You May Also Like
---