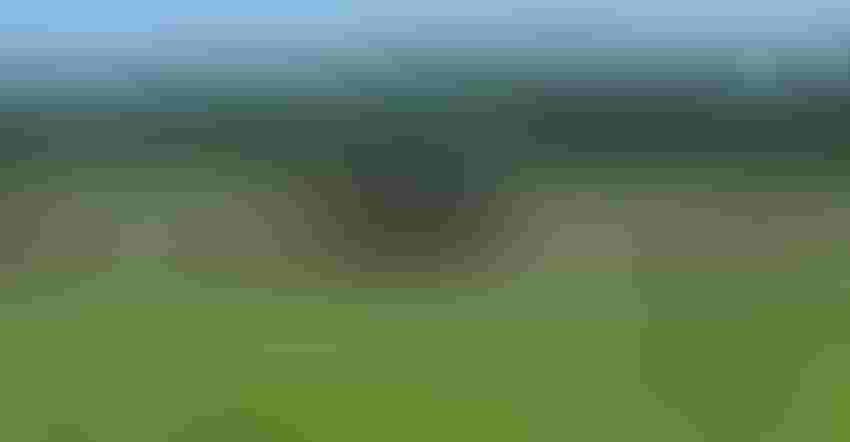 PLANT GREEN AND CRIMP: When you crimp and how you crimp cover crops can make a difference in the outcome.
Some Indiana farmers are using a roller-crimper to terminate cereal rye cover crops in the spring. To facilitate this, the Vermillion County Soil and Water Conservation District purchased a 20-foot roller-crimper for local farmers to use. 
In the spring of 2019, that roller-crimper ran over about 1,700 acres of cereal rye in four counties. Since everyone involved was still new to roller-crimping, there were several lessons learned this year.
1. Every year is different. 2018 was a difficult year to learn how to operate a roller-crimper, especially in west-central Indiana. Cereal rye tended to break winter dormancy late, finally started growing, and then slowed when it turned dry. There never was that growth spurt where it goes from 2 feet high to head-high seemingly overnight. Those conditions made it difficult to crimp.
The 2019 season was different. The wet spring meant planting was delayed, for the most part, until late May. Cereal rye reached its full maturity and was ready to crimp.
2. Timing is everything. Cereal rye must be at the right stage of maturity for it to be terminated with a roller-crimper. That may mean running the crimper later than you would like to plant beans. A rule of thumb: Plant when it's time to plant; crimp when it's time to crimp. Those may be two drastically different times. The key is making it work in your operation. For complete termination, rye must be mature enough to shed pollen. Consider using shorter-maturity corn hybrids and soybean varieties to accommodate later planting dates.
3. Variety is important. There hasn't been much discussion about what variety of cereal rye to use as there has been about what variety of annual ryegrass to use. The issue with using "variety not stated" cereal rye means you have a mix of several varieties, resulting in plants breaking dormancy at different times, growing at different rates and maturing at different times. While you can deal with this if you're terminating with herbicides, if you want to use a roller-crimper, you want every plant close to the same stage of maturity. So, you may need to use a "variety stated" cereal rye that will mature around the time you wish to plant. While you'll pay more for seed, you'll hopefully improve your chances of complete termination with a roller-crimper.
4. Seeding rates are important. If you're looking for that season-long mat of cereal rye residue to provide erosion control, conserve moisture, control weeds and keep the soil surface cooler, you may have to increase your normal seeding rate. This will probably become more vital as microbiology in your soils becomes more active, breaking down residues quicker.
5. Small soybeans don't care. A roller-crimper can be used after soybeans have emerged and are growing. Farmers who crimp are finding that beans up to the third trifoliate aren't harmed by running a crimper over them. Some speculate it may even provide a yield advantage due to soybeans responding to early stress events.
Donovan is a district conservationist with the Natural Resources Conservation Service. He writes on behalf of the Indiana Conservation Partnership.
Subscribe to receive top agriculture news
Be informed daily with these free e-newsletters
You May Also Like
---