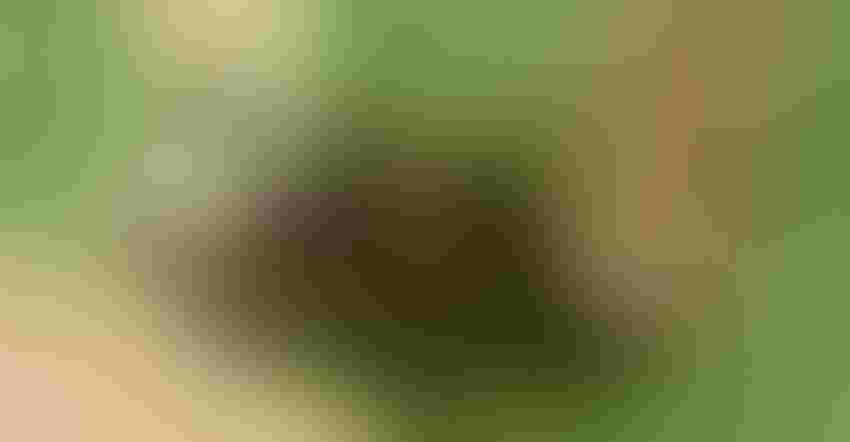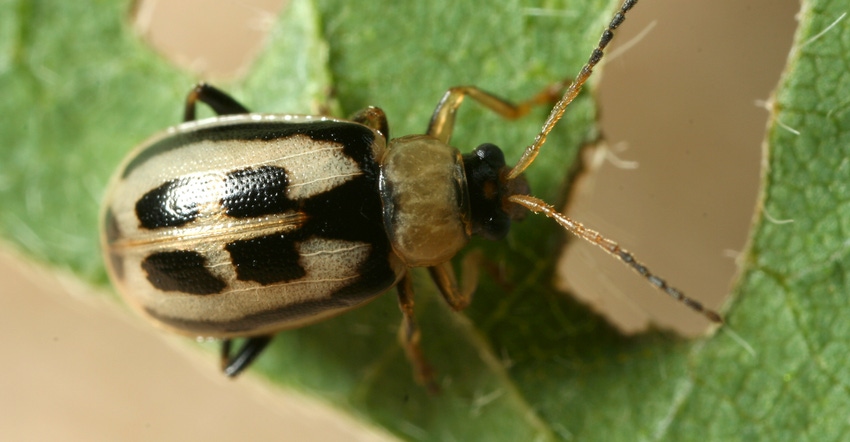 PESKY PESTS: This adult bean leaf beetle is one of four insects that feed on soybean foliage and pods. Farmers should scout in order to protect yield this growing season.
Winston Beck, ISU
For Brett Craigmyle, late-season soybean management is all about protecting the plant from insects.
"The more blooms and pods we can protect, the better off our plants are going to be and the better chance we have of protecting yield," the Syngenta agronomist says.
Insects left unchecked create problems. Last year, Craigmyle found some of his clients surprised at harvest. Many did not realize the damage until unfilled pods came through the combine. Pests were out in force, he says, feeding on foliage or pods. The rogue pests caused aborted pods, and in some cases allowed viruses to take hold. Both, Craigmyle says, reduce yield potential.
Types of insects
When it comes to soybeans there are three main types of insects — foliage feeders, pod feeders and stem feeders. Craigmyle is concerned about two this season, foliage-feeding and pod-feeding insects.
Foliage-feeding insects are present in almost all soybean fields throughout the growing season. While many fields suffer no yield loss from the bugs' presence alone, Craigmyle says it is how they feed that opens the plant up to viruses like green stem syndrome.
Green stem syndrome is a soybean disorder where stems remain green after pods and seeds are fully mature and ready to harvest. Harvesting affected plants is difficult, and seed quality is often poor. Bugs like bean leaf beetles, stinkbugs and soybean aphids have been associated with the virus.
Pod feeders hurt yield, says Syngenta agronomist Scott Gard. "They will pierce the pod and damage the soybeans in those pods, causing them to shrivel up," he says. The ramification is reduced quality and yield.
Both men agree it takes insecticide treatments to save the plants and pods.
Here are the four late-season pests to watch for in soybean fields this year:
1. Bean leaf beetle. The color of an adult beetle varies from yellow to red. Its four black spots on the back and a black triangular-shaped mark just behind the head distinguish this pest. These beetles will feed on foliage and pods. They eat small, rounded holes in the leaves, usually inside the leaf margins. Feeding on the outer pod walls later in the season causes the pods to look skinned or scarred. This damage can cause the seed to rot and shrivel. These bugs attack from July through early September.

Brown marmorated stinkbug (John Obermeyer, Purdue University)

2. Stinkbug. They come in brown and green colors, with a body that looks like a medieval shield. Stinkbugs suck the juices from immature soybean seeds and cause pod drop. The result is yield loss and seed quality compromise. Scout for these pest in July and August, as they are more attracted to fields with developing pods.

Corn earworm (Photo courtesy of Kansas State University)
3. Corn earworm. Here's another pest that likes feeding on both foliage and pods. The small corn earworms appear brown, with small dark spots. The larger caterpillars can present as green, brown, yellow or even black. They have a pale brown or orange head. Stripes run the length of the body. The insect prefers blooming, open-canopy fields. Corn earworms left untreated can cause severe pod damage and defoliation.


Grasshopper (Photo courtesy of North Carolina State University)

4. Grasshopper. These come in many colors and sizes. There are red-legged, two-striped and differential grasshoppers. These are foliage feeders. Young grasshoppers typically cause more problems for no-till farmers, as they find refuge in field cover. In some cases, the feeding can cause significant stand loss and defoliation.
Treatment options
Craigmyle says oftentimes, the problem with soybean feeding insects is that they are hard to find. Farmers may not actually see the insect on the top of the leaves, he says, but can find them on the leaf underside, where it is cool. When it comes to foliage- and pod-feeding insects, Endigo ZC is a good option, according to Craigmyle. "It does a good job of knocking down those insects and providing residual control later in the season," he says.
Syngenta's Endigo ZC insecticide provides two complementary modes of action for broad-spectrum control of key soybean insects. It also offers quick trans-stemic movement into leaves to provide a reservoir of the active ingredient for extended residual control. It is labeled to control pests such as soybean aphid, stinkbugs, bean leaf beetle, Japanese beetle, grasshoppers, corn rootworm beetle, worms and kudzu bug.
Subscribe to receive top agriculture news
Be informed daily with these free e-newsletters
You May Also Like
---