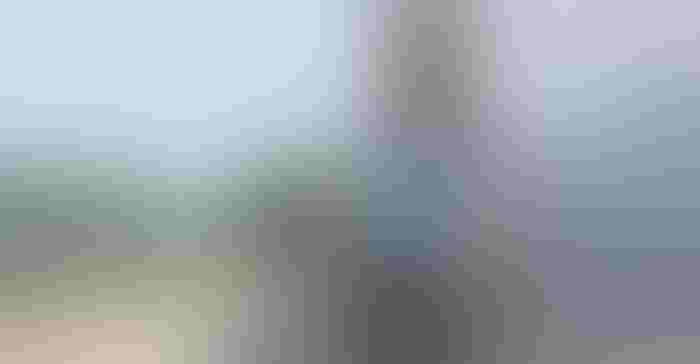 Imagine yourself in a modern finishing barn. However, instead of livestock, you see leafy greens stretching the length of seven and a half football fields.
The Revol Greens (think Revolutionary) greenhouse along Interstate 35 in Steele County isn't exactly like a finishing barn. Yet the climate-controlled environment with ceiling curtains, fans and misters accomplishes a similar task — creating a clean and consistent growing environment.
"This is as high tech and as Big Data as it gets," said Mark Schulze, Revol CEO.
Revol was born Dec. 14, 2016, near Medford in southeastern Minnesota. Why?
"Why not? It's beautiful here," said co-founder Marco de Bruin, smiling. De Bruin is a third-generation greenhouse grower from the Netherlands, where greenhouses are as common as corn and soybean fields in southern Minnesota.
As a practical matter, he and co-founder Steve Amundson, Revol's lead grower, had 50 years of climate history from the region, which is important because the greenhouse uses sterilized rainwater and snowmelt from the greenhouse roof for irrigation water and relies on the sun to grow the leafy greens. They also live in Medford and wanted to plant the first greenhouse designed specifically to grow leafy greens in their backyard.
Jay Johnson, who led the movement to grow tomatoes indoors with Bushel Boy; Brendon Krieg, who brings sales and marketing expertise; and Marc Vergeldt, a global horticultural consultant, round out the founding team. In total, Revol has 60 team members.
The operation began on 2.5 acres, and a 7.5-acre expansion begun last winter is nearly complete. When finished, the 10-acre greenhouse will produce more than 4 million pounds of leafy greens annually. The expansion also makes Revol's facility the nation's largest greenhouse dedicated to growing leaf lettuce.
Revol's lettuce is distributed locally and to many Twin Cities grocers. The expansion allows the privately held company to expand its marketing area to North and South Dakota, Iowa, Nebraska, Wisconsin and Illinois, according to Schulze, who brings 32 years of experience with Cargill to his role as Revol CEO.
Its greens include a spring mix, romaine crunch, mighty spring mix, sweet butter blend, arctic crunch, baby spinach, baby arugula, power up blend, butter lettuce and baby romaine.
Continuous production
As Schulze lead a tour around the greenhouse surrounded by a lush, green corn field, he compared the greenhouse business to corn-soybean production.
"We're very different… we plant every day, we harvest every day," he said. "We harvest it and we pack it in these boxes the same day."
The product is harvested and packed on site. Their pond cooling process locks in moisture and leads to better product quality, Schulze said.
Seeding is automated, with seed flats moving through a seeding machine. The seeds are planted in soil in grooved flats. The planted flats float into the greenhouse and are put onto the growing pond. In 17 to 21 days, depending on variety, flats are lifted from the growing pond and floated into the harvesting area. They are packed the same day at the same site.
The lettuce doesn't leave the facility until it's bound for grocery shelves. It typically leaves the day after packing and arrives on grocery shelves in two to three days.
Revol's lettuce is chemical and pesticide free, which is possible because the company grows in a clean environment. Everyone entering the greenhouse must wash their hands, wear a hair net and face mask. The company follows the California standards, according to de Bruin, as they are the most stringent in the nation.
Greens are fertilized with some nutrients placed in the seed soil bed and additional nutrients are added through irrigation. Revol is in the process of identifying an organic fertilizer source, and its next step is to become vegan certified.
Sustainability is a pillar of the company's philosophy. De Bruin said Revol uses 95% less water than outdoor grown lettuce.
The company reduces water usage through a variety of systems. Absolute humidity is monitored in the greenhouse, and windows open and close based on those readings. If needed, the lettuce is misted with sterilized rainwater. Rainwater, snowmelt and condensation are collected, sterilized and recycled back into the greenhouse production system. Natural light fuels the plants' growth, supplemented as needed with high efficiency LED lighting.
Growing indoors gives the company the opportunity to produce a consistent product all year and quickly respond to market signals. It takes 17 to 21 days from planting to harvesting, depending on variety.
"We're a continuous production business," Schulze said.
Growing business
De Bruin said Revol's goal is to expand to five facilities over the next five years. Location No. 2 will open in spring 2021 in Tehachapi, Calif., and serve California markets and perhaps reach into Nevada. A third location in Texas is under review.
Indoor-grown lettuce is increasing its market share, with Wendy's Canada announcing in July it was switching to 100% greenhouse-grown lettuce for its salads and sandwiches. Revol sales and marketing executives have reached out to Wendy's in the U.S.
"It's just the beginning," de Bruin said. He predicts the indoor-grown leafy green market will exceed 35% of the lettuce market in the next 20 years.
Kubat Willette is a Farm Progress digital content creator.
Subscribe to receive top agriculture news
Be informed daily with these free e-newsletters
You May Also Like
---