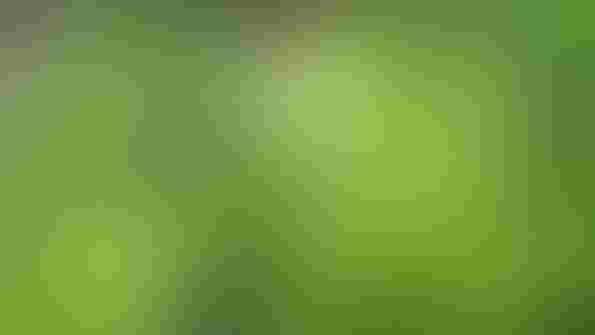 Every year, farmers face new challenges in producing high quality crops. The 2014 spring cropping season in California's Coachella Valley brought quite a few surprises in the way of virus diseases for bell pepper growers. 
In early February, tomato spotted wilt virus vectored by thrips was found in a bell pepper field in the Mecca area of the Coachella Valley.
In April, the aphid-vectored alfalfa mosaic virus (AMV) appeared in bell pepper fields near the northern border of the Salton Sea. Soon AMV spread out to nearby bell pepper fields. In many crops, including basil, AMV symptoms include severe leaf bleaching.
In May, cucumber mosaic virus (CMV) vectored by aphids was found in fields close to the Salton Sea in the Mecca and Oasis area. Significant yield losses were reported in these CMV-infected fields. 
Also in May, complaints were received about a red bell pepper field in the Oasis area which allegedly had symptoms of nematode damage. The described symptoms were leaf whitening and bleaching of the newer growth. The symptoms were widespread in the field.
Indeed, a taxing spring for low-desert bell pepper growers this year.
An article on these findings - written by Jose Aguiar, University of California Cooperative Extension (UCCE), Riverside County; Oli Bachie, UCCE Imperial County; and Antoon Ploeg of UC Riverside - is available on the www.westernfarmpress.com website.
Click on this link:
http://westernfarmpress.com/vegetables/surprising-spring-virus-wise-coachella-valley-bell-peppers
Photos courtesy of the University of California.
Subscribe to receive top agriculture news
Be informed daily with these free e-newsletters
You May Also Like
---