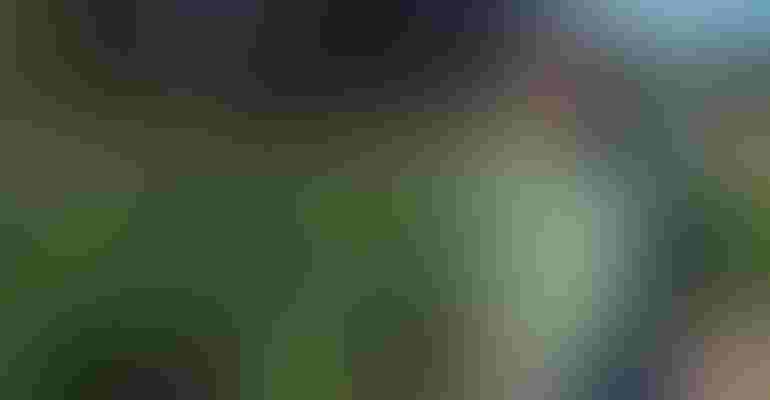 Paul Bosland, director of the Chile Pepper Institute is the fourth chile pepper breeder NMSU has had since 1888 when Fabian Garcia was hired as the first horticulturist. The funding the CPI will receive from Chef Arthur Gonzalez's restaurant will go towards the Chile Pepper endowed chair to ensure their research will continue.
NMSU photo by Adriana M. Chavez
New Mexico State University's Chile Pepper Institute, the longest established chile research program in the U.S., has attracted the interest of a chef in Long Beach, Calif.

Executive Chef/Co-owner of Panxa Cocina, Arthur Gonzalez, who is an avid user of green chile, wanted to come to the source of his top ingredient while also finding a way to give back to them. Gonzalez will be donating a portion of his restaurant's earnings in September to the institute to be used toward the CPI endowed chair funding.

"The CPI is self-funded and self-sufficient and we are always looking for new members and people who can help with donations and Chef Art has graciously offered to do a dinner of New Mexico chile peppers at his restaurant," said Paul Bosland director of the Chile Pepper Institute, which is a part of NMSU's College of Agricultural, Consumer and Environmental Sciences.

Gonzalez, who has been a chef working in sought-after restaurants for a little over 20 years, will feature a special menu at Panxa Cocina, a neighborhood staple and dining destination in Southern California that emphasizes modern Southwestern cuisine, that will include a chef's tasting menu featuring the CPI-sourced green chiles.

"We're going to put together a little story to educate our servers and our guests about this cool place here in New Mexico. And I will urge people to come and visit here if they are ever in the area," Gonzalez said.

The money will go toward a special fund that will make sure there is always money for chile pepper research at NMSU.

"Part of the proceeds will go to the Chile Pepper endowed chair here at NMSU to continue the research that has been going on since 1888 when Fabian Garcia was hired as our very first horticulturist," Bosland said. "The position of a horticulturist has kind of an interesting history behind it in that there have only been four people who have been chile pepper breeders at NMSU. Fabian was the first and I'm the fourth, so it's been kind of an interesting history that chile pepper breeders come and stay a long time."

Gonzalez said it is important to make sure institutes like the CPI have funding to continue doing their research because education is a big part of forward movement and without these programs people will forget.

"People will just go through the everyday motions of life and eat a taco and put some hot sauce on it. It's one thing to do that and it tastes great, but to know where that sauce came from and the labor people have gone through to put that just on the table is pretty tremendous," Gonzalez said.

Bosland showed Gonzalez the different chile peppers that are grown in the institute's garden and hopes this will be the start of a new relationship.

"We have chile peppers from more than 25 countries in our garden and so Chef Art was looking at them and tasting them and seeing how he can apply them to his dishes. We are hoping to build a great relationship between Chef Art and the CPI to promote New Mexico chile," Bosland said.

Gonzalez said he plans on trying to make more trips back to visit the institute and calls it a unique place filled with people passionate like him.

"There really is nothing like this Chile Pepper Institute, especially in my world. Chile pepper plays a big part in a lot of dishes, not just for heat but for flavors as well. So, to come and hear someone as passionate about chile pepper like Paul Bosland as I am with food, it's amazing," Gonzalez said.
Source: NMSU
Subscribe to receive top agriculture news
Be informed daily with these free e-newsletters
You May Also Like
---