Arizona Veg IPM Update: aphid management, freeze-chill injury, wheat
Arizona Veg IPM Update: aphid management, freeze-chill injury, wheat
Alternatives for aphid management in desert produce comments from John Palumbo;Freeze and chilling injury comments by Mike Matheron;Sprinkler irrigated wheat following vegetables and herbicide chemigation comments from Barry Tickes.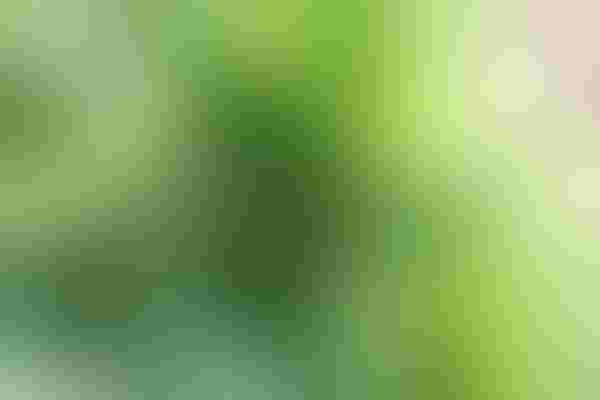 The latest Arizona Vegetable Integrated Pest Management Update from the University of Arizona (UA) Cooperative Extension in Yuma, Ariz.
Alternatives for aphid management in desert produce
By John Palumbo, UA Research Scientist and Extension Specialist
With the cold weather conditions experienced in early February, one might conclude that aphid pressure will subside. However, aphid populations monitored in untreated lettuce plots at the Yuma Agricultural Center (YAC) suggest differently.
We observed a steady increase in both green peach aphids and Acyrthosiphon lactucae, which is an aphid species specific to lettuce with no common name that occurs sporadically in desert produce.
The highest abundance recorded is about 18 aphids/plant, and on average we are finding about 4-5 aphids/plant in untreated lettuce. This is up from less than 2 aphids per plant prior to the freeze we experienced. We also observed an increase in winged (alate) aphids which is likely due to the gusting north winds experienced recently.
With warmer temperatures we anticipate these numbers to increase. You might want to pay particular attention for aphid colonization when visiting fields.
Additional notes:
Imidacloprid soil applications at 0.25 lb AI/ac (i.e., Alias 2F at 16 oz) are holding aphids to low numbers in lettuce trials at YAC.
Preliminary efficacy trials have shown that Movento, Beleaf, and Assail are maintaining green peach aphids at low levels for 14 days following sprays.
Anecdotal reports have been coming in from area pest control advisers that Foxglove aphid has been found in celery, and Lettuce "red" aphid in romaine.
For more information on the identification, biology, ecology and management of aphid species important on desert produce, check out this link: Insect Management on Desert Produce Crops: Aphids.  Also check out the Aphid Control Chart.
Contact Palumbo: (928) 928-782-3836 or [email protected].
Freeze and chilling injury
By Mike Matheron, UA Extension Plant Pathologist
Air temperatures Feb. 3 and 4 dropped well below freezing throughout the vegetable production areas in Yuma County, Ariz. and Imperial County, Calif.  According to Arizona Meteorological Network (AZMET) data, the time duration with air temperatures below 32 degrees Fahrenheit was four and six hours at the Yuma Valley, six and nine hours at the North Gila, and seven and nine hours at the Roll AZMET stations.
Plants were subjected to additional time periods when temperatures were above but close to freezing. Freeze injury damages and kills plant cells.
Chilling injury is more subtle with symptoms not appearing for some time after the event. The damage sustained by crops is a function of temperature, duration of exposure, the physiological age of the plant, type and variety of plant, and the type of plant tissues affected.
Freeze and chilling damage can result from physical damage of plant cells, disruption of plant photosynthesis and respiration, interruption of nutrient and water mobility, and the accumulation of toxins. Plants weakened by exposure to freezing or chilling temperatures may become more susceptible to colonization by microorganisms that will cause additional damage.
Contact Matheron: (928) 726-6856 or [email protected].
Sprinkler irrigated wheat following vegetables and herbicide chemigation
By Barry Tickes, UA Area Agriculture Agent
Sprinkler use to establish wheat following vegetables has become an increasing practice. Chemigating pesticides through sprinklers can be an effective and convenient application method. It has been used with some success with only one of the 15 possible wheat herbicide options in this region and is a registered use with only two of them.
Prowl H2O was registered for chemigation on wheat in recent years. Most users have reported good control. As with any pre-emergence herbicide, it must be applied and incorporated prior to weed emergence. Prowl H2O can only be applied after the wheat has emerged and has one leaf and this can be too late. Additionally, where soils crack, weeds can emerge through the cracks from below the treated soil.
The other wheat herbicide used in this region registered for chemigation is bromoxynil (Buctril, Moxy, Bison, Maestro, and other trade names). There is little use of this registration here and it can be hazardous.
Bromoxynil is a contact herbicide that can cause injury to all broadleaf crops grown in this region. At times, sprinklers are not even a good method of applying water, let alone a contact herbicide that can move off target. It is registered for this use, however, and may be an option under some conditions.
If chemigated, it should be applied within the last 30 to 40 minutes of the sprinkler run and thoroughly washed out of the pipe. No other wheat herbicide is registered for or would be effective applied by chemigation.
The growth regulators (2,4-D, MCPA, dicamba or clopyralid) are foliar applied, systemic, and volatile. Aim/Shark is a contact herbicide but is not registered for chemigation and would be hazardous to apply by this method.
One of the newer wheat herbicides, thifensulfuron, was used successfully in Arizona as Unity (Gowan) a couple years ago and last season as Harmony (DuPont). This year DuPont replaced Harmony with Affinity TankMix which is a premix of thifensulfuron and another similar herbicide, tribenuron.
Harmony alone is broad spectrum and the addition of tribenuron adds little but some temporary crop injury at early growth stages. Additionally, the current label reads that users should "tank mix with other suitable herbicides."
There is an effort to modify this requirement. Although thifensulfuron is still a very effective herbicide, these changes will reduce its utility in this region. The grass herbicides Discover, Osprey, and Tacoma/Puma are not registered for chemigation. These work best when applied by ground to the growing points and would likely be ineffective when applied by sprinklers.
To learn more, see table for wheat herbicides.
Contact Tickes: (928) 580-9902 or [email protected].
Future meetings
"Soil Fumigant Training Workshop" - Feb. 22, 2011 at the Yuma Ag Center, 6425 W. 8th Street in Yuma,from 1 p.m. to 5:30 p.m. Sponsors applied for 4.5 Arizona and California CEUs.
For more information, contact the Yuma County Cooperative Extension Office at (928) 726-3904.
Subscribe to receive top agriculture news
Be informed daily with these free e-newsletters
You May Also Like
---