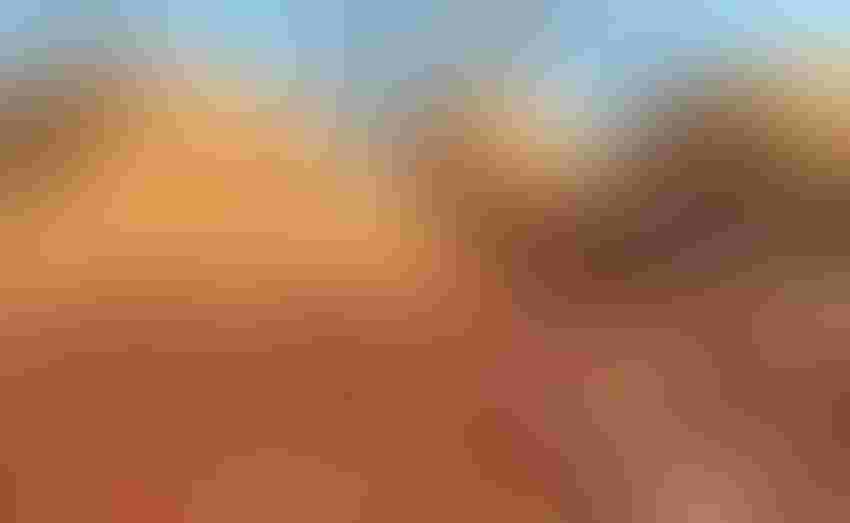 In mid-March, temperatures rose to a record-high low 90s south of Tucson, Ariz., where Farmers Investment Co.'s (FICO) Santa Cruz Valley Farm grows 4,500 acres of pecan trees. A week later, the weatherman was calling for a chance of frost in Cochise County where FICO farms 3,100 acres of pecans farther east at San Simon, Ariz., near the New Mexico border. Meanwhile, buds were starting to open on some of the Wichitas, which orchard manager Allen Brandt was expecting to be in full bloom by now. Western Schley should follow by mid-April.
"Winter precipitation in the Santa Cruz Valley was about average to a little higher," Brandt says. "But, the San Simon ranch has had almost zero rainfall this winter." Normal annual rainfall in this region is 12 inches, about half that during the summer monsoons.
Brandt began the 2012 crop harvest, as usual, at the end of November. He finished in early January, without any significant rain disruptions.
In-shell yields at Santa Cruz Valley Farms for the off-year crop were down somewhat from the farm's long-term average of 2,000 pounds per acre. That's a little lighter than Brandt had been anticipating. He attributes this to unusually warm weather in late summer and early fall. This caused the still-green husks to split, prompting the new nuts to begin growing. "The amount of this pre-germination was a little higher than we had thought," Brandt says.
At the San Simon ranch, the seven-year-old Wichita blocks yielded 1,200 pounds per acre. "Being such a young orchard, we are pleased with that," he adds.
This winter, Brandt's crews hedged and topped every fourth row of trees at the Santa Cruz Valley farm in a program the company started nine years ago. When the orchard was planted from 1965-69, the Wichita and Western Schley trees were spaced 15 feet apart within rows and 30 feet from one row to the next.  Once the trees had grown large enough to start crowding each other, every other tree in the rows was removed. This left a 30-by-30-foot spacing for more sunlight and air flow within the orchards.  Later every other tree was removed, resulting in the current spacing of 60-by-60 feet in Western Schley fields and 30-by-60-feet in the Wichita blocks.
As pruning reduces the canopy spread of these trees, new trees will be interplanted with a row of Wichitas down the middle of the current 60-foot space between rows. This will increase tree density from 12 trees per acre to 36.
"When these orchards were established, the pruning technology wasn't what it is today," Brandt says. "Later, when we planted more Western Schley were put them on a 30-by-30-foot spacing, which is pretty common here and in New Mexico and gives us 48 trees per acre."
Since starting the San Simon orchards in 2006, the trees have been planted 20 feet apart within rows and 40 feet apart between rows. This results in 54 trees per acre.
"We liked how this spacing was working for other growers," Brandt explains.
The use of conventional pesticides enables Brandt and his crews to control their two main insect pests — black-margined yellow aphid and black aphid. Staying on top of that threat is more challenging in their 1,100 certified-organic fields, because of limited selection of suitable products, he notes.
"We've tried various soft materials," Brandt says. "Now, we're experimenting with a dormant oil treatment, which we spray on the trees before bud break. It's designed to smother the aphids that overwinter on the bark before they become real active."
During the season, he sprays the trees with tank-mixed sulfur. "The only trouble with the organic contact materials is that you don't get much lasting effect, and the populations come back pretty fast," Brandt says. "We'll treat the organic fields as needed, as many as seven or eight times a season."
Last year, controlling these pests proved especially challenging. "It was probably the worst year we've seen for aphids," he says. "The trees were clean going into late summer and then the populations absolutely exploded. Once that happens in the organic orchards, it's hard to stay ahead of them."
Both orchard operations are irrigated with groundwater. Brandt's crews had prepared and leveled the flood-irrigated fields at Santa Cruz Valley prior to starting irrigation in mid-March. Three years ago, Brandt converted several hundred acres there to sprinklers. He's testing micro systems on the 30-by-30-foot tree spacings and rotor and large impact systems on the 30-by-60-foot and 60-by-60-foot spacings. He wants to compare the economic feasibility of replacing flood irrigation with sprinklers.
Micro-sprinklers were installed when the San Simon orchard was first planted.
This year, Brandt is replacing the use of raw manure to help fertilize his organic fields with compost. "It's all by-product material," he says. "We're composting cattle manure from local stockyards and pecan shells and trash from our pecan processing and cleaning plants."
This report is from Tree Nut Farm Press, a twice-monthly electronic newsletter published by Western Farm Press during the growing season. This edition was sponsored by Valent USA.  If would like to receive Tree Nut Farm Press go to the Western Farm Press home page (westernfarmpress.com) and sign up for TNFP and other Farm Press electronic newsletters.
More from Western Farm Press
Wine market sparks gold rush in China
Fire ant balls can wreak havoc
Farmland real estate crash a growing concern
Subscribe to receive top agriculture news
Be informed daily with these free e-newsletters
You May Also Like
---