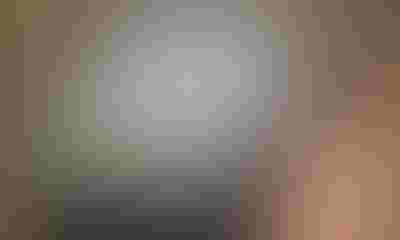 Have you ever wished that you could get a monitor on your center pivot without having to contact a dealer, set up installation and wait on an electrician to do all the complex wiring?
Well, now you can.
Net Irrigate, an Indiana company has introduced CircleScout, a "slap-and-go" product that is self-contained, wireless and mounts to your center pivot magnetically. A cellphone or tablet app lets you set it up with up to 10 phone numbers to be notified if the pivot stops.

CENTER SCOUT: The Net Irrigate CenterScout is a wire-free, self-contained center pivot monitor that notifies your smart phone if your pivot stops.
"This is a totally new product in center pivot monitoring," says Eddie DeSalle, CEO of Net Irrigate, the manufacturer of CircleScout. "Up until now, all the monitoring equipment installations had to be done by professionals because of the high voltage wiring involved."
Installing the CircleScout is as simple as taking it out of the box, slap it on the pivot, take out your smart phone, load the mobile app from Google Play Store of or the Apple Store, punch in the serial number of the unit, give it a name so you can identify which pivot is sending a message, type in the phone numbers you want notified and you are good to go.
"It takes two or three minutes total," DeSalle said. "It is completely encapsulated, stays connected to the Internet and notifies the numbers you give it. If the numbers change, you just go into your app and make the change. There are a lot of do-it-yourself farmers out there and this is something that is safe for them to self-install and it lets growers get pivots online quickly without barriers."
Net Irrigate has been in the business of developing pivot monitoring products for about 10 years and has additional products sold through dealership that are more complicated and provide more information on pivot operation and GPS-guided capability, but all of them require wiring.
"We thought the critical warning of a stop of the pivot was the most important to farmers, so we developed that first," DeSalle said. "Now, we're working on getting a GPS wireless unit that will also be stop and go, but that is a few months from launch."
The current marketing plan for CircleScout is an annual lease.
Net Irrigate is based in Bloomington, Ind., has about 10 employees and is committed to simplifying the operation of technical monitoring equipment for the farmer.
"We started out about 10 years ago working in flow meter telemetry and evolved into monitoring equipment," DeSalle said. "Now we are about simplifying the process for producers. If products are too complicated to get up and running, then adoption is reduced."
Subscribe to receive top agriculture news
Be informed daily with these free e-newsletters
You May Also Like
---